Travel Destinations
Venice Tourist Guide: Travel Tips and Best Places to Visit in Venice, Italy
Best tourist attractions and hotels in Venice, Italy
The Majestic City of Venice
Venetian vacations have long been a popular childhood fantasy for many people. The city's architectural highlights and rich past will be revealed to you. Is it possible to see all of the country's stunning islands in one trip? To get a taste of La Bellissime's signature sweetness? We all know about Venice's gondolas, waterways, bridges, and famous jail where the notorious Casanova was imprisoned, the Rialto Bridge. But did you know about the Bridge of Sighs? It connects the Palace of the Doge to the jail.
For all that, Venice is still a city on water that manages to be both lovely and bizarre at the same time. Venice is more than just a picture; it has to be felt with all five of your senses to fully appreciate it. Let's take a look at some of Venice's most popular sights and must-see experiences, which are sure to please visitors of all ages.
It's a smart move to come prepared to Venice.
Venetian visitors must have an ACTV Transport Pass in order to travel throughout the city. With this pass, you'll have unlimited usage of the Vaporetto throughout your stay. A trip costs € 7.50 if you pay in cash on the spot. It costs 40 Euros for a 72-hour pass to ACTV, however. As a result, after just five trips, your pass will have paid for itself.
---
Best Places to Visit in Venice, Italy
1. Saint Mark's Square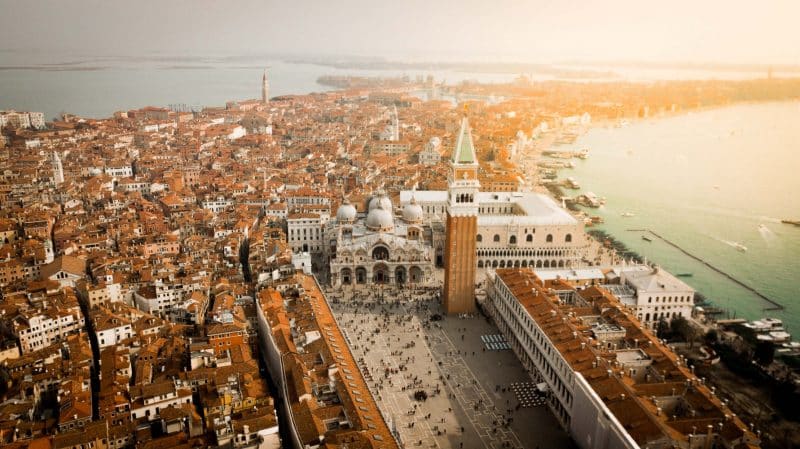 Venice's Saint Mark's Square is without a doubt its most famous attraction: the city's central square, where locals and visitors alike congregate.
As the centre of Venetian life, this area is where you'll find the St. Mark's Basilica and other must-see sights such as the Doge's Palace and the Campanile.
2. Saint Mark's Basilica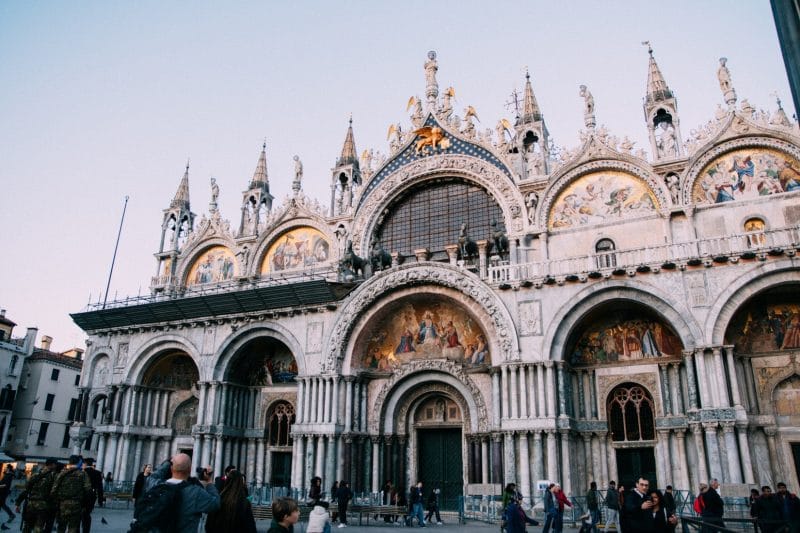 The mosaics, domes, statues, and altar that would house Saint Mark's genuine bones make this church a must-discover.
3. The Doge's Palace
It's unavoidable not to make reference to it at some point. Gothic architecture adorned the Doges' palace, which served as their official residence throughout the Republic's administration. It's a palace with a long history, and within are works by Veronese, Bellini, Titian, and Tintoretto that are simply stunning.
You can cross the famous Bridge of Sighs to view one of Europe's most beautiful palaces.
4. La Fenice theater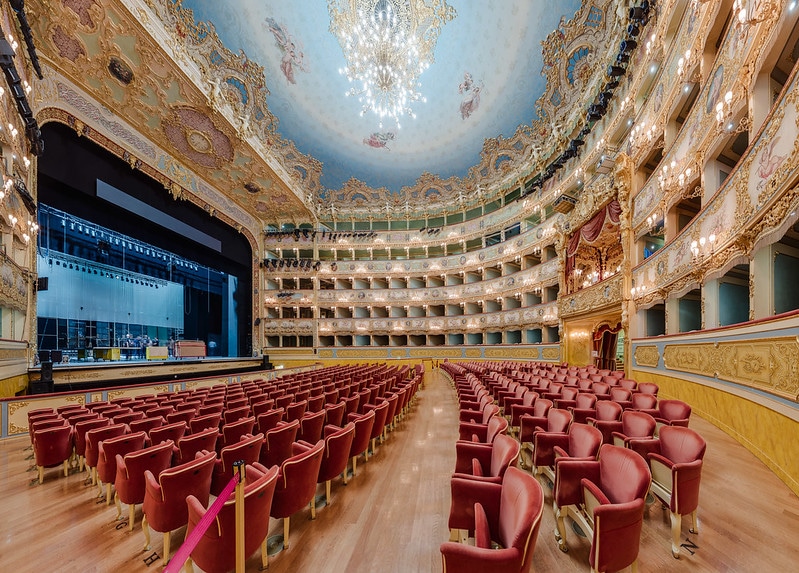 The phoenix, which rises from the ashes in mythology, is known as Fenice in Italian. In 1836, the San Benedetto theatre was destroyed by fire again, and the new La Fenice was built to replace it. However, the San Benedetto was destroyed by fire again in 1837, and the new La Fenice was rebuilt.
In 1996, it was once again destroyed by fire, but it rose from the ashes a decade later, in 2003. One of Italy's and Europe's most prestigious venues, this theatre is stunning.
5. The Cannaregio district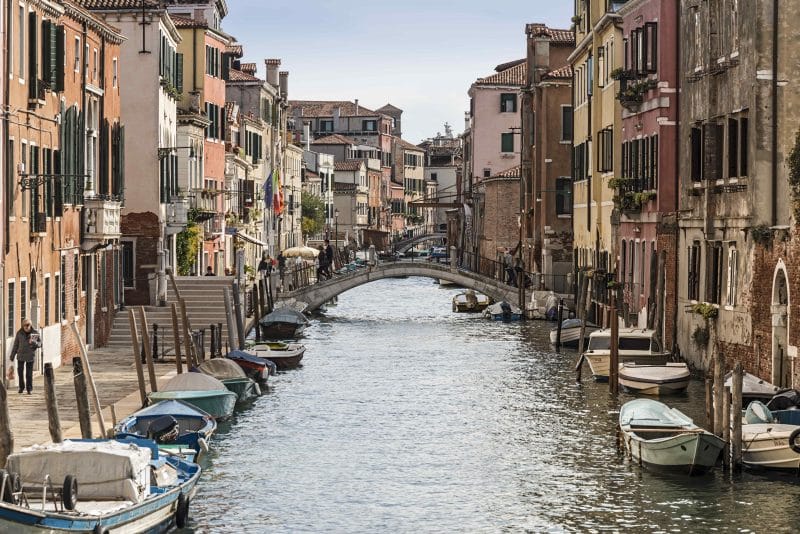 A typical neighbourhood, a long way from the glitz and glamour of St. Mark's. This is a great place to pick up gifts and souvenirs. On the pedestrian strip, Venetians prefer to stroll.
Travel to Venice and stop by the Church of the Madonna dell'Orto, which features a brick and stone Gothic front.
The Jewish Museum of Venice is located in the Ghetto section of Cannaregio, which has been a protected area for the Jewish community since the 16th century.
6. The Castello district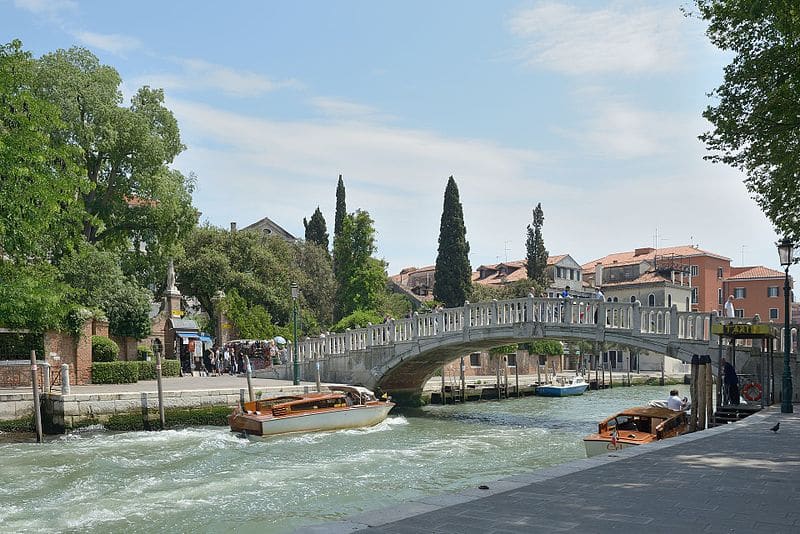 Its name derives from a long-defunct fortification on the French island of Saint Pierre. As of today, it's the city's largest neighbourhood, home to the Venetian Arsenal and the Naval History Museum, which together occupy much of the territory.
Houses here are simple and understated, as opposed to the opulence of the area around the Grand Canal palaces. Because it is the least popular with tourists, this area continues to be a favourite among die-hard Venetian fans. A sliver of the city's soul can still be found between the city's streets and its boundaries.
If you're in need of some greenery while in Venice, don't miss the Papadopoli gardens. There are three parcels in this park, totaling about 8,800 m2. Traveling with children? This is a great activity in Venice because there are a variety of games to participate in!
7. The Basilique Santa Maria della Salute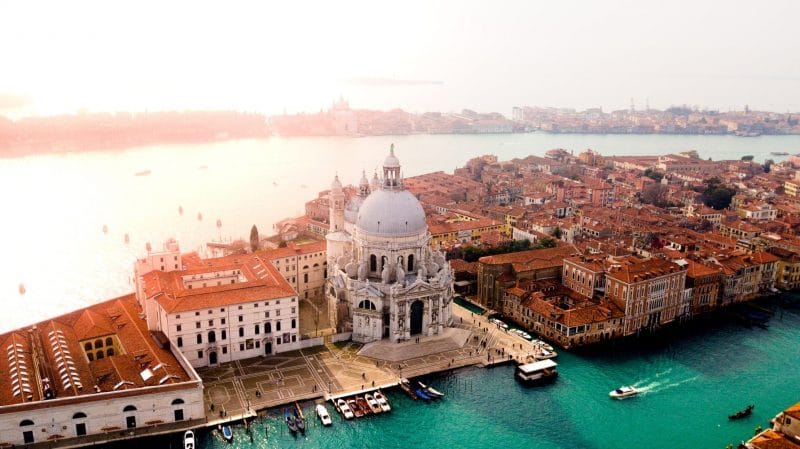 This one-of-a-kind church can be found on a very narrow strip of land between the Grand Canal and Bacino di San Marco near the southern end of the Grand Canal.
The basilica's dome was soon adopted as a city symbol by artists including Turner, Sargent, and Guardi. Venetian architecture at its finest. It was constructed in the mid-18th century.
8. The islands of the lagoon
Are you still stumped as to what to do in Venice? The splendour of Venice's many little islands extends beyond the city centre.
Murano, Burano and Torcello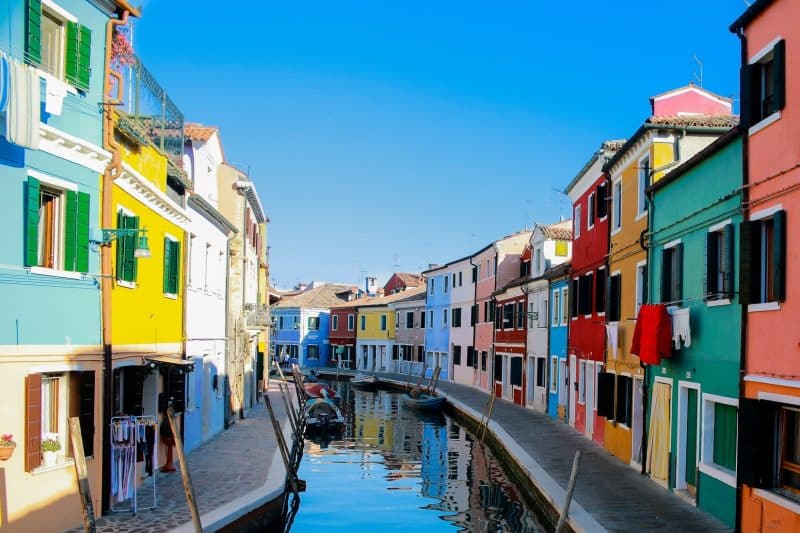 With its internationally recognised glassmaking art and glass museum, Murano is certainly the most well-known island in the Veneto. For its postcard-perfect residences and decorations, travellers flock to Burano, a small island in the Venetian lagoon off the coast of Venice.
Burano is well-known for its lace business. Torcello, the lagoon's largest island and site of the lagoon's oldest church, is the third island to be discovered. Despite this, the village is deserted and receives few visitors.
The Lido and its beach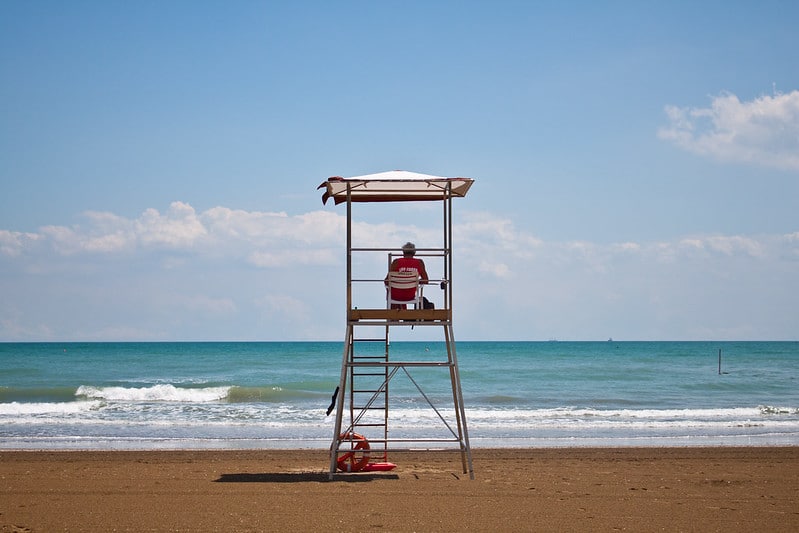 It's not just a posh part of town; it's also a popular summertime destination for Venetians. On the Lido, you'll find a beautiful beach with fine sand dunes and crystal-clear water.
This beach has an air of refinement and serenity about it. The Lido is a tranquil haven away from the hustle and bustle of Venice's centre, where most tourists congregate. This area is filled with rows and clustered bungalows that are all different shapes and colours, and are all numbered.
9. Venice and its bridges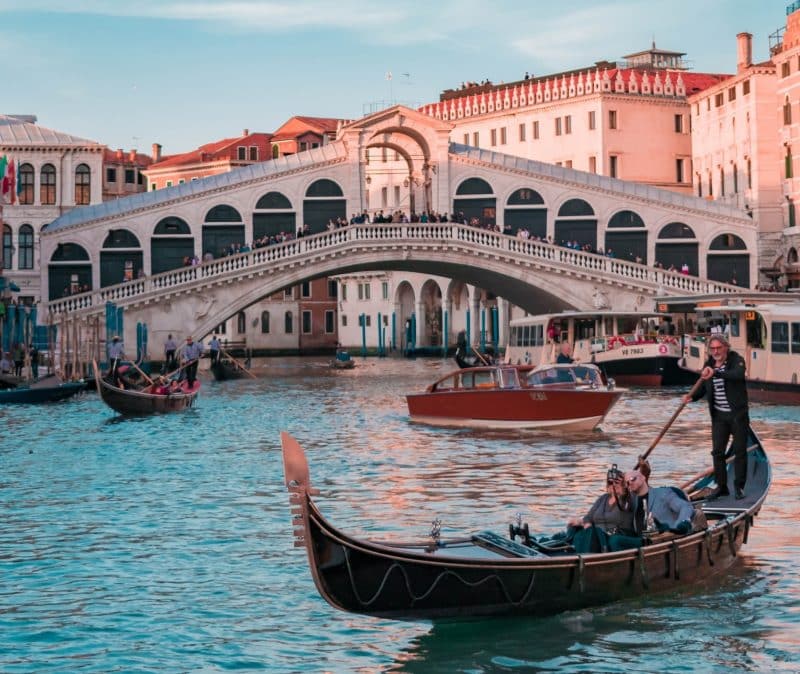 Is there any way to imagine Venice without its famous bridges? There are approximately 540 in the city, and they are all open to the public for free. By connecting the Doge's Palace and San Lorenzo Prison (where Casanova and many other notorious criminals were housed), the Bridge of Sighs may be seen from miles away.
Visit the Rialto Bridge, the earliest building to span the Grand Canal, which was built in 1500. Three pedestrian crossings exist on this vividly coloured bridge: a central corridor for walking and two rows of shops under the bridge's aprons.
10. The Pointe de la Douane (Punta della Dogana)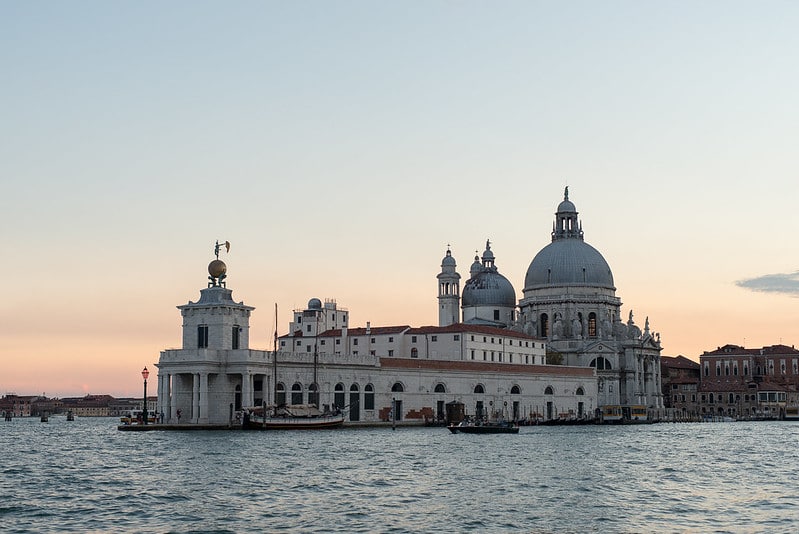 These two canals are separated by this construction, which can be found in and around the Dorsoduro neighbourhood. All goods entering Venice in the 15th century were subject to inspection by Venetian customs.
The François Pinault Foundation operates a museum in what used to be a warehouse.
11. La Ca 'd'Oro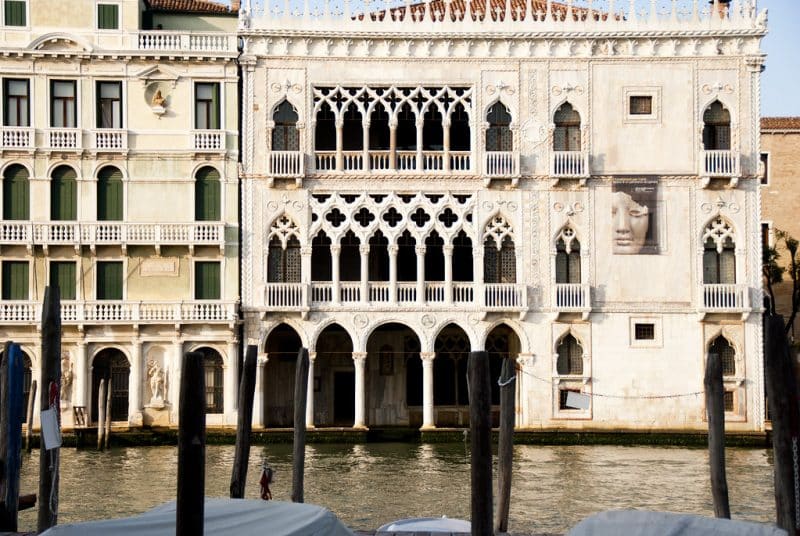 The Ca d'Oro is unquestionably one of Venice's most famous palaces. Baron Giorgio Franchetti amassed an impressive art collection in this "golden mansion," which he built in the early 15th century and now operates as a museum.
12. The Campanile of Saint-Marc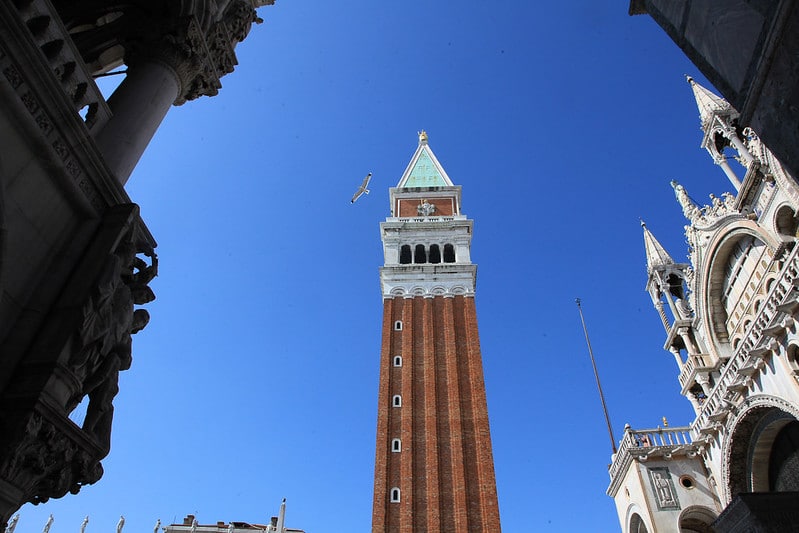 Climbing to the top of the Venetian iconic tower in Saint Mark's Square, a must-do for each visitor to the city, is a must-do experience. From the top of the Campanile, you can see all five bell towers of Rome, as well as the history of the tower itself.
13. The Peggy Guggenheim Museum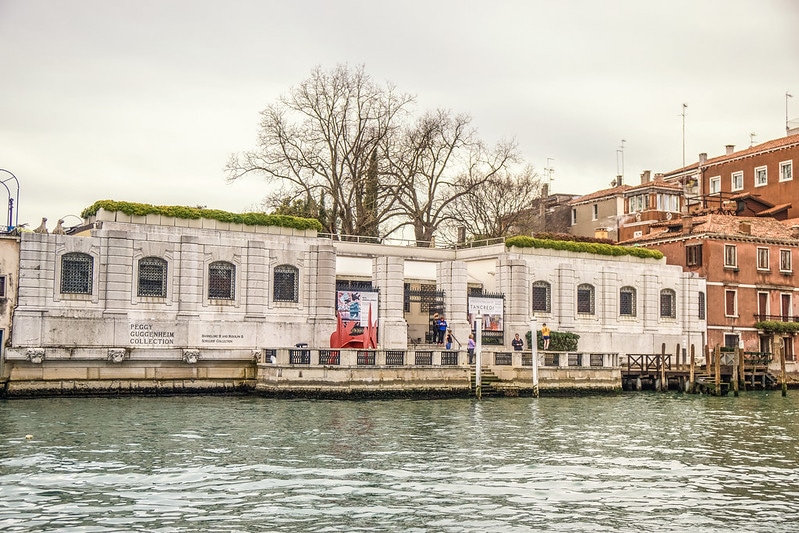 Nearly 200 works of surrealist, futurist, and abstract expressionist art are housed in this spectacular Venetian palace, also known as Palazzo Venier dei Leoni.
There is a café, a bookshop, and an exhibition space on the grounds as well as a direct view of the Grand Canal!
For its distinctive exterior spiral staircase, it's also known as Scala Contarini del Bovolo. Due to extensive repairs, this staircase was previously inaccessible, but it is now open to the public.
14. Contarini del Bovolo Palace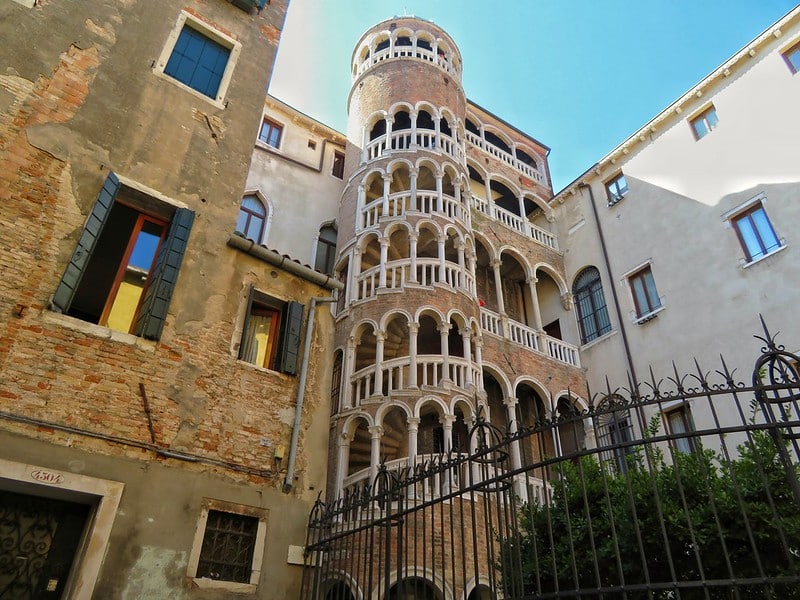 It's also known as the Scala Contarini del Bovolo because of its iconic external spiral staircase. The latter was closed for many years due to renovations, but you may now visit and admire this lovely staircase once more!
15. Other ideas for things to do in Venice
The Venice Carnival in February
A tour of Venice by Gondola
Meet in the bars for the aperitivo
Taste Venetian gastronomy and ice cream ( gelato )
Walk in the footsteps of James Bond at Palazzo Pisani and the Torre dell'Orologio
Take a tour of the Scuola Grande de San Rocco
The Acqua Alta bookshop
---
24-Hour Tourist Program for Visiting Venice, Italy
Early morning: from 7 am to 9 am
Start your day in Piazza San Marco before it becomes overwhelmed with tourists looking for excitement and entertainment in the heart of Venice's Venetian.. In the early hours of the day, you should be able to get some amazing photographs of the lovely sunrise and its reflections on the sea from Saint Mark's, and it will be at this time that you will find why you are considered a local.. Venice is one of the world's most romantic cities, and if you hang around the piazza's pigeon-infested corners for too long, you'll see hordes of tourists wandering about. Get up early!
Morning: 9 AM – 12 PM
Attempt to see the Byzantine mosaics that adorn this portion of St. Mark's Church at 9:00 a.m. to appreciate it away from the crowds of other tourists and genuinely symbolise an opportunity to experience vintage Venice.
Continue on to the Rialto Bridge to see the Grand Canal after Saint Mark's and then Café del Dodge for a superb breakfast with home-roasted coffee, which is a favourite of tourists from all over the world.
Afterwards, go around the bustling Rialto Market, which was recently voted one of The Guardian's top ten marketplaces in the world. Here you can view all the unique Venetian goods, including the local cuisine, which is very popular with tourists. After that, take the Traghetto Gondola to the Cannaregio neighbourhood, where you can grab a bite to eat at one of the many restaurants and cafés in the area, or visit Promise Spouse, one of the city's most attractive historical places for a cup of coffee and a chat with the locals.
Midday and afternoon: from 12 to 4 pm
Then, make your way to the nearby island of Burano, where you'll have the opportunity to capture stunning images of one of Italy's most beautiful islands. At the El Gato Nero restaurant in Burano, which is an Italian jewel known for its wonderful Mediterranean fare, you may have a typical fish and seafood lunch. A reservation is recommended.
If you'd want to broaden your options, we recommend "Fracto Mixto," a restaurant on the island that offers a variety of fried fish.
Evening: 6 pm – late evening
Visit the Cannaregio neighbourhood for supper, which is a popular site in the city and will provide you with a great experience as well as a walking tour of the city after you've rested.
Help information to know before you travel to Venice
The most important thing that you must be aware of before your first trip to Venice is that the city is completely different from any other city you have visited in advance, from the absence of cars in Venice to the presence of the canals, however, have you thought about the consequences?
Most hotels do not have direct access by boat, so it will not be possible to reach by taxi where you want, and for this you only carry light luggage so that you do not get exhausted by carrying it from one place to another, and even if you will spend here 24 An hour only, you should not carry a lot of items that hinder your movements easily and easily.
Knowing that the water-borne transportation here is not quite similar to the situation with a taxi on the ground in a large city, there are only specific places where these means are allowed to move to transport guests.
Vaporetto is large watercraft and is only used on the Canal Grande and waterways throughout the city, and does not enter the smaller canals. Chances are, you are going to reach it.
Venice is not a very big city and you can easily walk from one side to the other, but it will always take longer than you expect, either because you lost the road, or because you see something that attracts your attention and want to explore it, or because you are stuck among the crowds of tourists.
One of the reasons for getting lost in Venice is that addresses are not used in the same way as in many other cities, so remember to bring a good map during your city tour, familiarize yourself with the street name, number, and directions for your hotel.
Overall, the key to enjoying the rifle is to keep an open mind, with comfortable shoes for walking and a detailed map, and remember that everything will take longer than you ever imagined, despite the fact that there is no car noise, nor traffic lights where you have to wait. .
Tourists are prohibited from swimming in the canals, as a result of water pollution, and if you are there in the summer, choose the hotel that has a swimming pool such as the Belmond Hotel Cipriani Venice on the island of Giudecca or the Excelsior Venice Lido Resort which does not only have a large outdoor pool But also on the beautiful Lido Beach, if you prefer to stay in Venice for more than 24 hours.
Do not carry valuables or a lot of money with you while you are in the city, it is best to keep them in the hotel safe or locked in your luggage, especially since Venice has some skilled pickpockets.
During your tour of Venice, try to bring snacks with you, and be sure to bring bottled water along with some foods, especially if you are traveling with children on a long boat trip.
In the fall and winter, Venice sometimes suffers from floods, which are called Acca Alta, which can expose you to polluted water. During this time of year.
The language used in Italy is Italian, and do not assume that Italians speak English unless you are dealing with a tour guide who deals with them, and do not expect road signs to be written in English, and bring a translation book with you or download the appropriate applications on the mobile phone so that you can communicate With the Italians during your trip.
---
Where to Stay: Best Hotels in Venice, Italy

Venice has an amazing diversity of historical monuments and archaeological squares, museums, bridges, and gardens that are the most famous in the world, as well as the best hotels in Venice of international chains and another local character, style, and service, which made it one of the most important tourist destinations in Italy, as the charming Italian city attracts visitors annually.
When planning a tourism tour in Venice, you should know the advantages and disadvantages of Venice hotels, and we in turn provide you with all information about the best hotels in Venice to choose from.
Best hotels in Venice
The city of Venice includes a variety of hotels that vary according to their luxury and level of service, and we have selected the best Venice hotels for you. You can view and book through this report.
The best 5-star hotel in Venice
Danieli Phenicia Hotel
The best hotel in Venice, due to its fabulous legendary building, stunning view of the Venetian Lagoon, and steps from the water bus stop.
The hotel is 210 meters from San Marco Square, 240 meters from Bridge of Sighs, and 15.0 km from Venice Marco Polo Airport.
Summary of hotel reviews
The hotel received a great overall rating. The location, cleanliness and comfort were first rated excellent, while the staff, facilities and internet services were rated very well.
---
Metropol Hotel Venice
One of the best hotels in Venice, which depends on classic, antique furnishings and a design similar to ancient Arab palaces, and it also provides luxurious family units overlooking the Venetian Lagoon.
The hotel is 450 meters from San Marco Square, 300 meters from San Giorgio Maggiore Church and 15.0 km from Venice Marco Polo Airport.
Summary of hotel reviews
The hotel received a great overall rating, the highest ratings were for location, cleanliness and staff, while the internet service, amenities and comfort were also rated good.
---
Hilton Venice
One of the best hotels in Venice, ideal for couples as well as families, for its quiet location on the island of Giudecca and providing a water transfer service to the city center.
The hotel is located on the banks of Giudecca Island, 2.2 km from La Fenice and Saint Mark's Square and 15.0 km from Venice Marco Polo Airport.
Summary of hotel reviews
The hotel guests rated it very well, the hygiene, comfort, staff and facilities received the highest ratings.
---
The best 4-star hotel in Venice
Royal San Marco Venice Hotel
One of the best hotels in Venice that offers classic luxury units and a location close to San Marco Square and its alleys filled with typical shops, this hotel is also suitable for new couples and families.
The hotel is opposite San Marco Square, 94 meters from Olivetti Exhibition Center, 180 meters from San Marco Cathedral, and 15.0 km from Venice Marco Polo Airport.
Summary of hotel reviews
The hotel was rated very well for internet coverage, staff and level of cleanliness, while the location scored excellent for the location.
---
Bonveciati Hotel
The best hotel in Venice, with a wonderful facade on a water marina for boats and taxis, through which it provides picturesque traditional cruises for those interested in the romantic atmosphere, in addition to modern units equipped.
The hotel is 450 meters from San Marco Square, 750 meters from San Giorgio Maggiore Church, and 15.0 km from Venice Marco Polo Airport.
Summary of hotel reviews
The hotel received a very good overall rating thanks to the cleanliness, staff, comfort and internet services, while the location was rated excellent.
---
Splendid Venice – Starhotels Collezione
One of the best hotels in Venice, Italy for honeymoon trips and family accommodation, where the charming location is on a water canal and a private marina for boats, an elegant restaurant and a roof top terrace of the hotel that gives a magical view of Venice.
The hotel is 2.0 km from Venice Santa Lucia Station, 300 meters from Rialto Bridge and 13.7 km from Venice Marco Polo Airport.
Summary of hotel reviews
The hotel is rated excellent for the cleanliness, location and comfort, while the rest of the elements achieved good reviews.
---
Bonfisciati Palace Hotel
It is one of the distinctive Venice hotels suitable for new brides, as it provides a special suite for the newlyweds with sauna services, Turkish bath, romantic dinners and more.
The hotel is 700 meters from San Marco Square, 4 minutes from Rialto Bridge and 13.7 km from Venice Marco Polo Airport.
Summary of hotel reviews
The hotel achieved excellent reviews in terms of location, cleanliness, comfort, internet services and staff.
---
The best 3-star hotel in Venice
Florence Hotel
One of the oldest and most prestigious Venetian hotels located close to the famous San Marco Square with a direct view of the Bell Tower, it offers elegant classic units, some of which have a private balcony.
The hotel is located in the heart of Venice, 170 meters from San Marco Square, 260 meters from La Fenice, 700 meters from Rialto Bridge, 15.0 km from Venice Marco Polo Airport.
Summary of hotel reviews
The hotel received an excellent overall rating, thanks to the location, staff, cleanliness, and internet services.
---
Montecarlo Venice Hotel
One of the hotels in Venice, which is characterized by an ancient architectural style and a legendary facade dating back to the seventeenth century. It offers spacious rooms with classic décor and a touch of Venice.
The hotel is 140 meters from San Marco Square, 230 meters from Bridge of Sighs, 150 meters from San Marco Cathedral and 15.0 km from Venice Marco Polo Airport.
Summary of hotel reviews
The hotel was well received by its guests and rated it very well, as the location, staff and cleanliness were excellent. Internet services, facilities and comfort were very good.
---
Violino de Oro Hotel
One of the best budget hotels in Venice, the hotel is located inside a historical building dating back to the eighteenth century, which gives the residence an interesting historical character, especially since the entire hotel furniture is of a traditional style.
The hotel is a 3-minute walk from St. Mark's Square, a 5-minute walk from the Bridge of Sighs and San Marco Cathedral, and 15.0 km from Venice Marco Polo Airport.
Summary of hotel reviews
The hotel has received a great overall rating, the location and staff have achieved excellent ratings, while the rest of the elements got very good reviews.
---
Best Areas to Stay in Venice, Italy
This varies according to the preferences of the guests, their categories, and their purpose of visit, as central Venice is an ideal area for families and young people because of its proximity to tourist attractions and shopping centers, while islands such as the island of Gedessa or the Venetian Lake District, canals and boat docks, are ideal for grooms for their tranquility, sea views, and stunning landscapes.
Through the article, you can get a comprehensive guide about the best and highest-rated hotels in Venice throughout the different cities.
What is the average cost per night to stay in the best hotels in Venice, Italy?
The average cost of accommodation in one of the best hotels in Venice ranges between 144 – 660 USD per night for two people, and it varies according to the season, the hotel's classification, the capacity of its units, and other factors.
What are the best (and highest rated) Venice hotels?
The Montecarlo Venice Hotel and the Hotel Violino de Oro Hotel have great reviews, the Royal San Marco Venice Hotel is well rated, the cheapest best in Venice according to the opinions of Arab visitors.
What is the best hotel in Venice for honeymoon?
All hotels included in this guide are among the best hotels in Venice for grooms with high ratings, with the exception of the Violino de Oro hotel, Montecarlo Venice,
with the special suites that these hotels provide for the grooms, various recreational facilities, beauty services, spa and Turkish bath, romantic atmosphere and evening dinners, location and stunning views of the canal Watercraft, private marina, proximity to city attractions.
What are the best hotels in Venice that overlook the sea?
The Danieli Venezia , the Metropole Venice , the Hilton Venice , Bonficati Hotel , the Splendid Venice – Starhotels Colizione enjoy stunning views of the Venetian Lagoon and the island of Giudecca and a few steps from the water bus stop.
These hotels have achieved high ratings from Arab guests ranging from very good / excellent and wonderful, thanks to the facade, the luxurious view, the high-level integrated services and entertainment facilities, and the ideal location of the most important tourist attractions in Venice.
What are the best Venice hotels near the airport?
The Hotel Splendid Venice – StarHotels Collizione and Hotel Bonficciati Palace are the closest best hotels in Venice to the airport, both located 13.7 km from Venice Marco Polo Airport.
---
Best Time to Visit Venice, Italy
f you are planning to take a trip to Venice, there are some better times than others throughout the year to visit this beautiful city, and you must bear in mind: the weather, festivals, and of course the high water level, which is called the acqua alta, which is famous for the city Venice, Italy, before deciding to go visit.
Venice's climate and high water levels:
Late spring and early summer are the best times to visit Venice when it comes to the weather. But the city is usually crowded with tourists during these lovely warm days (and the May Day holiday is especially crowded), which means that there may be long periods of waiting in lines to enter museums and attractions. Finding accommodations – economic or otherwise – can also be challenging during this peak period.
Likewise, Venice is crowded with tourists in late summer, even when the weather is sultry, and the canals are full of strong smells, and there is no escape from the annoying mosquitoes.
Autumn is a great time to visit Venice, but it is also the time when more (floods or "high waters") are likely. The typical high water season runs from October to January, although floods can occur at any time during the year. While the high water level can disrupt you from sightseeing, you should understand that the acqua alta or high water has been a way of life for the local Venetians for hundreds of years, and it is a unique experience for tourists in this city.
The location of Venice in northern Italy on the Adriatic Sea means that this city has a longer and cooler winter compared to the rest of Italy. And while winter may be a great time of year to visit, especially when it comes to getting cheap deals when buying souvenirs or booking tours, and to avoid the crowds and crowds, the climate can be harsh.
This is because the winds blowing from the Adriatic Sea and rushing into the city alleys may freeze the blood in your veins, but fortunately winter ends with the lively Carnevale, the largest festival in Venice.
Festivals in Venice:
The city of Venice has many large events and events that are worth booking a trip to attend and to plan the holiday around. The Carnevale festival takes place in February or early March, and thousands of tourists visit Venice to attend this two-week festival of masked celebrations. And costumes. Easter is also a festive time in the city, in addition to being the start of the high season in Venice.
Venice is hosting an art biennial exhibition in odd-numbered years. This international art fair is a worldwide event, and takes place from June to November. The Biennale is a very popular event, so be prepared to find Venice much more crowded than usual on the days of this famous exhibition.
Another summer festival in Venice is the Festa del Redentore (Feast of Redemption), which takes place on the third weekend in July. This religious festival takes place in the Church of Redentore, located on the island of Giudecca, across from Saint Mark's Square. The festival is celebrated with the construction of a pontoon bridge over the water, feasting, fireworks, and a gondola race.
---
Tips to save money in Venice
– The budget for visiting Venice can be extremely different from one period to another. If you want to go in summer or on the occasion of the Venice Carnival, be aware that the prices can be exorbitant. Outside of these periods, it is easy to find attractive offers to visit Venice at low cost.
As an indication, here is some information concerning the expenses for our stay in Venice. We left at the end of November taking advantage of an interesting offer on Voyage Privé , with a stay of 3 nights in a 3 * hotel, flight included for 197 € per person. Including the additional costs of Ryanair (22 €), the transfer from the airport to Venice (20 €), the cost of public transport (20 €), meals (65 €) and visits (8 €), we therefore spent a total of 332 € per person.
– Getting around Venice is very easy, you can get around easily on foot or by vaporetto. The vaporetto are "boat buses", the only public transport in Venice. A single vaporetto trip costs € 7.50 and takes 75 minutes. If you plan to make several trips in the same day, we recommend that you buy a Venezia Unica City Card which allows you to take the vaporetto unlimited for a period of 1, 2, 3 or 7 days at an advantageous price. If you are under 30 and want to take the vaporetto several times during your stay, we recommend that you buy the Rolling Venice card which gives you access to even more attractive prices.
Public transport in Venice can be a big part of your budget. To limit costs, we advise you to combine your trips. For example: visit the island of Burano and go down the Grand Canal by vaporetto the same day. This way you will only need a 24h pass.
– Taking a gondola ride to visit Venice is extremely expensive. Prices are regulated by the city and it takes € 80 for a 40-minute ride and € 100 from 7 p.m. If you want to treat yourself to a gondola ride, we advise you to choose a district a little out of the way and avoid the Grand Canal. The experience will only be more authentic.
– The Acqua Alta is a frequent phenomenon in Venice , especially in autumn and winter. This is a significant rise in water levels which partially floods the city of Venice. Depending on the coefficients, the consequences are variable, ranging from a few puddles to total flooding of certain areas such as St. Mark's Square.
The Acqua Alta period is considered to extend from mid-September to mid-April. If you visit Venice during this period, you can check the Acqua Alta forecast on the official website . As a rule, the Acqua Alta lasts only a few hours and only touches the lower part of Venice. If an Acqua Alta is planned during your stay, you have several options: avoid the San Marco district for a few hours, invest in a pair of boots or buy waterproof overshoes sold to tourists for around ten euros.
---
Video: Walking Tour of Venice, Italy
---
Photo Tour of Venice
---