Travel Destinations
Kenya Travel Guide: Tourist attractions, foods and hotels
Practical travel tips for tourists visiting Kenya
Introduction to tourism in Kenya
No other country in the world evokes such a sense of adventure and romance as Kenya does when people think about safaris. When it comes to activities, Kenyan tourism is unmatched anywhere else in the world, with perhaps one of the most important being a chance to see Kenya's wide variety of wildlife. During the migration season, the Maasai Mara Reserve's savannah forests come alive as herds of wildlife roam free. There are numerous opportunities to get up close and personal with elephants, such as those found in Amboseli National Park, or to see millions of colourful flamingos at Lake Nakuru in Kenya.
While living in harmony with nature, traditional Kenyan tribes like the Maasai, Kikuyu, and Samburu maintain their age-old customs and traditions. Beyond its renowned safari parks, Kenya has stunning coastlines where divers and snorkelers can explore the fish-rich coral reef and relax on the pearly beaches. In Mombasa and Malindi, visitors can learn about different cultures and cooking methods, and visit tropical islands. Learn about Swahili's past.
Amazing geographical features include mountains and volcanic lakes all around the country, as well as the Great Rift Valley, where you can hike up Mount Kenya's snow-capped tropical peaks and fish for trout in the crystal-clear streams and rivers that run through it. Hell's Gate National Park is home to a slew of caverns and hot springs. If you want to learn about Kenya's colonial past, you must go to Nairobi, Kenya's capital, which was featured prominently in the film Out of Africa. As the main entry point to one of the world's most popular tourist destinations, Nairobi is a must-see stop for everyone. Below are Kenya's most popular tourist destinations.
---
Tourist attractions in Kenya
1- Maasai Mara National Reserve
The Maasai Mara National Reserve is a natural wonder of the world. Since it borders Tanzania, the Serengeti ecosystem extends northward, and a wildlife corridor links the two countries. The Masai tribe, famous for their red clothing and longtime residents of the reserve who grazed their animals, inspired the name of this nature reserve. According to the dictionary, "mara" refers to the shapes that light can create, such as the shade of acacia trees and hazy sky reflections on the vast grasslands.
In the months of May to October, the reserve hosts the Serengeti Desert's great migration of wildebeests, zebras, and deer. The Mara River is home to many hippos and crocodiles. For this reason, the reserve is also well-known for its incredible predation scenes that can be seen in particular from December to February, when the reserve is home to many lions, leopards, and tigers. The reserve enjoys mild and pleasant weather throughout the year due to its high altitude.
---
2- Amboseli National Reserve
As one of Kenya's most popular tourist destinations, the Amboseli National Reserve is home to Africa's highest mountain, the fabled Mount Kilimanjaro. In the Maasai language, the reserve is known as the Salt Dust Reserve because that word accurately describes the ecology of the area. Here you can see elephant herds up close, as well as big cats like lions and tigers, giraffe, impala, and eland gazelles, and water antelopes. There are also over 600 different kinds of birds to see in this national reserve. For the benefit of nature lovers, the reserve contains five distinct ecosystems, such as the dry bottom of Lake Amboseli, sulphur springs, savannah grasslands, and woods. Don't forget to learn about the Maasai culture, which has rituals and traditions, as well as about the people who live in the reserve.
---
3- Tsavo National Park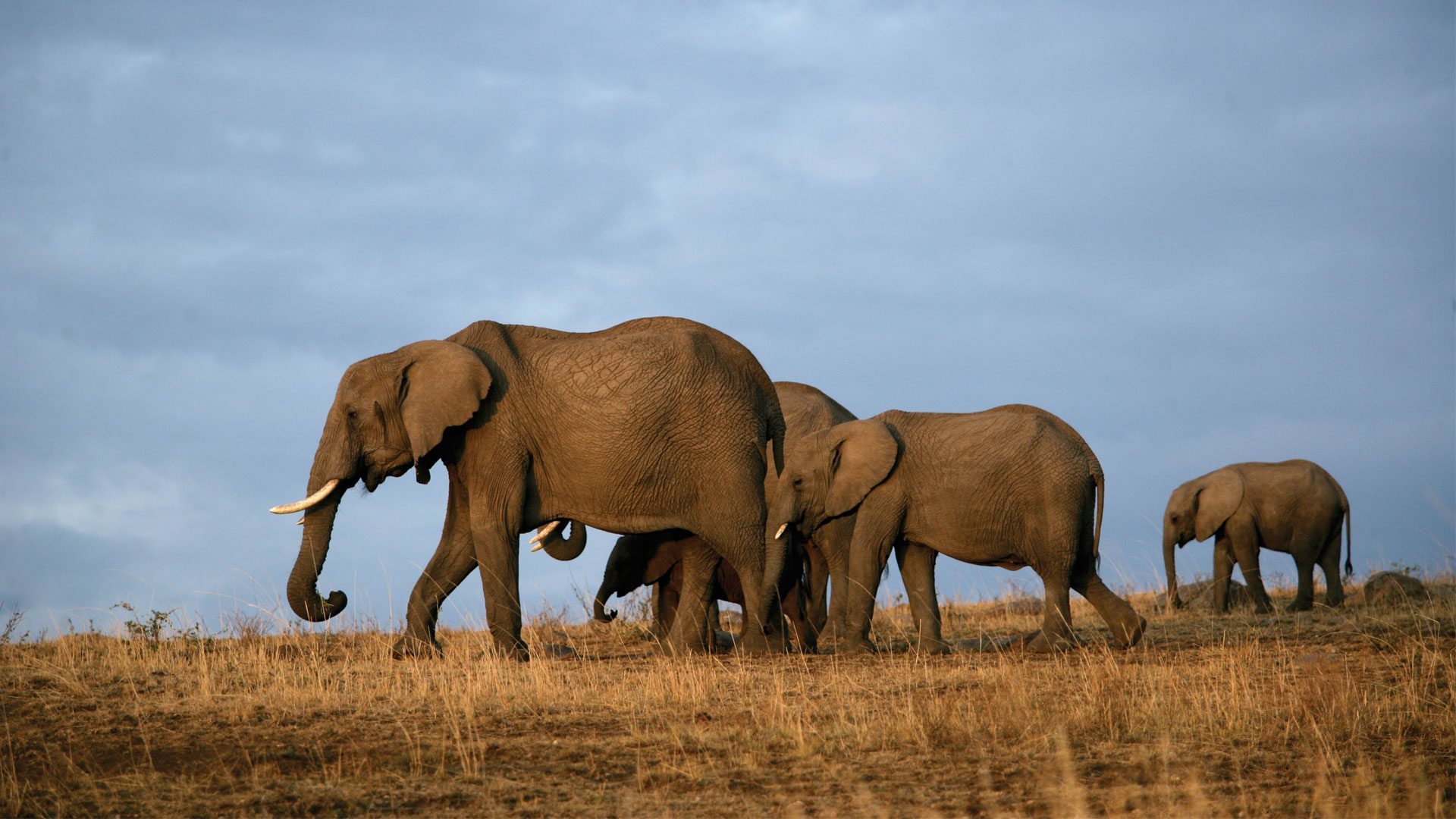 There are two parts to Tsavo Reserve, making it Kenya's largest national park. More than 4,000 square miles (10,000 square kilometres) of the reserve are dedicated to conservation efforts. The reserve is home to a variety of wildlife, including the endangered black rhinoceros (Rhinoceros sirtalis). A large herd of elephants bathes in the red dust of the Tsavo East Reserve, halfway between Nairobi and Mombasa. For miles along its banks are rows of palm trees, which blend seamlessly with the waters of the river and the plains beyond to create an enthralling scene. Yatta Plateau, the world's longest lava flow, Mudanda Rock, and Lugard Falls all lead to crocodile-infested ponds.
This area of the Tsavo West Reserve is renowned for its breathtaking natural beauty as well as its consistently warm climate. It also has the broadest range of climates. These springs, known as Mzima Springs, serve as a haven for hippos and crocodiles alike. Chaimu Crater Hill, home to a variety of raptors, and the Ngulia Rhino Sanctuary are two more attractions in the area. The Tsavo West Reserve's dense vegetation makes it difficult to enjoy wildlife viewing, but the area is well-known for its breathtaking views.
---
4- Samburu, Buffalo Springs and Shaba National Reserves
The Samburu, Buffalo Springs, and Shaba Reserves can be found in northern Kenya along the banks of the Ewaso Nyiro River. George and Joy Adamson raised the lioness Elsa in the Shaba National Reserve, which was featured in the film Born Free. In order to reach the sprouts on the highest branches, some animals, such as the Griffys zebra and the long-necked giraffe antelope, stand on their hind legs. Part of the Samburu National Reserve is the Sarara Singing Wells, a local irrigation opening where Samburu warriors sing traditional songs while delivering water to drinkable animals. If you're lucky, you might even see some huge predatory cats or wild dogs.
---
5- Lake Nakuru National Park
The colossal flocks of pink flamingos found in Kenya's Lake Nakuru National Reserve are well-known worldwide. The lake, which is part of the African Great Rift Valley and makes up about a third of the reserve's total area, attracts large flocks of birds. Around 450 different bird species can be found in the reserve, which was established in 1961. A wide variety of wildlife can be found in the reserve, including lions, leopards, wild boars, water antelopes, snakes, and white rhinos. In the reserve's geography, you'll find cliffs and forests, as well as wide grasslands surrounding the lake. A large grove of menorah trees can be found on the property. The presence of these massive trees with thick trunks adds depth to the desolate surroundings.
---
6- Lamu Island
There is an old-world charm to Lamu, a small island off the coast of Mombasa. There are UNESCO World Heritage Sites in Lamu Old Town and Kenya's oldest continuously inhabited colony, which dates to the 12th century AD. Lamu Old Town. As you make your way through the city's confusing streets, you'll learn about the island's long commercial history, which has been preserved in the city's historic landmarks like the old buildings. There are Arab, Indian, European, and Swahili influences in the island's architecture.
There are many unique architectural features on the island, including hand-carved wooden doors, stone houses, and balconies and rooftops. There are still dhows without engines and indigenous people riding and transporting their goods on donkeys when you visit this lovely place. The people of Lamu Island, the majority of whom are Muslims, dress traditionally. The island's Lamu Museum houses Swahili artefacts as well as maritime artefacts from the region. You should go to the Lamu Fort and the Donkey Sanctuary. The island's cafes, which are scattered along the island's white sand beaches, serve distinctive Arabic coffee.
---
7- Lake Naivasha
Its water level drops dramatically in dry seasons because Lake Naivasha is at the very top of the African Great Canyon. Water quality and level are affected by floriculture. If you want an unforgettable experience and to get a close look at nature, go for a boat ride and a walk on the lake. African fish eagles are among the area's 400 bird species. Island antelopes like the colib live in the area as well. There are also many hippos and other large animals like those listed above.
Wildlife abounds in the Crater Lake Game Sanctuary, near Naivasha Lake in Kenya. Just south of Lake Naivasha, Hell's Gate National Park is home to a diverse range of wildlife and adventure activities, including hiking volcanic mountains and the Hell's Gate Gorge's red cliffs. Joy Adamson and her husband George lived at the Elsamere Conservation Center, on the southern shore of Lake Naivasha, where they used to serve exotic tea.
---
8- Tourism in the Kenyan city of Nairobi
Known for its ancient past, Nairobi is Kenya's capital and largest city. People flocked to the British East African colony's capital, which was originally called Nairobi, to make their fortunes in the coffee and tea trade. Nairobi now has a slew of historical landmarks and wildlife-related tourist attractions that are both well-known. Kenya's history, culture, and contemporary art are all represented in exhibits at the Nairobi National Museum (NNM). Additionally, Nairobi is home to a number of stunning botanical gardens. There's also the Karen Blixen Museum, the former residence of Danish author Karen Blixen, who wrote Out of Africa under the pen name Isaac Densen. If you want to see wildlife without leaving Nairobi, head to the Nairobi National Park, which is home to a wide range of species and a sanctuary for black rhinos.
---
Video: Things to Do in Nairobi, Kenya
---
9- Nairobi National Park and David Sheldrick Wildlife Trust
The Nairobi National Reserve is located just 15 minutes from the Kenyan capital and contains many wildlife, including lions, giraffes, cheetahs, wild buffaloes, zebras, hippos and elephants. And when in Nairobi, you cannot leave without visiting Nairobi National Reserve, which is rich in all kinds of wildlife. And in the rhino reserve, you can enjoy seeing some of the endangered animals. Through the Nairobi Safari Walk, you can discover an exceptional walking experience amidst wildlife, and enjoy the sight of more than 400 species of birds, including the gray crested crane.
And at the main gate of the reserve is the David Sheldrick Wildlife Center, which takes care of the rescue and rehabilitation of elephants that lose their mothers. And in this center, you can see these beautiful creatures up close. And no visit would be complete without going to the Giraffe Center and feeding these delicate animals with your hand directly.
---
10- Tourism in the Kenyan city of Mombasa
Mombasa is the largest port of Kenya and the second largest city. The city of Mombasa is a melting pot of many cultures, different architectural styles and varied cooking styles, given that the city contains large numbers of British, Portuguese, Arab, Indian and Asian immigrants. In fact, Mombasa is an island connected to the mainland by many bridges and ferries. Coral reefs surround the coast for a distance of 480 km, providing great opportunities for scuba diving and snorkeling, especially in the Mombasa Marine National Park and near Wasini Island. Tourists can also enjoy dolphin watching and deep sea fishing.
History lovers will enjoy discovering the Fort Jesus and the Old Town, with its narrow streets, ancient Swahili dwellings, markets and souvenir shops. Also, Mombasa North Beach is packed with attractions and leisure activities that include Mombasa Go-Kart trails, theaters, playgrounds and restaurants. Mombasa is a distinct coastal destination where beach lovers will find a lot of fun, as the beaches of Nyali and Bamburi are located north of the city, while the beaches of Chile, Tiwi and Diani are located south of Mombasa.
---
11- The city of Malindi
Malindi is located in the north of Mombasa on the Kenyan coast and is a popular beach resort for many European tourists. Due to the city's long commercial history, the city is a melting pot of many cultures while retaining its unique independent personality. The city is divided into two main parts, the old historical section that smells of Swahili history, which dates back to the twelfth century AD, and the modern section. Tourists come to Malindi to enjoy relaxing in the golden sun on the white sands of Watamu Beach.
There are also the Watamu Marine National Park, Malindi Marine National Park, the Jami Mosque, tombs from the 14th century AD, and the Church of St. Francis Javier. Francis Xavier, which is one of the oldest churches in East Africa, and the Vasco de Gama Cross, which is one of the oldest monuments in Africa. Also in Malindi, there is a Falconry of Kenya Center that specializes in rehabilitating sick and injured birds. About 30 km northeast of Malindi, there is the Marafa Depression, also known as Hell's Kitchen, which are sandstone paths formed by wind and rain.
---
12- Mount Kenya National Park
The Mount Kenya National Reserve, a UNESCO World Heritage Site, is located in the Central Highlands region east of the African Great Canyon, and includes the highest mountain peak in Kenya, Mount Kenya, which is 5,199 meters high. And in this beautiful place, you can enjoy a rare view of tropical snow. Mount Kenya was formed by a series of volcanic eruptions, and it actually consists of three ice-covered peaks, the highest peak is Mount Batian, followed by the summit of Mount Nelion and then the summit of Mount Lenana, which can be easily climbed, but the sudden change in the weather may Is a huge challenge.
The scenery varies in this region to include glaciers, lakes, springs, forests and dense bamboo trees. Due to the diversity of plants and animals, this area is an ideal safari destination, with white and black monkeys, wild buffaloes, elephants, cheetahs, hyenas and arboreal hyrax. In the foothills of the hills, the Fairmont Mount Kenya Safari Club is a luxury hotel that offers its guests many interesting activities, including trout fishing and playing tennis and golf.
---
13- Hell's Gate National Park
An ideal destination for hikers, Hills Gate National Park is one of the few reserves in Kenya that allows camping and exploring the surrounding environment on foot or on a bike. The reserve includes the red Hell's Gate Gorge, Obsidian Caves and Fischer's Tower. The reserve also includes hot springs and springs that blow steam from the ground. In this reserve, you will find many pictures of wildlife, including leopards, baboons, ostriches, deer, and antelopes, in addition to 100 species of birds and vultures.
The Olkaria Geothermal Station, located in the Hills Gate National Park, is the first of its kind in Africa, and it generates power from hot pressurized water underground. You can also visit the Oloor Karia Maasai Cultural Center to learn about Maasai culture and arts.
---
14- Ol Pejeta Conservancy
Ole Pijita Reserve is located 200 kilometers north of the capital, Nairobi, near Mount Kenya National Reserve. In this nature reserve of 90,000 hectares, you can discover wildlife up close, where you can see lions, leopards, elephants, wild buffaloes, rhinos, hyenas, zebras and antelopes, in addition to stunning views of the snow-covered summit of Mount Kenya. The reserve is famous for its northern and southern white rhinos, among them the blind Baraka rhinoceros that visitors can feed. There are guided tours that you can visit the chimpanzee reserve. The reserve welcomes visitors during the day and allows for an extension of the wildlife adventure to include overnight stays in campgrounds, safari huts or a wonderful farm.
---
Travel tips to tourists visiting Kenya
Kenya is one of the best tourist destinations on the African continent, as it is characterized by a diverse natural and cultural scene. In Kenya, you will enjoy stunning landscapes, amazing safaris, wandering long walks and relaxing on the beautiful beaches. If you want to get to know Africa up close, Kenya is your ideal destination. But before traveling to Kenya, you should be prepared for this exciting adventure in the heart of Africa, especially if you are visiting Africa for the first time. Here are 22 useful things you should know before traveling to Kenya.
1- Branches and smoke
The locals in Kenya are friendly, welcoming and hospitable. Therefore, do not hesitate to meet the Kenyans, talk to them, and learn about their customs and traditions. The locals will help you a lot and give you the favor when you express your passion for their beautiful country.
2- A safe country
Perhaps one of the main reasons why locals welcome tourists to Kenya is the weak economy that Kenya has been suffering from in the past few years due to the decrease in the number of tourists. Indeed, tourism has been greatly affected due to some terrorist operations that took place in many places around the world, which resulted in a decrease in the number of tourists visiting Kenya over the past ten years. Currently, many local residents who work in the tourism sector suffer from difficult living conditions. In reality, Kenya is a very safe country. And if you stick to the touristy places, you won't have any problems.
3- Ethnic tensions
Kenya suffers from some ethnic tensions that are impeding the holding of fair elections and affecting the stability of the country. Despite the fact that these ethnic tensions exist, you will not feel them during your visit to Kenya, even if you visit it during the elections.
4- Security at airports and on the roads
Kenya is keen to take strict security measures to counter ethnic tensions or any terrorist operations. So, you will feel completely safe in Kenya, especially at airports, major roads and malls. For example, at airports, all people, cars and bags are checked very carefully. For this reason, it may take longer to complete travel procedures than usual. And when traveling in northern Kenya towards the Ethiopian border or on the coast from Malindi to Lamu, it is not recommended to travel by car, and it is better to travel by plane. You should be aware of the latest developments regarding security in Kenya before you travel.
5- Visa
There are several tourist visas that you can obtain when traveling to Kenya. Most of the travelers to this region obtain an East African visa, which allows entry to multiple countries (Rwanda, Uganda, and Kenya) at cheaper rates than single visas. You must apply for an East African visa online before you travel. If you are only planning to visit Kenya, it is best to obtain an eVisa online before traveling as it will save you a lot of time upon arrival at the airport. You can also obtain an entry visa at the border points, and there is also a transit visa if you are traveling to another destination. It is best to find information related to visas by checking with the competent authorities in your country.
6- Economy flights
There are many airlines that provide economy flights in Kenya, which are safe and cheap flights. For example, the Fly540 domestic flight from Nairobi to Mombasa costs around $ 40. There is also Kenya Airways, the national carrier, which operates domestic and international flights to many destinations at very good prices.
7- Train trips to Mombasa
Train connections from Nairobi to Mombasa are the cheapest and most romantic option. Currently, there are high-speed trains in Kenya operated by a Chinese company. Train journeys in both directions usually start at 9 am, and tickets must be booked in advance. Payment is made via the M-Pesa system . If you do not have access to this system, you can go to the train station and purchase tickets yourself.
8- Matatus buses
Passengers take minibuses, known as the Matato buses, for short distances. The trips are usually exciting and full of adventure and famous African music. There are also tuk-tuk and boda (motorcycles) that are used for transportation within small cities, which are cheaper options than taxis. Passengers take large buses for long distances, such as flights from Nairobi to Mombasa.
9- M-Pesa propulsion system
In Kenya, there are a lot of mobile payment services, and the M-Pesa payment system is one of those systems that allow Kenyan citizens to pay online without the need to have a bank account. Through the use of the voucher system, money can be added to the mobile phone and used to pay bills and other electronic services. If you are planning to stay in Kenya for a while, you will need to subscribe to the service via a local SIM card.
10- Mobile phone SIM cards
Mobile phone SIM cards are easy to get in Kenya. The company Safaricom is one of the best mobile phone companies in Kenya, providing excellent coverage and great bouquets data. To take advantage of their services, all you have to do is present your passport at any store and subscribe to the company's services. And don't forget to check everything is okay before leaving the store. You can get 30 gigabytes per month for 3,500 Kenyan shillings or 3 gigabytes per month for 100 Kenyan shillings.
11- Local food items
Kenya is not famous for its varied foods.Most of the locals eat a simple meal of corn puree called Ugali, which is served with beans, steamed vegetables (sokuma wiki), and sometimes chicken. Food is usually eaten with hands without the use of cutlery. In addition, you can enjoy delicious tropical fruits, including pineapple and avocado. The coastal regions are well-known for their Asian dishes, including lentil samosas and chapati bread.
12- beer
Kenya has two local ales, which are among the cheapest and finest alcoholic drinks, and perhaps the best drink is Tusker Malt.
13- Currency
The official currency in Kenya is the Kenyan shilling, and the US dollar is equivalent to about 106 Kenyan shillings. Currency can be changed easily at all banks, but ATMs only deal in Kenyan shillings. Sometimes, locals use the word bob to refer to shilling, and the word may have its origins in English colonial periods.
14- Major stores
Kenya has a small number of supermarket chains, perhaps the best known being Tuskeys. You can buy canned products at supermarkets, but it is best to buy fresh fruits and vegetables from the markets. And don't forget that Kenya bans the use of plastic bags, so be sure to bring the reusable bags with you to the store.
15- Places of residence
Kenya has a large number of lodges and accommodation options catering to the needs of budget travelers, including the Milimani Backpackers in Nairobi, the Diani Backpackers in Diani Beach and the Distant Relatives Lodge in Kilifi.
16- Do not forget to carry your passport at all times
Kenyan law requires that a foreign tourist carry their passport at all times while in Kenya. The police often stop tourists and ask for their passports.
17- Traffic
When you mention Nairobi in front of the locals, the first thing they warn you about is heavy traffic. If you want to go somewhere in Nairobi, especially the airport, you should go well in advance due to traffic jams.
18- Swahili / English
There are two official languages ​​in Kenya, which are English and Swahili. Many locals speak a mixture of the two languages. In addition, many tribal dialects and local languages ​​are found in the rural areas of the country. You will find a lot of fun when trying to pronounce some Swahili words and phrases. So, you can take along the Lonely Planet Swahili Phrasebook . You will find a lot of appreciation from the locals when you try to speak their language.
19- Health
Malaria is very common in Kenya. So, please follow some precautions during your visit, including using blankets while you sleep at night and taking some anti-malarial drugs. You can also obtain a yellow fever vaccination certificate before traveling to Kenya. It is best to obtain a travel insurance policy from a reliable insurance company.
20- ATMs
Automated teller machines (ATMs) are spread across Kenya, and Barclays Bank is one of the most trustworthy banks. Most ATMs accept MasterCard and Visa cards, but you should check this before withdrawing funds. Usually, the limit for withdrawing money from an ATM is 40,000 Kenyan shillings at a time, but it varies from one bank to another, and this limit may be as low as 20,000 Kenyan shillings.
21- Keep some dollars
In addition to your credit card, it is also great to bring some US dollars with you to Kenya. It is common to convert the US dollar into the Kenyan shilling, and you can also use it to pay for various services, such as safaris, hotel stays, and others. By paying for services in cash, it will provide fees for withdrawing money from ATMs, in addition to being able to use it in emergency situations.
22- Safari trips
There are many national parks and reserves that you can take safari in. Here is a selection of the most important of these destinations:
Masai Mara Reserve, one of the best nature reserves in Kenya.
Tsavo East Reserve, a quiet reserve not crowded with tourists.
Amboseli Reserve, a nature reserve where herds of elephants can be spotted against the backdrop of the soaring summit of Mount Kilimanjaro.
Hills Gate Reserve, a great destination for safari in an environment filled with hot springs.
Lake Nakuru, the premier destination for rhino watching.
Lake Naivasha, popular for boat trips during sunset.
Mount Kenya, a great destination for an amazing safari.
A video of an Arab traveler showing off a safari in Kenyahttps://www.youtube.com/embed/rDdPSBKhVKI?feature=oembed
---
Popular Kenyan foods to try
Here is a list of 20 of the most popular cuisines in Kenya.
1- Ugali (cornmeal meal) Ugali
Ugali is undoubtedly the most famous dish in Kenya, and is usually prepared by adding corn flour to boiling water and stirring it until it thickens, and is served with cooked vegetables or stews.
2- Irio (mix peas and mashed potato) Irio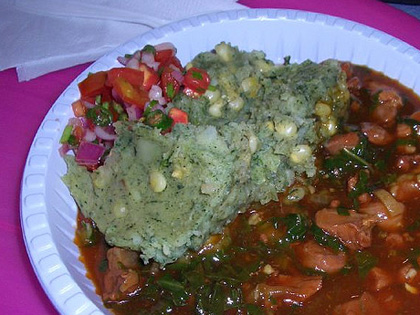 One of the most popular Kenyan dishes, Irio is a dish specific to the Kikuyu but has spread across the country. This delicious dish is prepared by boiling green peas and potatoes and mashing them before adding wholegrain corn to give the mixture more starch and texture. This famous Kenyan dish is eaten with grilled nyama choma (nyama na irio) or with Kenyan stew.
3- Githeri (legumes and corn)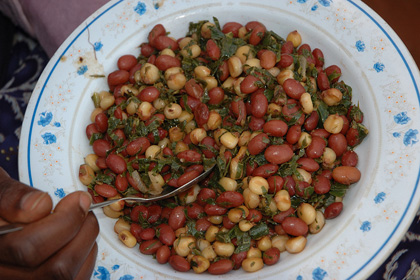 It is a simple Kenyan dish consisting of beans and boiled corn kernels with a handful of vegetables. This dish is filling and nutritious and delicious when added to it with salt, black pepper, and chili pepper and topped with chapati bread.
4- Kenyan Pilau
It is a wonderful combination of rice cooked with cumin, cardamom, cinnamon and cloves. With an irresistible aroma, this rice is served with stew of meat, sliced ​​tomatoes and fresh onions. Biryani is another type of spiced rice that is very popular in coastal areas.
5- Wali wa Nazi (Coconut rice) Wali wa Nazi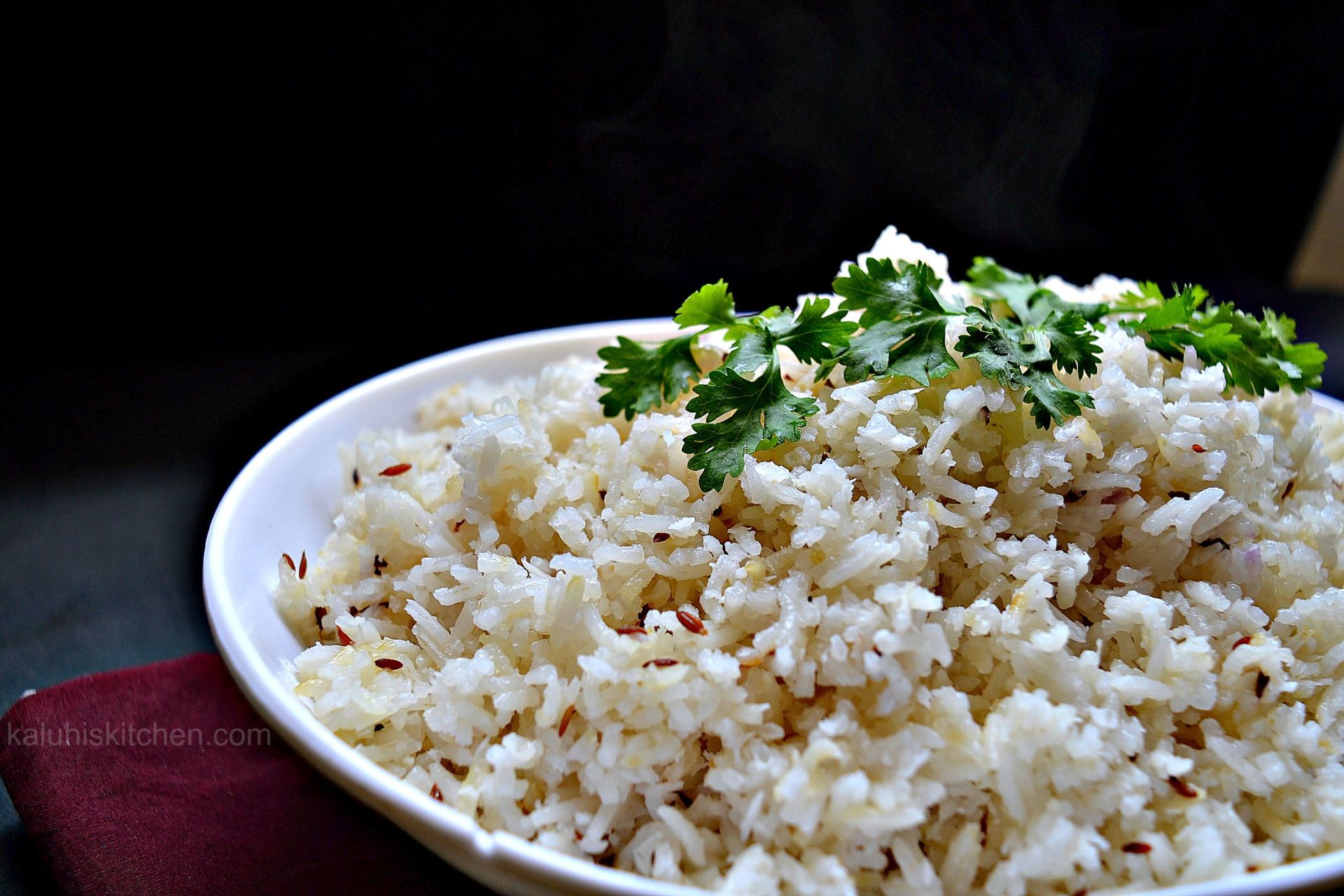 Wali wa Nazi is a popular Kenyan dish that is very popular on the coast of the Indian Ocean, where white rice is cooked with grated coconut to create a delicious mixture. This dish is usually served with fish, chicken curry, vegetable, or bean stew.
6- Sukuma Wiki
This dish is one of Kenya's most popular vegetable dishes, and is prepared using kale. Often the leaves of vegetables with high nutritional value are cooked in oil with chunks of tomatoes and onions and add a little mchuzi mixture to give the dish a wonderful flavor unparalleled.
7- Kenyan stew
The Kenyan stews can be prepared using different types of meat, including beef, goat, and chicken. Kenyan stews also contain vegetables, such as carrots, peppers, peas and potatoes. The sauce is often prepared using tomatoes, onions, salt and black pepper with the addition of a little mchuzi mixture.
8- Nyama Choma (grilled meat)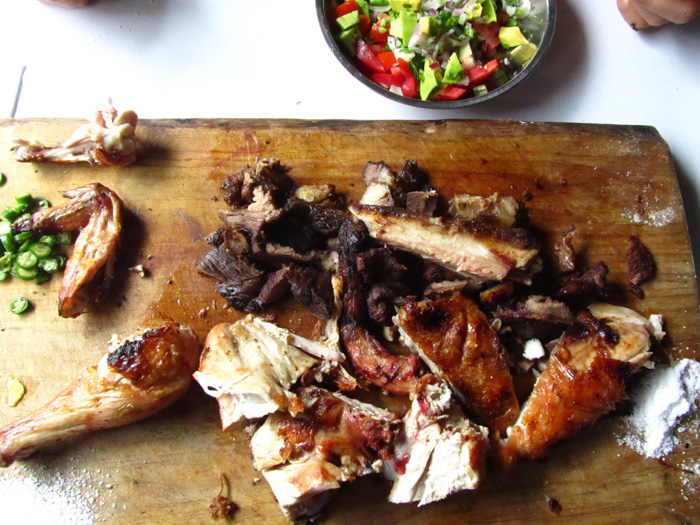 No Kenyan menu is devoid of the grilled meat niyama chuma dish, and beef and goat are among the most popular types of meat used to prepare this delicious dish. Chicken (kuku choma) or fish (samaki choma) can also be used. This dish is usually dipped with salt.
9- Matoke (banana stew)
This dish can be traced back to Uganda, but it is very popular all over Kenya. This dish is prepared by cooking bananas with oil, tomatoes, onions, garlic, hot pepper and lemon juice, and meat can be added. The bananas are cooked with the rest of the ingredients until they turn into a thick sauce. This delicious dish is served with ugali, rice or chapati bread.
10- Chapati
Chapati bread is one of the varieties that spread in Kenya by the Indian population. The Kenyan chapati is prepared by making rolls of flour dough and rolling them out into flat circles. After that, the dough is fried in oil until it becomes crispy from the edges and soft on the inside. The chapati bread is eaten with fried cabbage and legumes, and it can be eaten as a wrap with a cup of tea.
11- Kachumbari (tomatoes and onions)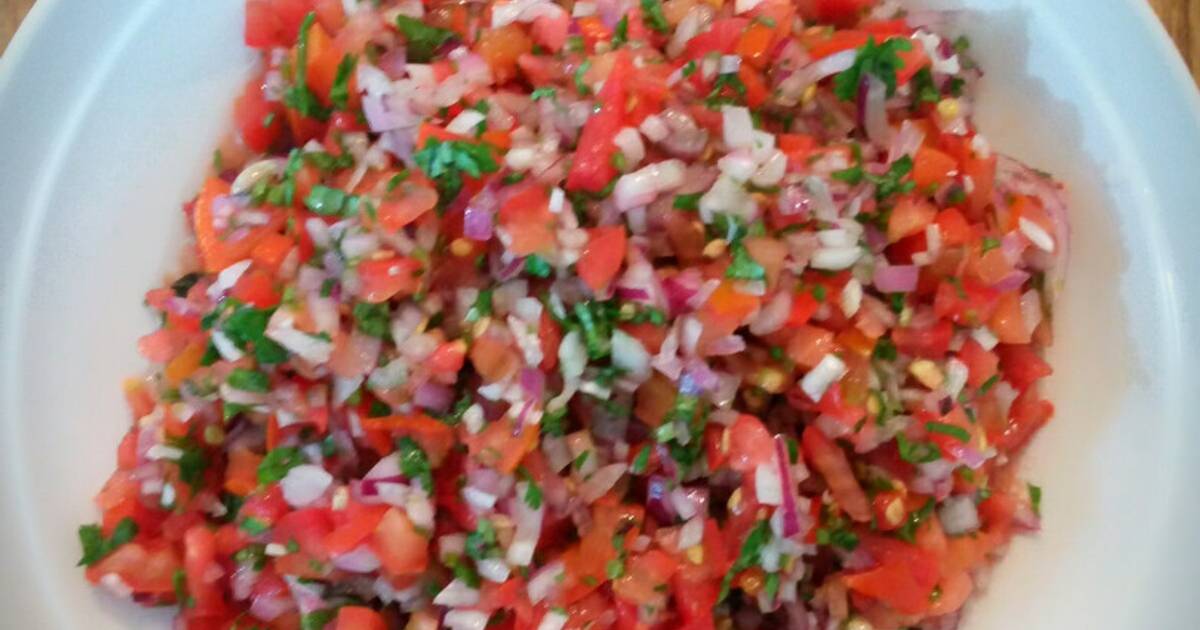 This delicious dish consists of an amazing combination of tomatoes, onions, chili peppers, coriander, and sometimes avocado. This dish is inspired by Mexican cuisine, and is used as a side salad with other main dishes, such as niyama chuma.
12- Kenyan Bajias
There are varied forms of the bagasse, the Kenyan Bagyas inspired by the Indian cuisine is an amazing dish of delicious fried potatoes (French fries). The potatoes are chopped, seasoned, fried and served with a delicious Kenyan tomato sauce.
13- Masala chips
This dish consists of fresh, well-fried French fries, with the addition of tomato sauce, chili sauce, herbs, coriander and other additions that the chef may choose to give an unparalleled flavor to this distinctive dish.
14- Chips Mayai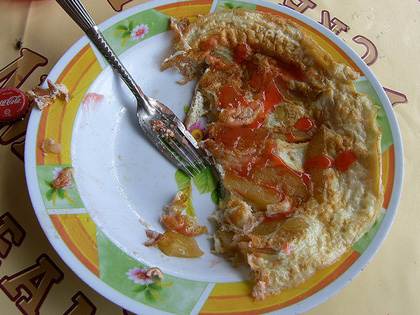 This dish is an omelette of Kenyan French fries. Put the potatoes in a frying pan, cover with a large amount of scrambled eggs, and add a large amount of spicy tomato sauce. It is a delicious snack and rich in calories.
15- Mandazi (Kenyan donuts)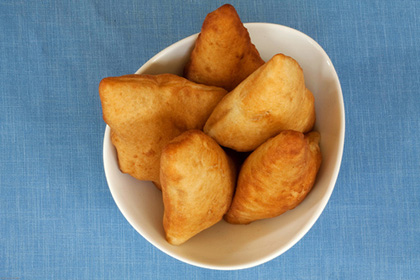 This popular dish is famous for its exquisite aroma that can be distinguished from great distances. This delicious dish is usually consumed as breakfast or as a light meal with tea.
16- Mutura Mutura
Mutura is a Kenyan sausage dish that is delicious and rich in protein. This dish is prepared by stuffing goat intestines with a mixture of ground meat and blood. The sausages are placed in boiling water until fully cooked, and then grilled until it acquires a delicious taste and a distinctive aroma. It's a great experience with authentic Kenyan street food.
17- Kenyan Burger
Although it is not a classic Kenyan dish, the Kenyan style burgers are a delicious dish that is ideal for burger lovers. Some restaurants serve grilled burgers, while others serve fried burgers. Burger Hut is one of the best restaurants serving delicious burgers in the Kenyan capital, Nairobi.
18- Grilled Maize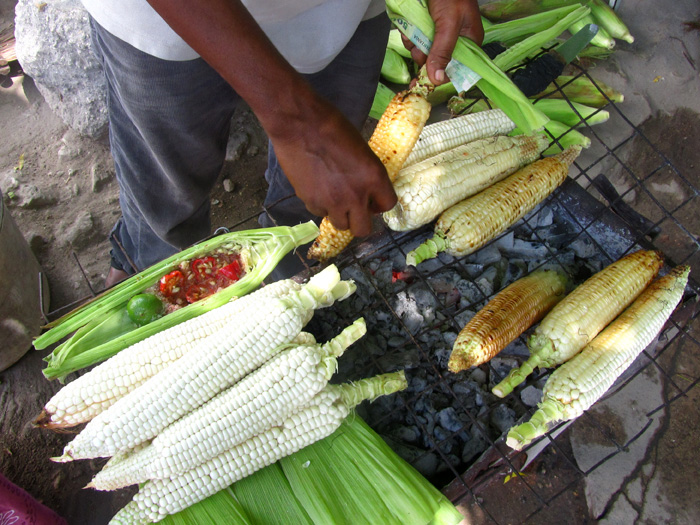 One of the most popular snacks you can have on the go is grilled corn. Ripe corn cones are picked and prepared for charcoal grilling. Grilled corn is known for its delicious taste and high nutritional value. Spicy lemon salt can be added to grilled corn for more distinct flavor.
19- Samosa
Samosas have their origins in India, but it is currently considered one of the most popular snacks in Kenya. It is a pastry stuffed with marinated meat or vegetables, and is fried until golden. For more flavor and delicious taste, you can add a little lemon juice to the samosa. Samosas are available throughout Nairobi, in restaurants and street food carts.
20- Kenyan Chai Tea
Kenyan coffee is world famous, but hot tea is the favorite beverage of many locals. Usually black Kenyan tea is consumed with whole milk and sugar added to it.
---
Best hotels in Kenya
Kenya has a large variety of hotels, including luxury hotels, inns and budget hotels. Below is a list of the best hotels in Kenya.
1- Elsa's Kopje Lodge
This hotel is located in Meru and has a rating of 9/10. This small, eco-friendly hotel is located on Mughwango Hill, overlooking the Meru Plains. The elegant rustic cottages offer stunning views of Meru National Park. The hotel has a restaurant that serves a variety of international dishes with a distinct Italian touch. There are many interesting activities, including fishing in the river and visiting the rhinoceros reserve. Rates start from £ 669 per night.
---
2- Angama Mara Hotel
Located on the African Great Canyon, this hotel offers stunning views of the plains of the Masai Mara National Reserve. In this hotel, you will enjoy an impressive level of luxury, as well as an unparalleled safari experience, in tents with a glass front. This is in addition to the hospitality and exceptional dining experiences. Rates start at £ 667 per person, per night.
---
3- Tribe Hotel
This hotel has a rating of 9/10. Tribe Hotel is perhaps the most spectacular hotel in Nairobi. This small hotel blends contemporary design with tribal art and handcrafted artefacts from all over the African continent. In this wonderful hotel, you will enjoy the charm of the continent of Africa, in addition to the exceptional level of service. Rates start from £ 157 per night.
---
4- Mara Bushtops Hotel
With a 9/10 rating, this hotel is a fantastic campground located in the 15,000-hectare Isaaten Conservancy Reserve. The hotel provides its guests with many services and amenities, including large tents with wooden floors and 24-hour guest hospitality services, in addition to a swimming pool and spa in a wonderful village setting. The hotel also offers stunning views of the diverse wildlife. Rates start at £ 663 per person, per night.
---
5- Giraffe Manor the Giraffe Manor
Located in the Kenyan capital, Nairobi, this hotel is rated 9/10. The hotel is famous for its herd of Rothschild giraffes, whose long necks extend through the windows to get food. You will enjoy an exceptional experience near these wonderful animals while resting in the comfort of a surprising country house in an atmosphere inspired by the 1930s. Rates start from £ 412 per night.
---
6- Enaidura Camp Hotel
Located in the heart of the Masai Mara National Reserve, this hotel is rated 9/10. This hotel is a luxurious six-tented campsite located near the wildlife migration areas across the river. The Enidora Camp Hotel has two of the most important and skilled tour guides in Kenya, and they know how to enjoy wildlife away from the crowds and crowds. Rates start from £ 505 per night.
---
7- Mahali Mzuri hazelnut
This property owned by Mr. Richard Branson is rated 9/10 and is a safari camp unlike traditional tents, with many modern amenities, including snacks, refreshing drinks and thoughtful binoculars to help guests enjoy the stunning views of wildlife. . Rates start from £ 1,518 per night.
---
8- Ol Pejeta Bush Camp
Rated 8/10, this hotel is located in the Ol Pijita reserve. This hotel features 6 large canvas tents located on the banks of the Ewaso Nyiro River, in the Ol Pejeta Conservancy Reserve. The hotel is distinguished by an impressive level of hospitality and service, and is the starting point for discovering the wildlife of the Ol Pegita Sanctuary. Rates start from £ 348 per night.
---
9- Hemingways Nairobi
This hotel is located in Nairobi and is rated 8/10. Inspired by an ancient colonial design, this small hotel bears the name of the famous writer Ernest Hemingway, who has traveled to discover East Africa. The hotel also boasts a great location in the Karen suburb, overlooking the Ngong Hills, and is a luxury destination for a break between safari. Rates start from £ 497 per night.
---
10- Serian 'The Original' Hotel
In the Maasai language, the name of this hotel suggests peace and tranquility. The hotel, rated 8/10, is located in the Mara North Conservancy Reserve, on the edge of the Maasai Mara Reserve. The hotel has wonderful tents that provide stunning views of wildlife. This, combined with skilled guides, luxurious accommodations, and gourmet dining experiences. Rates start from £ 910 per night.
---
11- Saruni Samburu Lodge
Located on top of a rocky outcrop in the Kalama Conservancy adjacent to the Samburu National Reserve, this hotel, rated 8/10, offers its patrons stunning views of the plains. Each of the spacious open-front villas has an outdoor shower. There are two infinity pools and a massage parlor. The hotel offers an exceptional dining experience that is predominantly Italian. Rates start from £ 619 per night.
---
12- The Fairmont Mount Kenya Safari Club
Set on 100 hectares of land in the beautiful foothills of Mount Kenya, this elegant hotel features beautifully landscaped gardens and superb mountain views. There is also a golf course and an animal welfare center, in addition to many interesting activities, including horse riding and cycling. Rates start from £ 393 per night.
---
13- Hotel & Beyond Bateleur Camp
Rated 8/10, this luxury modern hotel is located in the Maasai Mara National Reserve, close to the Mara River. The hotel has many amenities, including an eye-shaped swimming pool, a large bar, as well as places to relax and enjoy watching wildlife. Rates start from £ 570 per person, per night.
---
14- Villa Rosa Kempinksi Hotel
The Villa Rosa Kempinski Hotel, rated 8/10, boasts ten floors and is ideally located on the edge of the business district and is the ideal starting point for discovering Nairobi. The hotel is characterized by a wonderful design predominantly pink, and includes several restaurants, spa and swimming pool, and is characterized by providing an exceptional level of service. Rates start from £ 157 per night.
---
15- Ol Malo Hotel
Located in Laikipia, the Hotel All Malo is rated 8/10 and is an ideal retreat in beautiful nature, away from the hustle and bustle of the city. The hotel offers its guests a wonderful opportunity to discover wildlife in Kenya and enjoy fun safari trips. Rates start from £ 1,272 per night.
---
16- Borana Lodge
The 8/10 Purana Lodge is located in Laikipia province, in one of the largest rhino sanctuaries in East Africa. The hotel has a number of elegant country houses built of stone and wood. In the hotel garden, fresh vegetables used in the preparation of food are grown in the hotel. The hotel offers its guests many interesting activities, including rhino watching and cycling in the mountainous areas. Rates start from £ 950 per night.
---
17- Sosian Lodge Hotel
A rating of 8/10, the Sushi Lodge Hotel is located in Laikipia Province. It is a farmhouse dating back to the 1940s, with only seven rooms. The hotel is characterized by a warm and welcoming atmosphere, and provides its guests with many interesting activities, including horseback riding and safari trips. Rates start from £ 571 per night.
---
18- Naboisho Camp
Located within the Mara Naboisho Conservancy, the 8/10 Camp Hotel is a comfortable and peaceful hotel surrounded by acacia trees, forests and pastures. The hotel provides its guests with wonderful views of the wildlife to see herds of elephants and huge cats. The hotel has a warm and welcoming atmosphere, and offers unique dining experiences. Rates start from £ 540 per person, per night.
---
19- Lonno Lodge
Located on Watamu Beach, the 8/10 Luno Lodge is a castle-like villa with exquisitely designed blending Italian and Swahili styles. And the owners of the hotel give visitors a wonderful opportunity to enjoy the atmosphere full of charm and privacy. Rates start from £ 281 per night.
---
20- Medina Palms
Located on Watamu Beach, the City Palms Hotel is rated 8/10 and is a luxurious retreat that blends Arabian style and Mediterranean ambience. The hotel is an ideal destination for families and couples during their honeymoon. The hotel features spacious residential units that provide a wonderful home-like atmosphere. Rates start from £ 173 per night.
---
21- Watamu Treehouse
Located on Watamu Beach, a rated 8/10, Watamu Tree House boasts a serene atmosphere full of charm, in a secluded oasis between the jungle and the sea. The hotel also features a unique white predominantly architectural style with few walls to provide panoramic views of the Kenyan coast. Rates start from £ 71 per night.
---
22- House of Waine hotel
Located on Karen Blixen's former coffee plantation, the 8/10 House of Wine Hotel is a quiet escape from the hustle and bustle of the capital and an ideal destination to embark on safari from nearby Wilson Airport. The hotel offers a good standard of service in a warm atmosphere. This, in addition to the beautiful tropical gardens. Rates start from £ 425 per night.
---
23- AfroChic Diani Beach
This modern hotel with a rating of 8/10 is located on Diani Beach and offers its guests a relaxing atmosphere and excellent service amidst coconut trees. Rates start from £ 401 per night.
24- Little Governor's Camp Hotel
Rated 8/10, this luxury hotel is located in the Masai Mara National Reserve and offers its guests classic wildlife safari experiences. The hotel is characterized by its quiet atmosphere on the shore of marshes teeming with birds and various forms of wildlife. Rates start from £ 674 per night.
---
25- Joy's Camp Hotel
This hotel, rated 7/10, is located in the Shaba National Reserve, and overlooks a fountain and vast greenery. With spacious bedrooms and en suite bathrooms, the hotel offers exquisite dining experiences with an Italian twist. The hotel also provides its guests with an interesting safari experience. Rates start from £ 501 per night.
---
26- Campi Ya Kanzi Hotel
Hotel Cambi Ya Kanzi is an eco-friendly hotel with a 7/10 rating. Located in the Chyulu Hills near Mount Kilimanjaro, Amboseli National Reserve and Tsavo National Reserve, the hotel offers its guests a luxurious stay in spacious tents with stunning views of wildlife. The hotel also provides a swimming pool, massages and horse riding activities, in addition to a private jet. Rates start from £ 1,335 per night.
---
References:
---
Facebook Comments