Why you should visit Ghent
Ghent (Gent) is a charming city in northern Belgium's Flemish region with a rich historical legacy that makes for a pleasant weekend getaway.
Ghent is the provincial capital of East Flanders (Gent in Dutch). In the Flemish region, it is the country's first student city. Charles V was also born in this city. It's built in a way that's unmistakably mediaeval in style. The historic centre of Ghent is largely pedestrianised, and the city's beautiful facades are reflected in the Lys, the river that runs through the centre of town.
However, these aren't its only benefits! As a result, visitors are drawn to the city by its vibrant atmosphere and its canals and cobblestone streets. It's easy to get around in Ghent thanks to its many clubs, museums, and chic boutiques. Even if you have only a few days in Belgium, this is an excellent alternative to the more crowded city of Bruges.
---
Historical heritage of Ghent
Ghent's historic centre is walkable due to its compact size and the city's ban on automobiles. Fortunately, much of the town's mediaeval architecture has been preserved and lovingly restored. Structures from the Renaissance to the Baroque to the Neoclassical and everything in between can be found here.
The main attractions are:
The Saint Bavo Cathedral
The altarpiece of Ghent
The belfry
The Gravensteen Castle
The old port Graslei
Additionally, Ghent is home to three beguinages as well as numerous churches, including Saint Jacob's, Saint Nicholas, and the St. Michael's Basilica, to name a few. The beguinages, bell tower, and cloth hall have all been designated as World Heritage Sites by UNESCO.
---
Best Places to Visit in Ghent, Belgium
Historically and architecturally, Ghent is a fascinating place to visit. Don't miss these monuments and museums while you're in the area:
The MSK (Museum of Fine Arts of Ghent)
The Castle of the Counts of Flanders
SMAK (Municipal Museum of Contemporary Art)
Saint Bavo's Cathedral
Graslei, the Ghent canal
Korenmarkt the heart of the city
Saint-Nicolas Church and Saint-Michel Church
The Pont Saint-Michel
---
1. The Belfry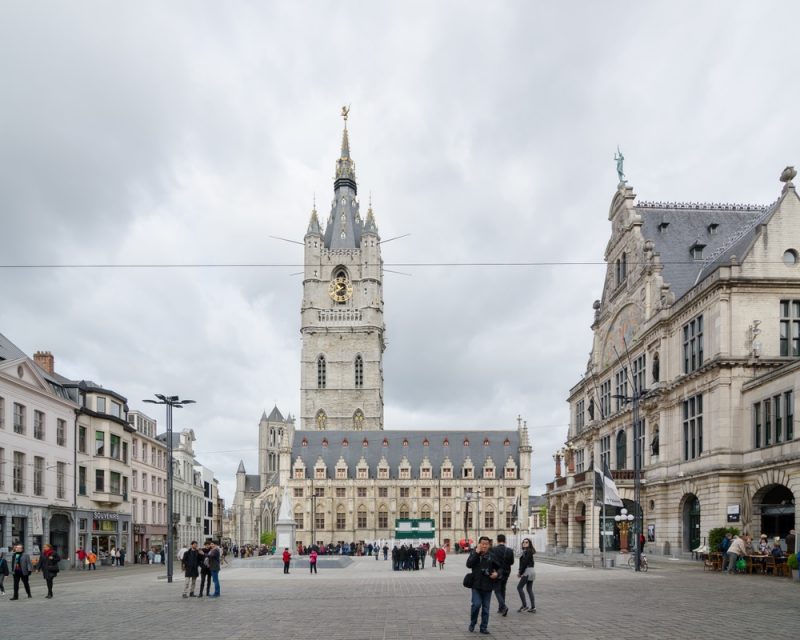 A visit to the historic centre of Ghent is impossible without seeing it. Ghent's Gothic-style Belfry is a great place to start your journey in the Flemish capital of Brussels. Ghent's former watchtower, now a Unesco World Heritage Site, was built in the 14th century. To get a great view of the city and the surrounding area, we recommend taking the stairs up to the top of the tower. Step up to the belfry and hear one of the 53 bells… Ghent will captivate you from the get-go.
2. St. Bavon's Cathedral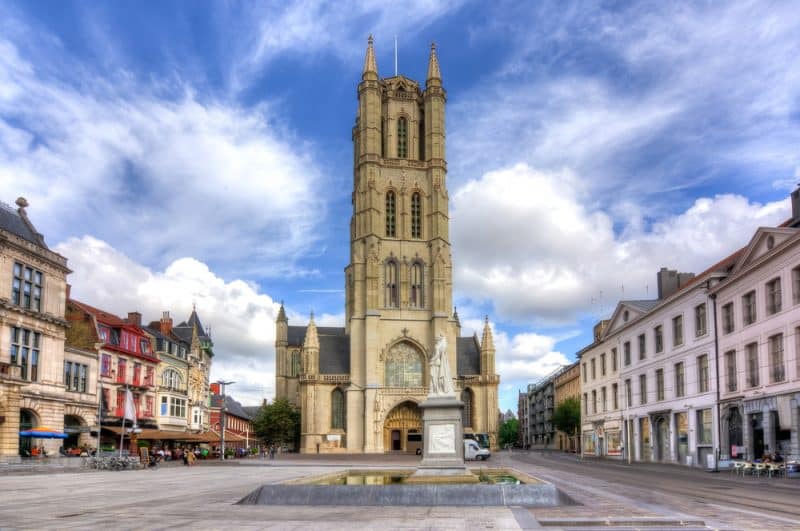 If you're looking for things to do in Ghent, you can't miss the city's famous Cathedral of St. Bavon. The Ghent Belfry-facing iconic building will delight art and architecture buffs. Among the paintings, sculptures, and stained-glass windows are well-known works by Rubens and Jan van Eyk, including the rococo pulpit and the Mystic Lamb.
3. The Church of St. Nicholas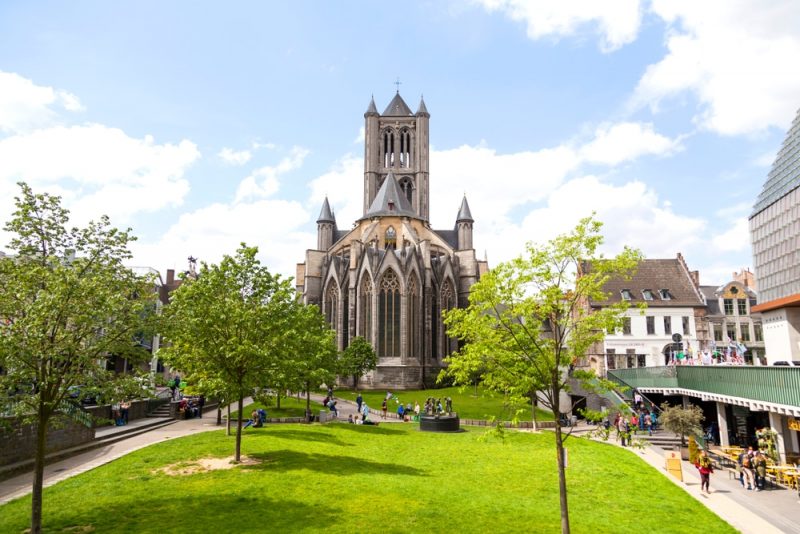 Ghent's mediaeval centre is explored further with a visit to the opulent Church of St-Nicholas. After the Ghent Belfry and St. Bavon Cathedral, this is the city's most recognisable tower. Gothic architecture uses only Tournai blue stone for construction.
4. The Castle of the Counts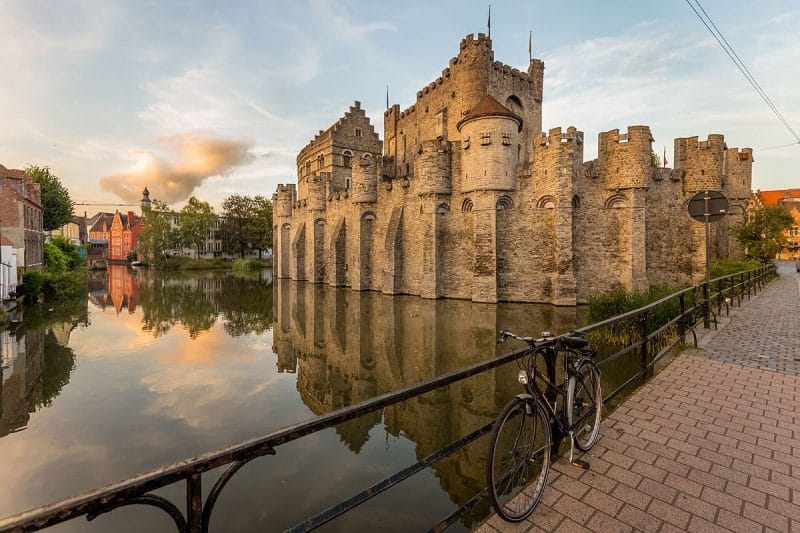 The Counts' Castle is a must-see while in Ghent. The city's main tourist attraction, Gravensteen (named after the castle in Dutch), has a fascinating collection of torture instruments on display. Discover Ghent's rich cultural heritage by taking a stroll through this magnificent mediaeval stronghold..
5. Patershol District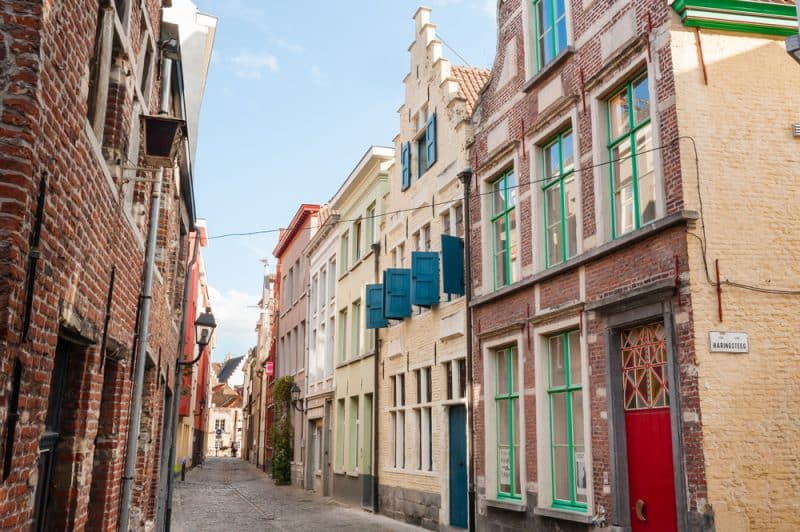 The Patershol district is a must-see for history buffs and foodies alike. Stroll through the maze of beautiful lanes that dates from the 17th to the 19th centuries and let yourself be seduced by the location's unique mediaeval charm. These small alleyways in Ghent are home to a variety of chic bistros, restaurants, and cafes, all competing for attention. As a result, anyone visiting Ghent should not miss seeing Patershol.
6. St. Michael's Bridge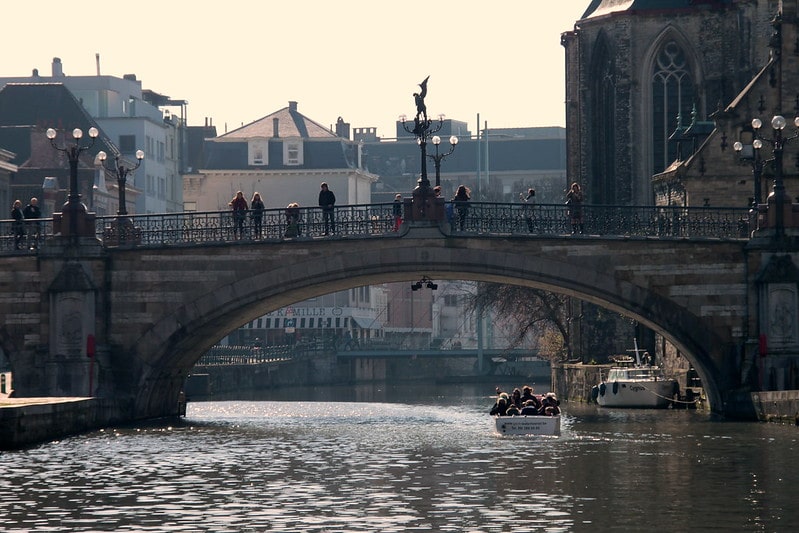 On Ghent's quays and other popular tourist spots from the Saint-Michel Bridge near the city's belfry. It's the perfect vantage point for taking pictures of the city from above! As the day draws to a close, capture the sunset with your camera as it fades away over the city of Ghent.
7. Graslei and Korenlei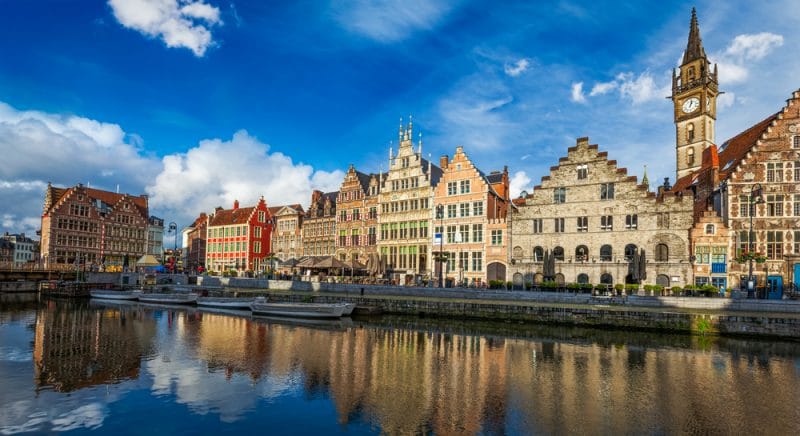 Visit the canals and the old port while you're in town. This is Ghent's most recognisable façade. Beautiful walks along the Lys can be had from the popular Graslei and Korenlei quays, which are popular with both locals and tourists. A stroll down River Road will show you a row of beautiful old houses… Building lights reflect in the lake at dusk, creating a rare poetic display that makes it an ideal location for aspiring photographers to explore their creative side. There are numerous cafés and restaurants with terraces in this young and vibrant part of Ghent, and it's a pleasant place to stroll.
8. The Lily by boat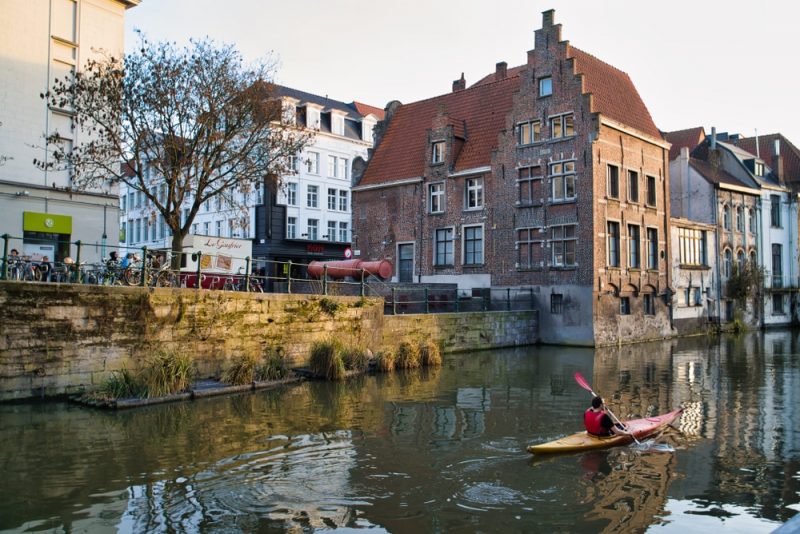 If you want to make the most of your time in Ghent, consider these suggestions. Do not hesitate to board a boat and take in the city from the water's perspective. On a boat, a gondola, or a private boat, we let the gentle rhythm of the Lys river carry us away with it. Take a seat, relax, and prepare to be amazed by Ghent from a new perspective on this relaxing boat tour! This is a must-do if you want to have a memorable time in Ghent.
9. Museums in Ghent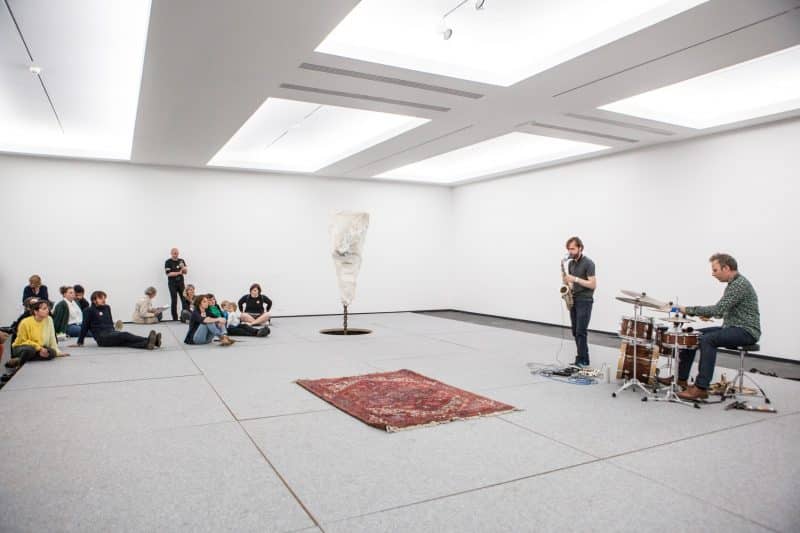 Taking a trip to Ghent and visiting the city's museums can be an excellent way to learn more about them. What are your interests, history or design? In Ghent, you can visit a wide range of museums, such as:
10. The Great Butchery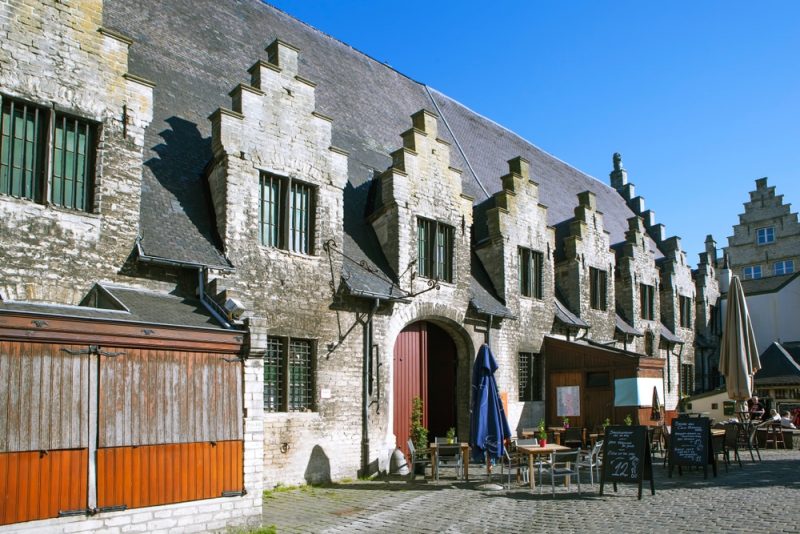 Are you looking for a trip that is a little out of the ordinary? Ghent tours would be incomplete without a visit to Het Groot Vleeshuis, or the Grand Boucherie. The massive frame and Middle Ages Gothic architecture of this covered market on the Lys riverbanks once served as a meat market. This unique eatery serves up dishes made with fresh, local ingredients, as well as craft brews and regional specialties. This must-see attraction is at the top of the list of things to do in Ghent.
11. Street art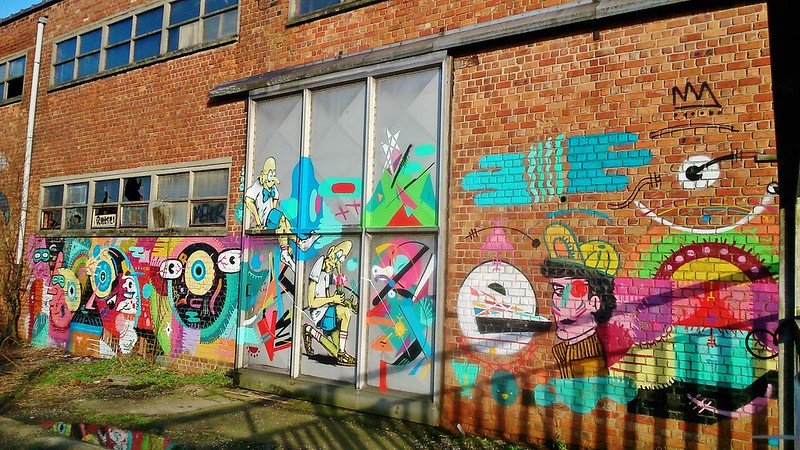 Getting off the beaten path in Ghent is possible. Street art abounds in the city, as you may have noticed. Take a walk or a bike ride to more remote areas to get away from the hustle and bustle of tourism. You won't miss any work if you go on the Concrete Canvas Tour. It is possible to obtain a paper copy of this guide at the Tourist Office or to download it from the internet. There will be fifty-four urban art frescoes to see along this route through the city. Ghent was explored in an engaging and eye-catching manner!
12. Cuberdons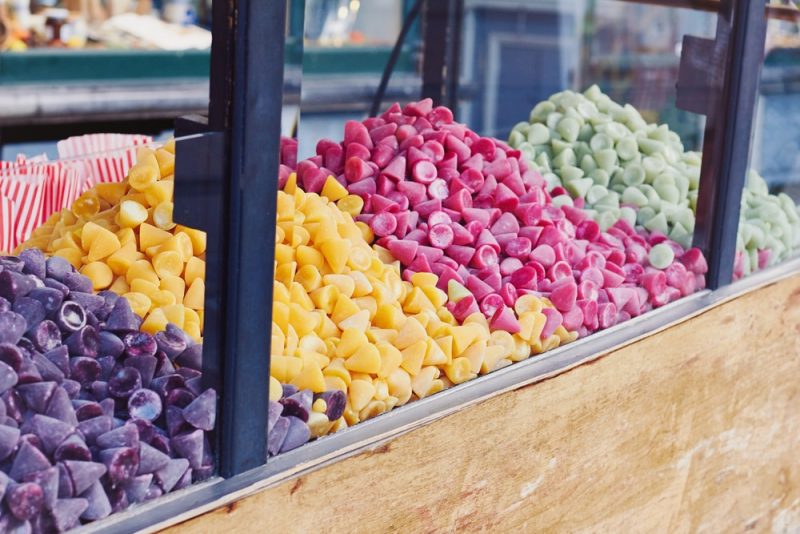 Your visit to Ghent is about to come to an end, and you're stuck for things to do. Cuberdons are a local delicacy that you must try before you leave. They're raspberry candies in a conical shape known as neuzekes, which means "little noses" in German. It doesn't matter if Belgians disagree on the history of these sweets from time to time; tasting them is mandatory. Find cuberdons in the markets or at the Temmerman Confectionery to get your hands on these authentic Ghent delicacies.
How do I get to Ghent?
Ghent can be reached via a number of routes. Airports in Paris and various provinces offer flights to Brussels International Airport (BRU) (Zaventem Airport). There are numerous train connections from Ghent to Brussels, which is about 55 kilometres away. It takes about thirty minutes to get from Gent-Sint-Pieters' main train station to the airport by direct train.
If you want to be successful, don't be afraid to book your flights in advance using a flight comparison website. Based on your departure dates, tickets from our partner Skyscanner are available to you at incredible savings.
To get to Ghent, would you rather take the train? However, thanks to Thalys' high-speed railway, travelling from France to Ghent has never been easier. Gare du Nord in Paris is just over an hour and a half away from Ghent on the Thalys!
Once you've arrived, bus and tram routes will take you right into the heart of Ghent's city centre.
---
Average budget for a week in Ghent
Ghent is a pricey city, but you can reduce your expenses by picking a higher-quality hotel and eating at the city's restaurants more often. This is an example of a reasonable budget for seven days for a Ghent resident:
Whether it's a shared apartment, a single room, or a room split in two, wherever you go:
70 euros per night, 490 euros for 7 days.
Transport: 5 euros per day, 35 euros for 7 days.
Visits and outings: 20 euros per day, 140 euros for 7 days.
Meals: 7 euros per lunch, 18 euros per dinner, 175 euros for 7 days.
Total budget: 840 euros for 7 days in Ghent.
---
Where to Stay in Ghent, Belgium
Because of its wide range of lodging options, Ghent is a great place for visitors of all means. In this young and vibrant city, you will undoubtedly find the accommodation that suits your needs, whether it is an entire Airbnb flat, a hotel room with a view, or a sober hostel dormitory. See which hotels are the most affordable by comparing the rates on this website.
However, where in Ghent should you go? In the capital of Flanders, where should I stay? If you're travelling with a partner or are visiting Ghent for the first time, we recommend staying in the old city centre. Wondelgem's residential area is a great place to take a break with the family. Check out our in-depth guide to Ghent neighbourhoods to see where you should stay.
A wide range of lodging options are available in Ghent, from luxury hotels to budget accommodations, guest houses to hostels. The decision will be based on the desired amenities and the budget allocated for lodging. If money is an issue, consider staying in youth hostels or elsewhere in the city.
The city centre of Ghent is still the best place to stay. It is the heart and soul of Ghent, where all the action takes place. In addition, from there, most of the journey will be done on foot.
As a result, prime real estate is home to a slew of luxurious hotels and warm B&Bs. Although they are not the most affordable hotels in Ghent, these are still good choices.
If you don't want to spend a lot of money in Ghent, stay in a hotel outside of the city centre instead.
---
Main events in Ghent, Belgium
Ghent is a culturally rich university town where there's always something going on. Before leaving Ghent, make sure to look up the schedule of current exhibitions at the SMAK or MSK, the city's two major museums. Ghent's nightlife is constantly alive with concerts and live performances.
---
Safety in Ghent
There are no additional safety precautions other than the usual advice about valuable personal property in Ghent, which is a very safe tourist destination.
---
Dining in Ghent
There are numerous restaurants serving a wide range of cuisines in Ghent's historic centre. Of course, you should eat the local cuisine, which includes dishes like stoverij, dark beer-braised beef, and Gentse waterzooi, as well as the Flemish cuisine generally.
---
Transportation in Ghent:
In Ghent, we get around on foot. Cars are simply prohibited in the center of Ghent, the matter which makes the city free from any traffic issues. Walking on foot and driving a bike are popular means of transport in Ghent, knowing that is not a huge one. Trams and buses come in addition if you live in a district outside the historic heart.
---
Best time to Visit Ghent
Ghent is a cultural destination that can be visited in all seasons. The best period for the weather is from May to September, when Ghent is alive and sometimes under the sun. Ghent's cultural calendar is full all year round.
Belgium is dominated by a temperate oceanic climate and Ghent is no exception. The winters there are quite mild but rainy. In summer, it is not uncommon to see a few showers, but the city remains very sunny. In all cases, different types of outfit should be planned: changes in weather can occur quickly!
The best season is undoubtedly summer, when you can stroll along the canals and sit on the terrace to enjoy the sun.
---
Photo Tour of Ghent
Enjoy watching these great photos from the beautiful city of Ghent:
---
Video Tour of Ghent
Enjoy watching this great video showing the best places of the charming city of Ghent!
---
Facebook Comments