Travel Destinations
Bangkok Travel Guide: Major Tourist Attractions
Best places to visit, and best hotels and foods in Bangkok, Thailand
In Thailand's capital city of Bangkok, you'll find a bustling metropolis full of people of all colours and interests. In addition to the numerous temples, ancient monuments, and other tourist attractions found in Bangkok, the city also has a slew of must-see shopping malls. Located at the nexus of Southeast Asia's developed and developing economies, it's a fascinating city to visit. Bangkok is a jumping off point for trips all over Thailand. From Bangkok, you can travel to popular tourist destinations such as Phuket, Chiang Mai, and Koh Samui. Ayutthaya and Lopburi, as well as other Thai provinces and cities, can be reached by train or bus as well.
---
What are the major tourist attractions in Bangkok, Thailand?
1- The Grand Palace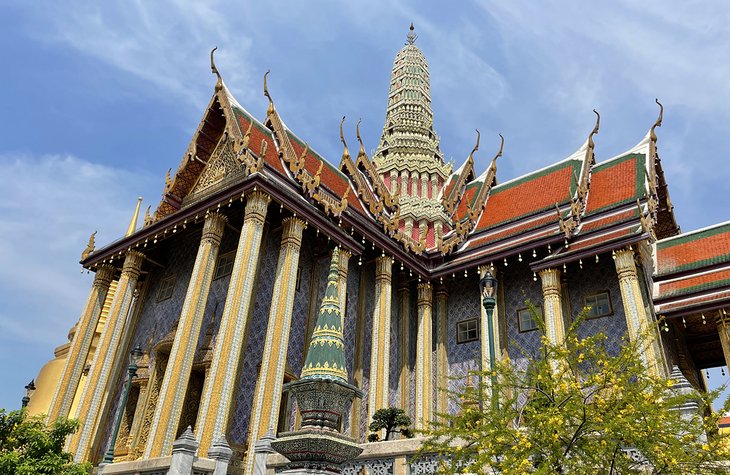 The Grand Palace is without a doubt the must-see tourist attraction in Bangkok if you only have time to see one thing. Emerald Buddha Temple, Wat Phra Kaeo, houses the Emerald Buddha statue and is part of a massive complex known for its spectacular architecture.
Major rituals and state leaders are still held at the Grand Palace, which was built in 1782 and has been the home of the ruling family for several generations. When visiting the Grand Palace, be sure to dress conservatively and wear clothing that covers your arms and legs. Consider taking a half-day tour to the Grand Palace and Wat Phra Kaew, which includes a guide who can provide you with a wealth of information about the sites you see.
Title : Na Phra Lan Road, Phra Borom Maha Ratchawang, Phra Nakhon
---
2- Wat Pho Temple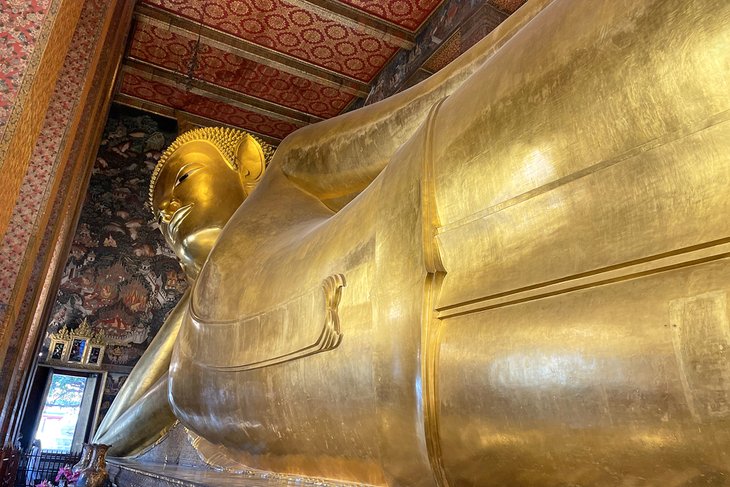 To the south of the Grand Palace lies Wat Pho, a Buddhist temple dedicated to the goddess of compassion. Bangkok's oldest temple was built by King Rama I and is dedicated to him. King Rama III established a pharmacy and Thailand's oldest university on the grounds of the temple, which has long been known as a healing retreat. Thai massage and foot massage are available at the medical school of the temple; however, they are considerably more expensive than at other massage parlours in the city.
A 45-meter long and 15-meter high Buddha statue now resides in the Temple of the Reclining Buddha. It is adorned with a plethora of precious stones and features lotus buds, which represent purity and beauty. The long earlobe on the statue also signifies the Buddha's noble birth.
Address: 2 Sanamchai Road, Grand Palace Subdistrict, Pranakorn District
---
3- Wat Arun Temple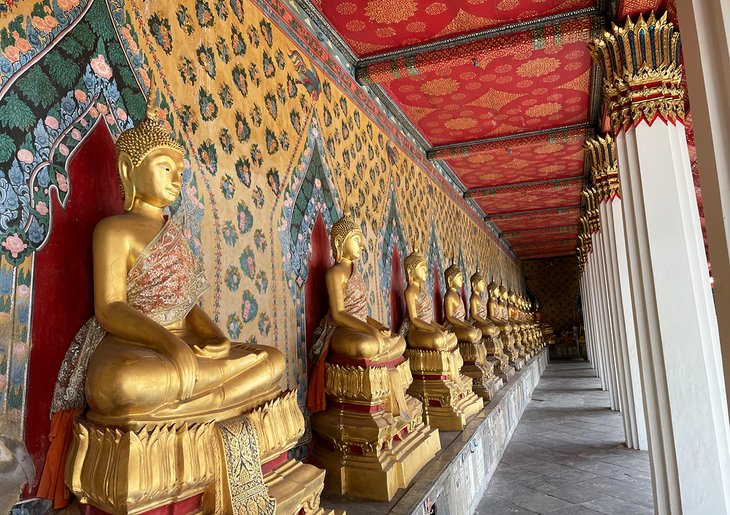 Historically, the conflict between Siam and Burma can be traced back to Wat Arun's location in Bangkok. General Thaksin and his comrades worked tirelessly to rebuild Ayutthaya after it was destroyed by the Burmese, but they also built the Temple of Dawn, Wat Arun, and a church nearby. The Chao Praia River sunset is spectacular when you reach the temple's roof just in time for sunset.
Address : Arun Amarin Road, Bangkok
---
4- Wat Traimit, Temple of the Golden Buddha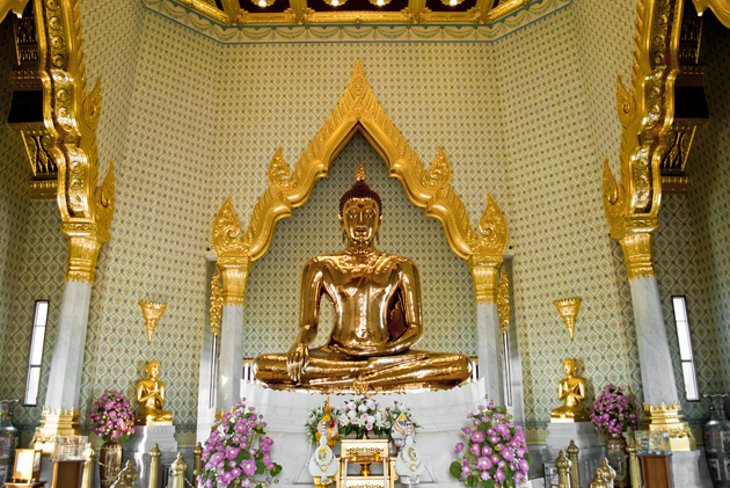 The land surrounding the temple was purchased in the 1950s by the East Asian Company. One of the conditions of the sale was the removal of the plaster Buddha statue, but the statue was too heavy and fell during the move. The statue was left outside in the rain for the duration of the night. Some monks found gold beneath the plaster and scraped it off the following morning to reveal a massive 5-ton pure gold statue that stood 3.5 metres high and weighed 5 tonnes.
Even though every attempt has been made to trace the origins of this expensive statue, it is thought to be from the Sukhothai period, when the country was under siege from invaders, and it was common practise to encase valuable Buddhas in plaster. People from all over the world come to see this mysterious statue in Bangkok because no one knows where it came from or how it got there.
---
5- Wat Suthat Temple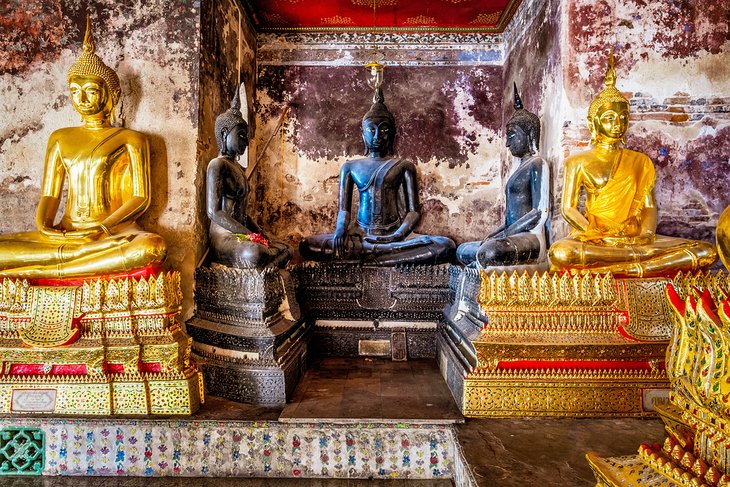 The Great Swing Temple is nearby Wat Suthat, Bangkok's oldest and most majestic Buddha temple. The temple was built under the direction of three monarchs. Construction on the Grand Palace began in 1782 under King Rama I (the founder of the Chakri dynasty). It was continued under King Rama II and completed under King Rama III ten years later. The temple is famous for its stunning frescoes as well as its unique architectural design. Wat Suthat is less well-known than other temples in Bangkok, so your visit will be more relaxing and peaceful.
Address : Bamrung Muang Road, Sao Chingcha, Phra Nakhon
---
6- Giant Swing Structure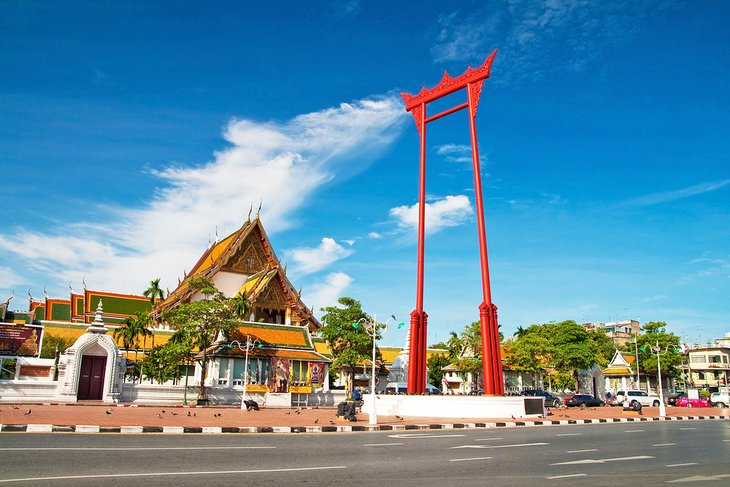 One of the most popular tourist attractions in Bangkok is the Giant Swing, which is located in front of the 27-meter-high Wat Suthat. After being struck by lightning and reduced to ruins, this once-impressive building now serves only as a decorative focal point in the middle of the plaza. In December, following the rice harvest season, this temple would host a religious celebration. In 1932, King Rama VII banned the high-altitude swing competition after a series of deadly incidents.
7- National Museum & Wang Na Palace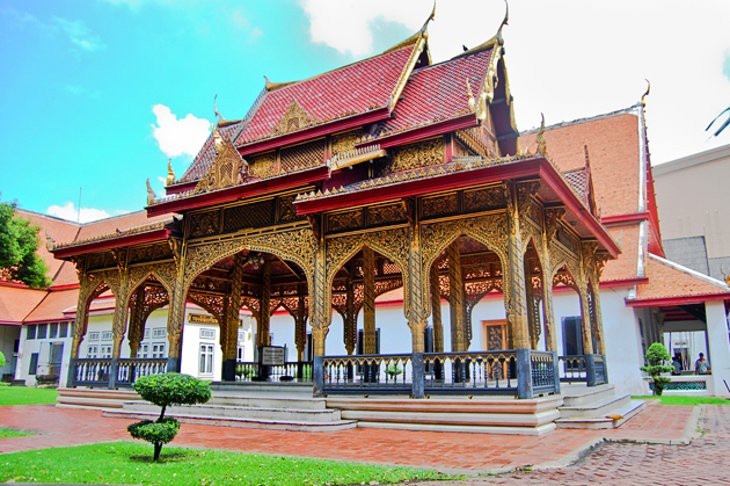 The National Museum is a must-see for history buffs. The only museum in Thailand with such a large and diverse collection of artefacts existed until the mid-1970s. Fortunately, there are posters in Thai and English, as well as English-speaking guides, in addition to the exhibits.
In the museum's Wang Na Palace, built by King Rama I, Thailand's past is remembered. The museum houses relics, religious artefacts, toys, weapons, and musical instruments, as well as a superb collection of Buddha statues arranged chronologically.
Address : Na Phra That Road, Bangkok
---
8- Chatuchak Market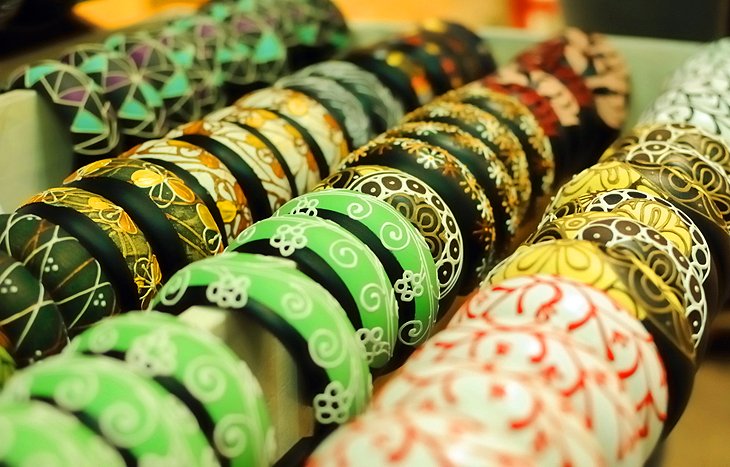 In terms of its size, Bangkok Weekend Market is the largest in the world. Everything from jewellery and religious artefacts to pet supplies, lanterns, and street food specialties can be found here for shoppers. Chatuchak Market has over 15,000 shops and stalls selling just about anything and everything. You can also find great souvenirs for a fraction of the price in Bangkok. The market is a great place to meet people from all over Thailand and learn about their daily lives. Mochit Skytrain (BTS) and Suan Chatuchak (Chatuchak Park) Stations are both about a 5-minute walk from the market (MRT).
Official website: http://www.chatuchak.org/
---
9- Damnoen Saduak Floating Market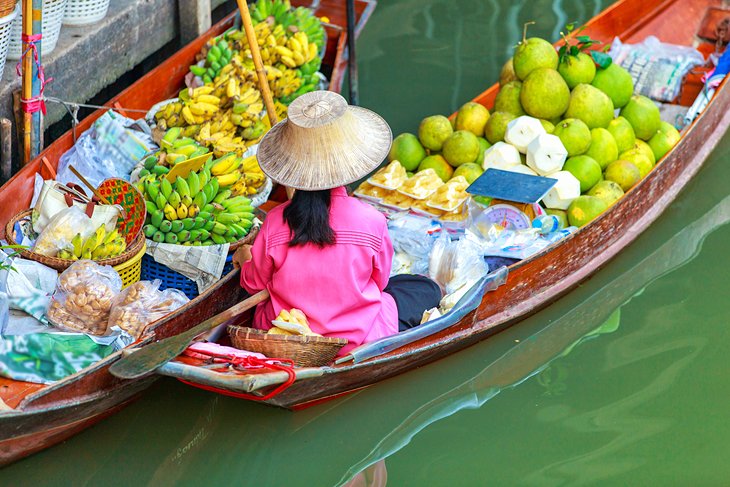 Traveling from Bangkok, you can plan a trip to Damnoen Saduak Floating Market (about 1.5 hours away), located in Ratchaburi province. Bangkok has earned the nickname "Venice of the East" due to its world-renowned floating market. At this market, you can get fresh vegetables and food while also meeting new people. Consider purchasing an air-conditioned bus ticket from your hotel and taking the Floating Market Day Trip from Bangkok, which takes about 6 hours and includes a stop at a floating market.
---
10- Khao San Road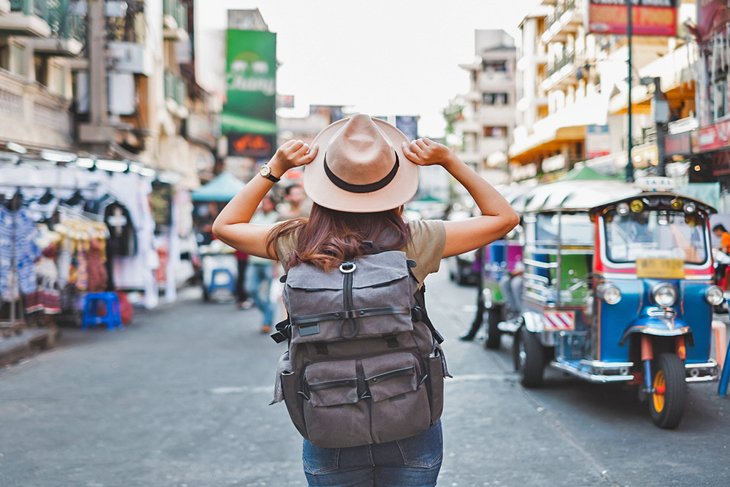 A popular destination for tourists from all over the world, the area has guesthouses, shops, and vendors selling food and clothing. This part of town is always hopping, with lots of people and lots of different sounds and colours. Old books and famous hunter's baggy pants can be purchased in this area, and there is delicious Indian food to be had as well.
---
11- Jim Thompson House Museum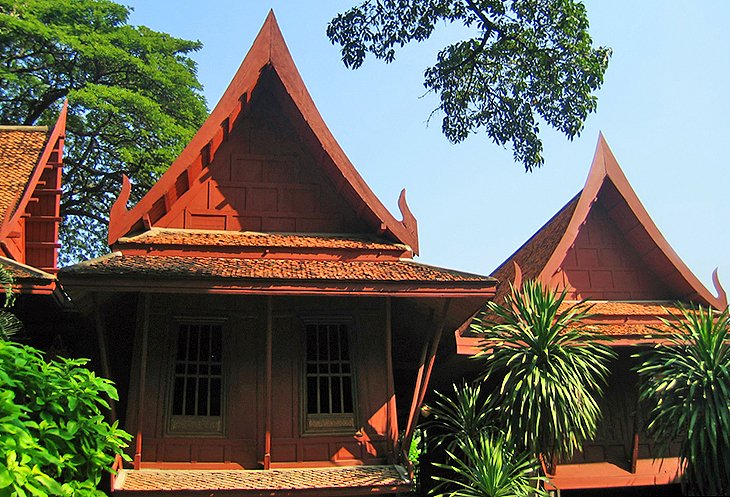 It's the home of Jim Thompson, an American businessman who served in World War II, settled in Thailand, and rose to prominence in the silk trade before going missing in Malaysia. Jim Thompson was awarded the Order of the White Elephant, Thailand's highest civilian honour, in recognition of his outstanding service to the country. His former home has been transformed into a museum honouring Thompson's career and contributions to the history of Bangkok and Thailand's silk industry.
Address : 6 Soi Kasemsan 2, Rama 1 Road, Bangkok
---
12- Lumpini Park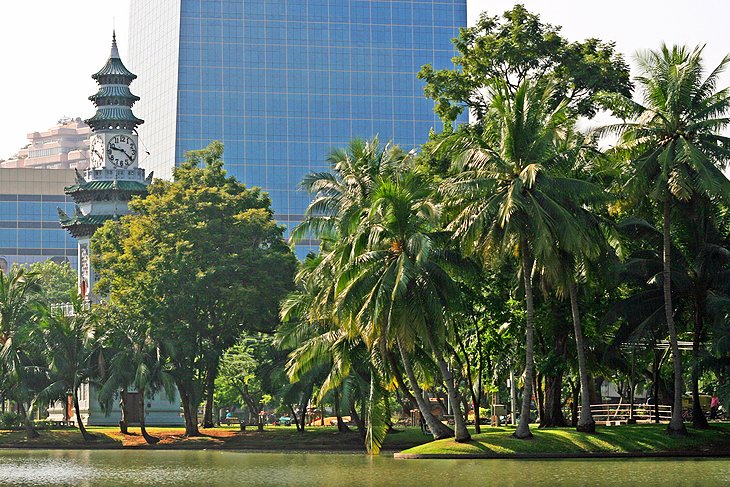 Located in the city's most central neighbourhood, Lumpini Park is a verdant haven. The lush vegetation and Chinese pagoda offer respite, as does a boat ride on the lake. It's a great spot for relaxing in a serene garden amid towering skyscrapers. Check to see if political unrest has subsided before going to the park; in the past, anti-government demonstrations have turned violent. There are also Asian crocodiles swimming in the lake.
Address: Rama IV Road, between Ratchadamri and Witthayu (Wireless) roads
---
13- Terminal 21 shopping center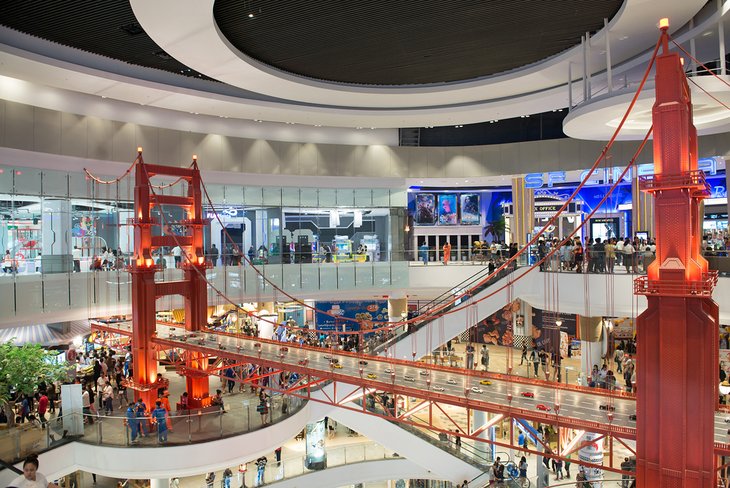 Not an airport, but one of Bangkok's most popular shopping centres, with a wide selection of goods from both local and international companies. There are different cosmopolitan cities represented on each floor of the mall, such as Paris on the BTS station floor, Tokyo on another floor, and London's famed red telephone booths on yet another floor.
Besides the upscale Siam Paragon and Siam Discovery shopping malls, which have many chain stores selling goods at low prices, Bangkok also has many other commercial centres like the world-famous cafes and sports centre Virgin Active Siam Discovery, Southeast Asia's largest gym, where you can practise rock climbing, yoga or defy the laws of gravity while also relaxing in the "Sleep Pod. "
---
14- Street food stalls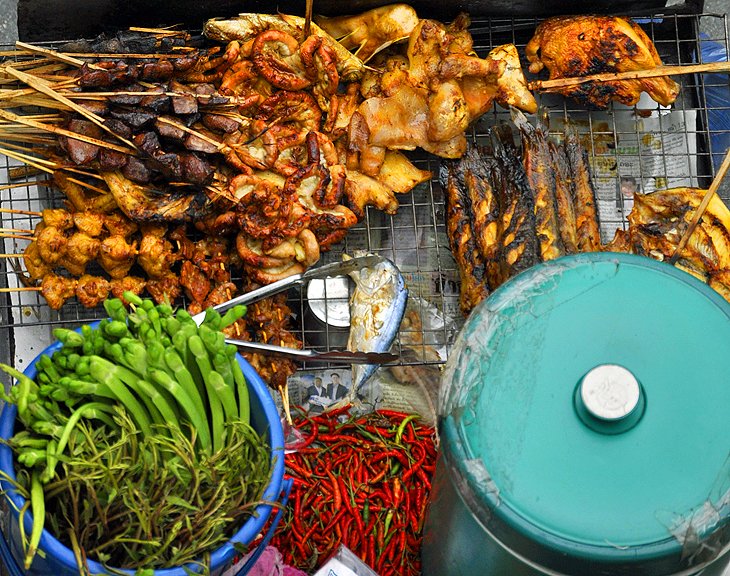 You must try some of the delectable street food in Bangkok, including grilled meat and seafood, spicy noodles, fresh fruit and curries. 14. Even if you are a fan of Thai food, you will discover new flavours and dishes that you have never tried before. The best Thai street food can be found along Khao San Road's many stalls and small eateries. There are a number of popular Thai dishes that you must try, including mango rice and pad Thai.
---
Tips for tourists traveling to Bangkok, Thailand
Bangkok's visitors will benefit from the following tips. Tips such as "talk to strangers" and "cross the street safely" are just the beginning of what these pointers will teach you.
1- Get a good map
In comparison to other large cities around the world, Bangkok is a sprawling metropolis that lacks clear planning, street names that are not ambiguous, and a city divided into distinct neighbourhoods. Keep a map of Bangkok with street names written in both English and Thai close at hand for the best results in this situation.
---
2- Bargaining and negotiating prices
The first rule when visiting Bangkok is that if there is no specific price for the product you want to buy, be sure to bargain but in a nice way. Mostly, you can reduce from 10 to 40% of the mentioned price. And if you don't like the price, walk away, and the seller is calling you to negotiate the price again.
---
3- Drink plenty of water
Bangkok is characterized by hot weather and high humidity, so be sure to drink plenty of water in order to compensate for what the body loses through sweat, and not to be dehydrated. Fortunately, water bottles can be easily purchased, but make sure the bottle is tightly closed. You can also use the same technique as the locals who use a plastic bag and straw.
---
4- Beware of scammers
You might meet someone on the street talking to you in a friendly way and telling you for example that the Grand Palace is closed today and you won't be able to visit it, then take you on a fake tour to places you have never heard of and force you to buy things you don't want to buy. In general, beware of strangers who try to woo you, as they often don't want to have a friendly conversation with you.
---
5- Reserving a place in one of the tours
Sightseeing tours in Bangkok are not expensive and do not involve any amount of complexity, all you have to do is make a reservation and be ready on time. Since Bangkok is such a big and crowded city, it wouldn't be helpful to take a tour brochure and walk around the city on your own. In return, reliable tours will provide you with a great opportunity to discover the most important landmarks of the city within a short period of time.
---
6- Preparing a program for the visit
Bangkok is a large, crowded and vibrant city, and in order to enjoy your visit, you must plan well so that you can see the most important sights in the city. And be sure to use public transportation, such as the subway, trains, etc. The best advice to follow when visiting Bangkok is to develop a visit program that includes the most important tourist attractions, but not necessarily all of them.
---
7- Use of BTS Skytrain and MRT
Bangkok is crowded with tuk-tuks, motorbikes and boats, but the BTS Skytrain system and the subway are the best ways to get between different parts of the city, as they provide air-conditioned transport away from traffic.
8- Follow the following tips when riding taxis
Avoid taking taxis during rush hour, make sure the car meter is on, and if the driver refuses to start it, get out of the car and get in another car. Finally, make sure you don't forget any of your belongings in the taxi.
---
9- Carry a copy of your passport anywhere
When you are in Thailand, you must have proof of your identity with you. It is normal for a policeman to stop you and ask you to look at the identity papers, and the security man will ask you for the same thing when entering the nightclub. Instead of having your passport at risk of getting lost, you can carry a copy of it.
---
10- Carry a card containing the name and address of the hotel
Make sure you carry a card with the hotel's name and address written in Thai, to save yourself the hassle of returning to your hotel. All you have to do is present this card to the taxi driver.
---
Best Cheap, Medium and Luxury Hotels in Bangkok, Thailand
Bangkok is a large city with many hotels that provide tourists with the possibility to stay near tourist attractions, shopping centers and restaurants. There are many luxury hotels in the Riverside Historic District. Khao San Road is often frequented by tourists on a budget, which is close to major tourist attractions, such as the Grand Palace and famous temples.
There is also Sukhumvit, a trendy street with lots of shopping, from which to visit other parts of the city by train. Here is a list of the best hotels in Bangkok:
Luxury Hotels: Located in the Riverside area, Mandarin Oriental is one of Bangkok's most luxurious hotels, with a great location, beautiful swimming pools, and many restaurants, including the Riverside Terrace that overlooks the Chao Phraya River. There is also the SO Sofitel Bangkok, a luxury but affordable hotel with spacious rooms and luxurious amenities. Ariyasomvilla Hotel is an ideal accommodation choice, with many room categories and a great design. This is a modern hotel that embodies the charm of the beautiful past.
Mid-range Hotels: The Chatrium Hotel Riverside is located in the famous Riverside area, overlooking the river, and features an infinity-type pool, with a dazzling design that gives the impression that the pool extends to infinity as if it has merged with the sea water. Park Plaza Bangkok Soi 18 is a distinctive modern hotel located on Sukhumvit Road. There is also the Glow Pratunam Hotel, which is distinguished by its great location and reasonable prices. All these hotels have swimming pools.
Budget Hotels: With a great location within walking distance of Khao San Road and close to the city's main attractions, Adamaz House offers clean, traditional rooms. There is also the Phranakorn-Nornlen which has a great location and the Smart Suites Hotel on Sukhumvit Street with its high quality rooms and reasonable prices.
---
Tips for tours in Bangkok, Thailand
Tours: You can book a place on a guided tour to avoid the trouble of finding a taxi and bargaining with the locals. Through these tours, you will save a lot of time and effort, and you will also benefit from the valuable information provided by the tour guide. A Private Guided Temples Tour is a great way to enjoy visiting Bangkok's most famous temples, including the Temple of the Reclining Buddha.
Getting around Bangkok: Within walking distance outside Bangkok, there are many important tourist attractions and archaeological sites. With the Khao Yai National Park and Elephant Ride Day Trip, you can cross the bush, enjoy the scenic nature and see the amazing wildlife. With the Ayutthaya Temples and River Cruise Tour, you will see the ancient capital of Siam, admire the temples along the Chao Phraya River, and include transfers to and from the hotel.
Prepare to bargain: This applies largely to taxis and shopping in public markets. Drivers often ask exorbitant prices, so you must agree on the price in advance or insist on using the meter in the car.
Use of public transportation: Bangkok has a good transportation system, whether buses, trains or metro. But buses can take longer due to Bangkok's traffic congestion, while trains are quick, easy and cheap.
Beware of falling prey to fraud: you must pay close attention, and stay away from any people you may feel suspicious of. Also, many taxi drivers charge exorbitant amounts and do not use the meter, and during some tours, the tour guide or driver may stop in front of many stores trying to get you to buy from them, where they get commission from these stores that sell expensive products more than their original prices. Determine to head straight to your original destination so you don't get scammed.
---
Popular foods tourists should try in Bangkok, Thailand
Although Thailand is a relatively small country, Thai cuisine is known for its wide variety of delicacies. Bangkok is the capital of Thailand, and is a melting pot of many cultures and different cooking styles. Bangkok residents are known for their fondness for spicy and sweet flavours, and many dishes contain freshwater fish, pork, coconut milk and palm sugar.
Due to Bangkok's proximity to the sea, it is famous for its seafood dishes. For centuries Thai cuisine has been influenced by immigrants from southern China, and this is evident in Chinese-style noodles and stir-fries. The Muslims who came to Thailand in the fourteenth century AD also contributed to the spread of dishes based on dried meat and spices in Bangkok and other Thai cities.
Also, the royal court played a large role in providing fine dishes for nearly 300 years. Nowadays, immigrants from rural Thailand are enriching the cuisine in Bangkok with their signature dishes. In this article, we will review together a list of 12 delicacies that are a must-try when visiting Bangkok.
---
1- Pat tai
A popular street food dish in Thailand, this dish is fried noodles with fresh or dried shrimp, bean sprouts, tofu, eggs and spices, usually served with lemon, Chinese garlic and sliced ​​banana flower. The crowded Thip Samai restaurant, which dates back several decades, is famous for serving this delicious dish.
2- Tom yam dish
Known as Thai savory soup, this dish is made using lemongrass, kaffir lime leaves and lemon juice, plus fresh chili or chili pepper paste and oil, which give the dish great flavor. The upscale Krua Apsorn Restaurant, located in Bangkok's old quarter, is famous for serving this exceptional dish.
3- Gooay teeo reua
This dish is known as boat noodles because it was served in boats along canals and rivers in Bangkok and central Thailand. This dish consists of a slow-cooked broth with beef or pork, and dried herbs and spices. Bharani Restaurant is famous for serving this dish, which is one of the most delicious Thai noodles.
4- Som tum
Originating in northeastern Thailand, this dish consists of chopped papaya slices with tomatoes, beans, chili peppers, garlic, fish sauce and lemon. This famous dish came with migrant workers arriving in Bangkok. This exceptional spicy dish is served at Jay So Restaurant.
5- Kanom beuang
It's a hearty, taco-like snack with different types of filling, such as duck eggs and preserved fruit, or a spicy mix of dried shrimp and white pepper. The dish is available at street food stalls in Bangkok's old quarters, including Nang Loeng Market.
6- Mee grorp
A plate of crunchy noodles prepared in a distinctive royal style that makes the dish rich in savory and sweet flavors and aroma. Chote Chitr is one of the best restaurants known for serving this famous dish in the classic way.
7- Bamee
This Chinese-style dish of wheat noodles and eggs is served with grilled pork chops, vegetables or buns. Mangkorn Khăo Restaurant, located in Bangkok's Chinatown, is the perfect destination to enjoy this exceptional dish in a wonderful setting.
8- Gooay teeo kooa gai
Consisting of fried rice noodles with eggs, chicken, preserved squid and garlic oil, this dish is one of Bangkok's signature dishes. Nay Hong Restaurant is famous for serving this charcoal dish.
9- Swan
This dish is one of the popular dishes in Bangkok's Chinatown. This dish consists of a paste of eggs and oysters. Nai Mong Hoi Thod is the city's best restaurant serving this delicacy.
10- Kow mok
Biryani, or spiced rice, is one of the most popular dishes in Islamic countries as well as in Thailand. In Bangkok, this dish is made with chicken and served with a sweet and sour dipping sauce and a bowl of gravy. Discover the wonderful flavor of this exceptional dish at the Muslim Restaurant, which has been serving in Bangkok for 70 years.
11- Sate
The famous grilled meat skewers in Islamic countries may have come to Thailand via Malaysia or Indonesia. A popular dish in Bangkok's Chinatown, this delicacy is served with a peanut dipping sauce.
12- Mataba
Known as mutabbaq in Indonesia and Malaysia, this dish is rolls of dough stuffed with chicken, ground beef or eggs with curry powder. The dough can also be stuffed with eggs and banana slices, and fried until it acquires a crunchy texture. This dish is available at Karim Roti-Mataba Restaurant.
A video showing street food in Bangkok, Thailandhttps://www.youtube.com/embed/bLZIh9mGrU4?feature=oembed
---
15 Best Halal Restaurants in Bangkok, Thailand
Welcome to Thailand, the land of smiles. In Bangkok, the capital of Thailand, you will enjoy a wonderful vibrant atmosphere with an endless number of shopping centers and other interesting activities. Not only that, there is also Thai cuisine that is diverse and distinct. Finding a halal restaurant in Bangkok can be a bit difficult, but we will help you overcome this difficulty. In this article, we will review together a list of the 15 best halal restaurants in Bangkok.
Restaurants near Sukhumvit Road
One of the longest streets in the world, Sukhumvit Street is the commercial center of Bangkok, with many hotels and shopping centers, such as Nana Square and Terminal 21. On this street, there are a group of halal restaurants that serve a variety of delicacies, such as Tom Platter. Spicy yam or the famous mutton biryani.
1- Nefertiti Restaurant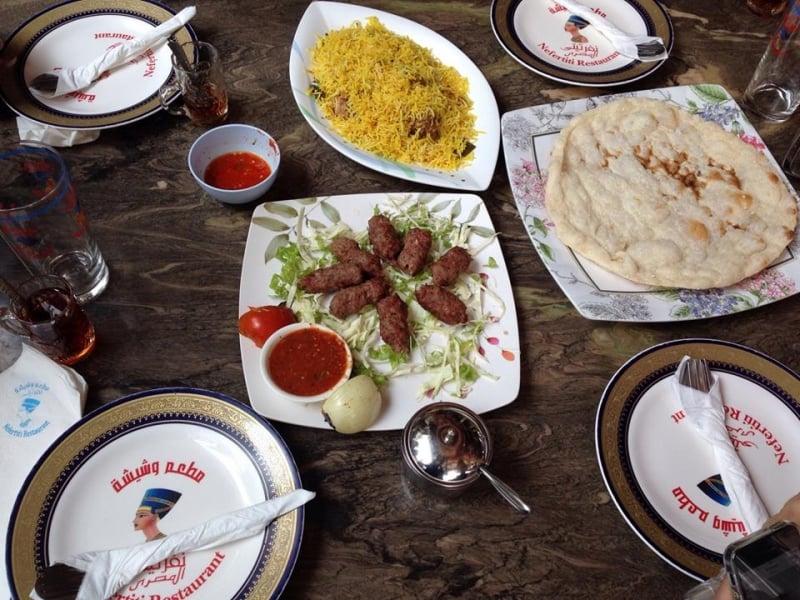 The most important feature of this restaurant is the Egyptian flags that flutter over huge screens displaying the exceptional menu offered by the restaurant to its guests. This restaurant, which bears the name of the beautiful Pharaonic Queen Nefertiti, has a distinguished staff that creates an atmosphere of fun and happiness. The restaurant offers its guests a variety of Egyptian delicacies, including crispy falafel and Baba Ghanoush, a dish made of mashed eggplant. The restaurant also serves shisha to its guests.
Address: 4/8 Soi Sukhumvit 3/1 Sukhumvit Rd, Khlong Toei Nuea, Watthana, Bangkok 10110, Thailand
Working hours : Monday to Sunday, 24 hours a day
2- Bawarchi Indian Restaurant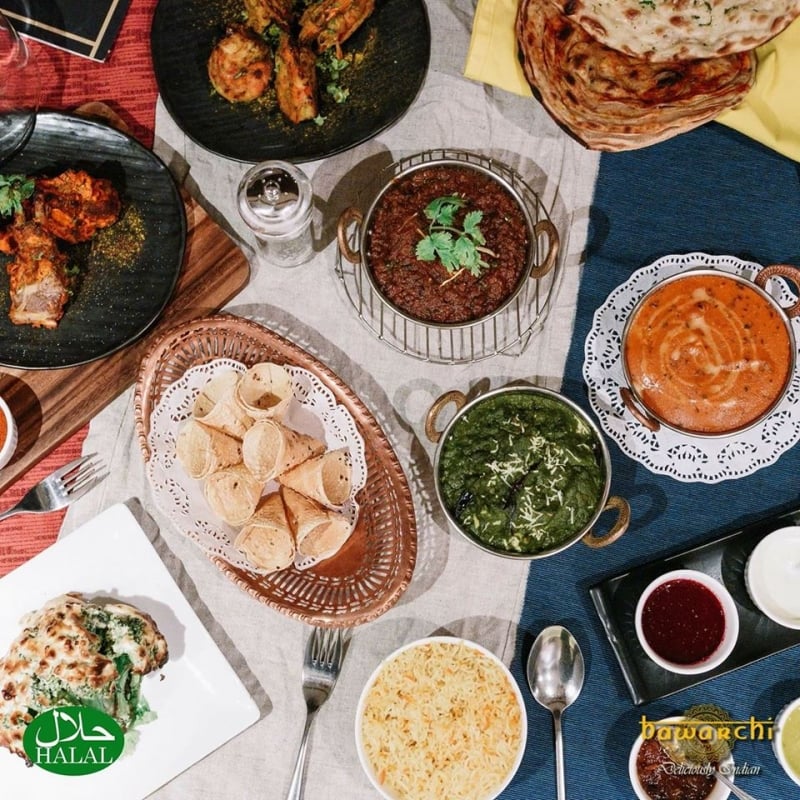 Pawarchi Restaurant offers its guests a range of delicious Indian dishes, including chicken, meat, seafood and curry dishes. The restaurant is distinguished by its exquisite design, in addition to delicious dishes of high quality.
Address : Sukhumvit 4 Alley, Khwaeng Phra Khanong Nuea, Watthana, Krung Thep Maha Nakhon 10110, Thailand
Working hours : Monday to Sunday, 07:00 to 04:00
3- Mezbaan Restaurant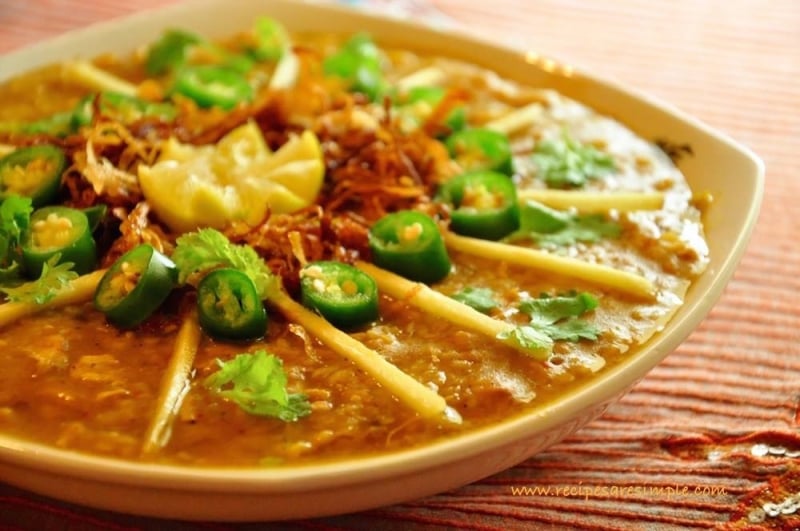 Mezban Restaurant is the perfect destination to enjoy the delicious taste of Indian, Thai and Bengali specialties. The restaurant offers a wide variety of dishes with large quantities of food, and has a wonderful atmosphere full of warmth and invitation, as well as reasonable prices. Don't miss the rice dishes and specialties that the chefs masterfully create.
Address : Soi Sukhumvit 13, Khwaeng Khlong Toei Nuea, Ambassador Hotel, Krung Thep Maha Nakhon 10110, Thailand
Working hours : Monday to Sunday, from 12:00 to 00:00
4- Al-Hussain Restaurant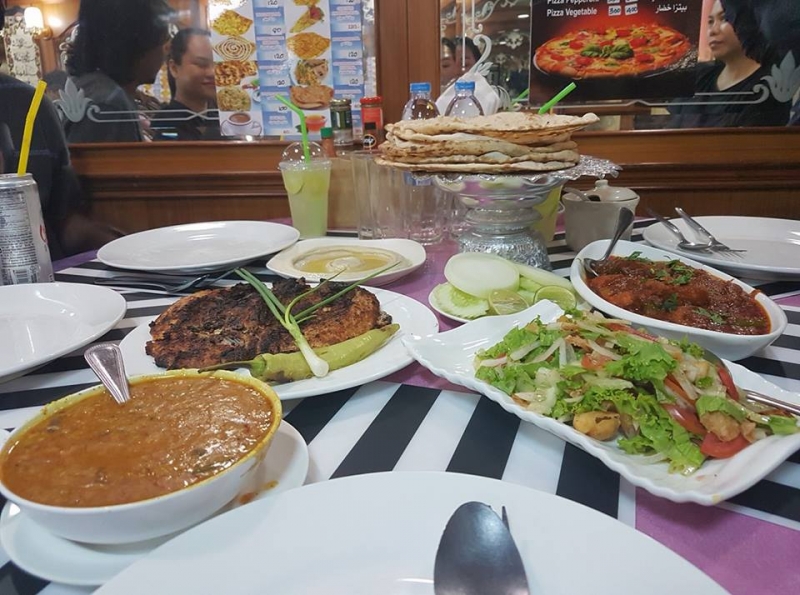 Al Hussain Restaurant is known for serving a great selection of Indian and Arabic dishes, including freshly baked naan bread and fragrant biryani rice, as well as other dishes rich in flavors and spices.
Address: 75/7 Sukhumvit 3/1 Downtown Wattana Khlong Toei Nuea, Watthana, Bangkok 10110, Thailand
Working hours : Monday to Sunday, from 09:00 to 02:45
5- Shahrazad Restaurant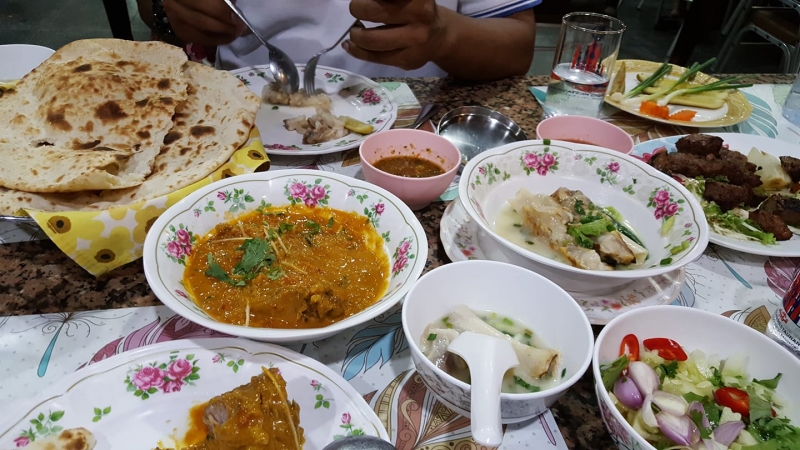 Located in the Middle East district of Bangkok, Scheherazade is known for its exceptional Iranian-themed menu, featuring a distinct selection of delicacies, including kebabs, hummus and lamb.
Address : 6/8 Sukhumvit Soi 3/1, Bangkok 10110, Thailand
Working hours : Monday to Sunday, from 09:00 to 02:45
6- Hadramaut Al Yemen Restaurant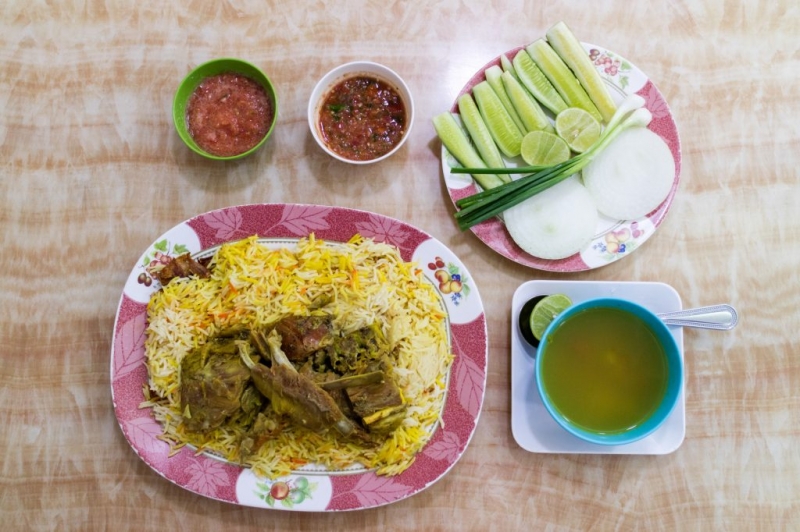 Hadramawt Restaurant serves delicious Yemeni and Arabic dishes, including mandi rice, saffron biryani rice, chicken or lamb chops and curry.
Address: 75/3 Sukhumvit Rd, Khlong Tan Nuea, Khet Watthana, Krung Thep Maha Nakhon 10110, Thailand
Working hours : Monday to Sunday, from 10:30 to 03:00
---
Restaurants near Pratunam Market
Pratunam Market is one of the largest clothing markets in Bangkok. If you are not a fan of haggling, you can cross the bridge and visit the Platinum Fashion Mall, a store specializing in the wholesale of men's, children's and women's fashion. If you want the perfect place to stay, there's the soaring Baiyoke Sky Hotel, which features a viewing platform with stunning views of Bangkok's skyline. Do not miss the opportunity to visit the Dar Al-Aman Mosque.
1- Tomyam Paa Nga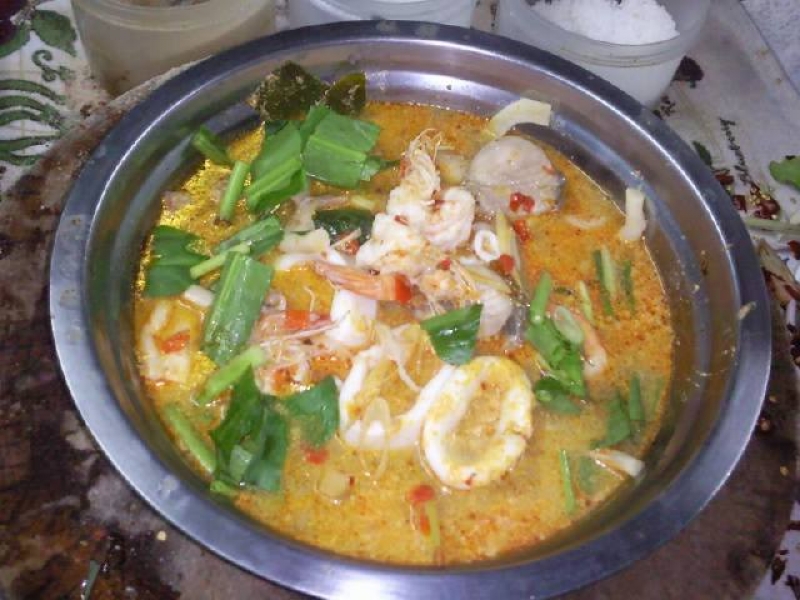 When you visit Bangkok, the fun wouldn't be complete without trying the signature Thai dishes. This simple restaurant offers you a chance to discover the delicious taste of Thai street food, including the famous Tom Yam, rich in spicy broth, fresh shrimp, squid and mushrooms.
Address: 101/12 Ratchaprarop Rd, Khwaeng Thanon Phaya Thai, Khet Ratchathewi, Krung Thep Maha Nakhon 10400, Thailand
Working hours : Monday to Sunday, 24 hours a day
2- Al-Sana Restaurant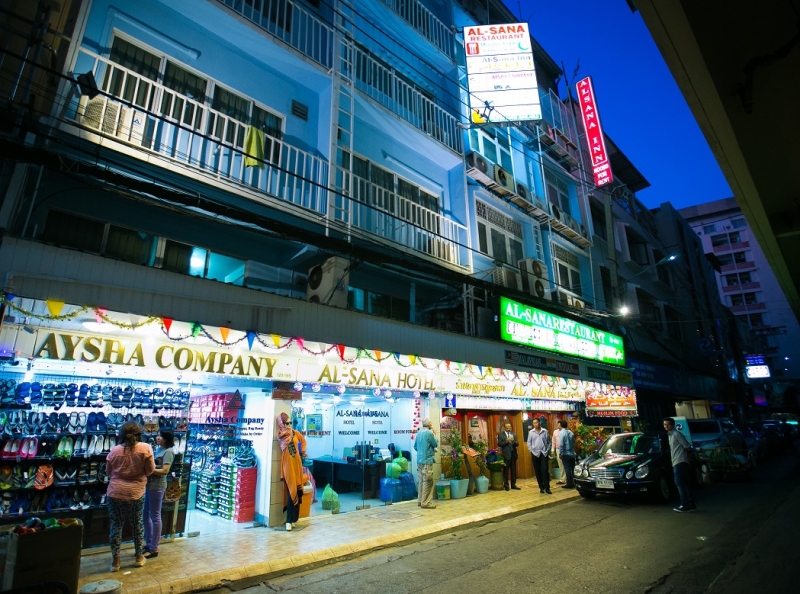 The restaurant is conveniently located near many of Bangkok's tourist attractions and serves a variety of Thai, Malaysian, Arabic, Pakistani, Sri Lankan and Indian dishes. The restaurant serves halal food, and one of the most popular dishes that you must try is fried rice with Thai seafood and keema paratha.
Address: 120 / 185-188 Ratchaprarop Road, Pratunam, Phayathai, Bangkok 10400, Thailand, opposite Citin Pratunam Hotel
Working hours : Monday to Sunday, from 09:00 to 01:00
3- Maedah Restaurant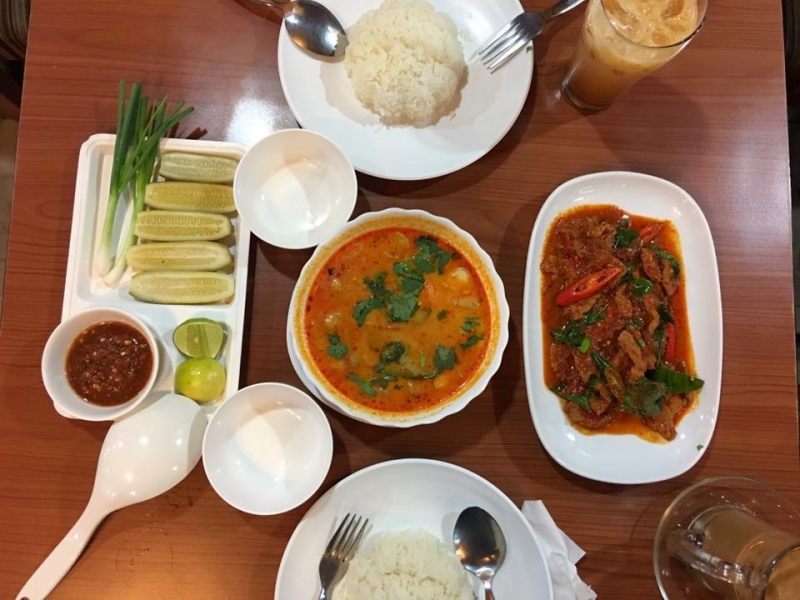 Located in the popular Pratunam area, this wonderful restaurant offers many options of Thai, Arabic and Turkish food. Be sure to try the Thai steamed fish, and don't forget the Thai iced tea.
Title: 120/372, Somprasong, Ratchaprarop Rd., Phaya Thai, Ratchathewi, Bangkok
Working hours: Monday to Sunday, 09:00 to 21:00
---
Restaurants near MBK Center
MBK Center is an ideal shopping destination for locals and tourists alike. The center has a great location near the National Stadium train station and offers its visitors a great opportunity to purchase anything they might want to buy. There are also the luxurious Siam Paragon and Siam Discovery, which have chic and trendy stores. There is a prayer hall on the fifth floor of the MBK Centre.
1- Yana Restaurant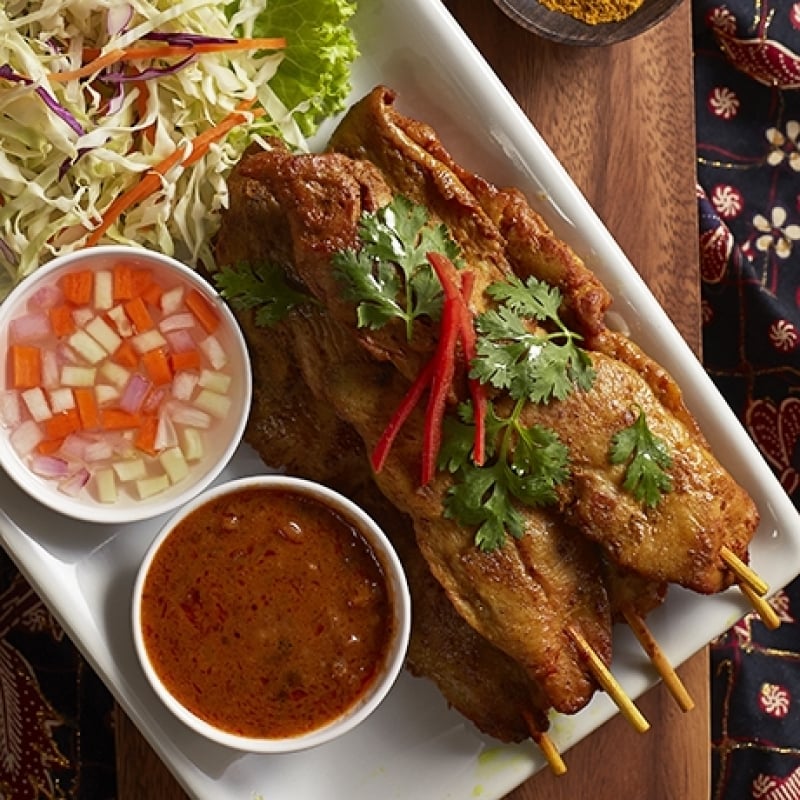 Located in the MBK Center, Yana Restaurant is an ideal destination for tourists who want to dine while shopping. The restaurant is famous for serving delicious Thai dishes at reasonable prices. This restaurant is suitable for tourists who come in large groups.
Address: 5A-05 444 Phayathai Rd, Khwaeng Wang Mai, Khet Pathum Wan, Krung Thep Maha Nakhon 10330, Thailand
Working hours : Monday to Sunday, from 10:30 to 21:00
2- The Fifth Food Avenue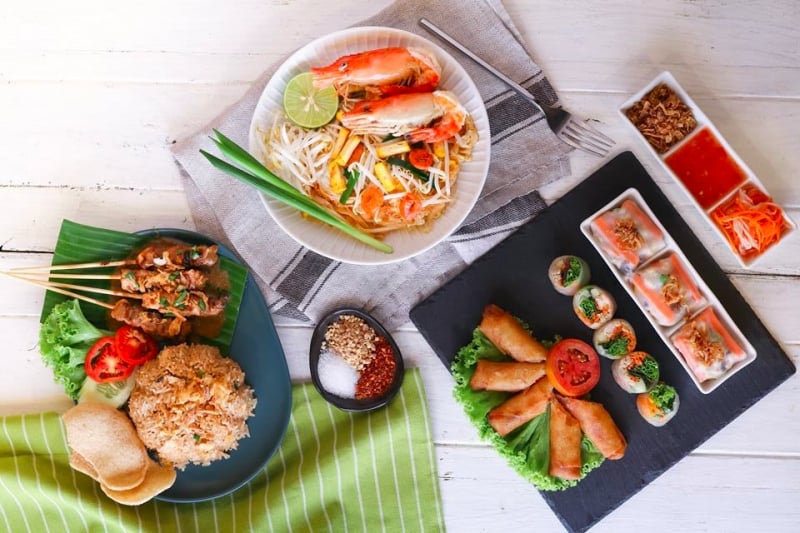 The Fifth Food Avenue is a spacious food court located in the MBK Centre, serving an exceptional menu featuring international halal dishes from Indian, Thai and Chinese cuisine. There are many stalls selling delicacies from all over the world. Also, don't forget to try Alize's signature menu.
Address: 444, 5th Floor, Zone A, Tokyu side, Phayathai Rd., Pathum Wan, Bangkok 10330, Thailand
Working hours : Monday to Sunday, from 10:00 to 22:00
---
Restaurants near Chao Phraya River
The Chao Phraya River is the lifeblood of Bangkok and is the city's busiest waterway. You can enjoy an unparalleled picnic in one of the boats, you can also stroll down Phra Artit Street bustling with cafes and bars, or you can head to the famous Khao San Road. And don't miss the opportunity to visit Thewitt Market and learn about the way of life of the locals. And if you are a fan of European-style shopping, you can visit the Oriental Market in the Old European Quarter. And don't forget to visit the Pak Khlong Flower Market where flowers, vegetables and fruits are sold. Nearby are the Bangkok Mosque and Harun Mosque, where Muslim tourists can perform prayers.
1- Home Cuisine Islamic Restaurant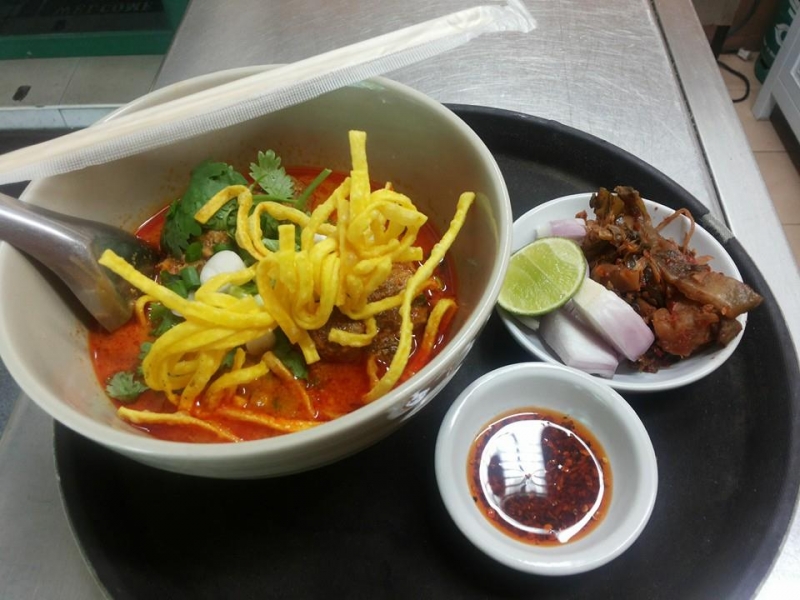 Home Cuisine is a large restaurant that serves an exceptional menu featuring the most delicious Thai and Indian dishes, including Tom Yam, green curry and biryani.
Address : 186 Charoen Krung 36 Alley, Khwaeng Bang Rak, Khet Bang Rak, Krung Thep Maha Nakhon 10500, Thailand
Working hours : Monday to Saturday, from 11:00 to 21:00, and Sunday from 18:00 to 21:00
2- BBQ Delight Restaurant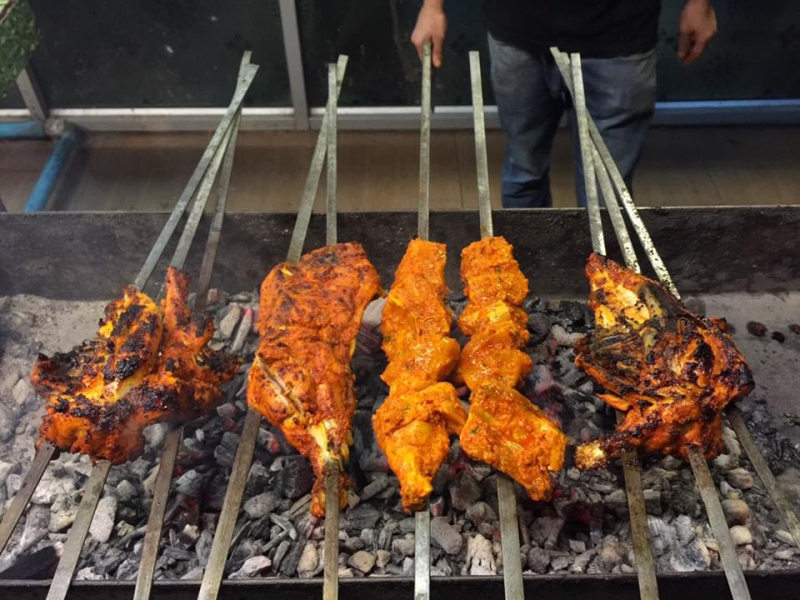 BBQ Delight serves up delicious Pakistani and Arabic dishes, including chicken kebabs and oven-baked crispy naan bread.
Title : Maha Set Rd, Khwaeng Si Phraya, Khet Bang Rak, Krung Thep Maha Nakhon 10500, Thailand
Working hours : from Monday to Saturday, from 11:30 to 00:30, and on Sunday from 11:30 to 22:30
---
Restaurants near Chatuchak Weekend Market
Chatuchak Weekend Market is the ideal destination for shopping in Bangkok, as it is a large market that displays an infinite number of diverse products, and you can also spend the most enjoyable times with children at the Children's Discovery Museum, or stroll in Queen Sirikit Park.
1- Saman Islam Restaurant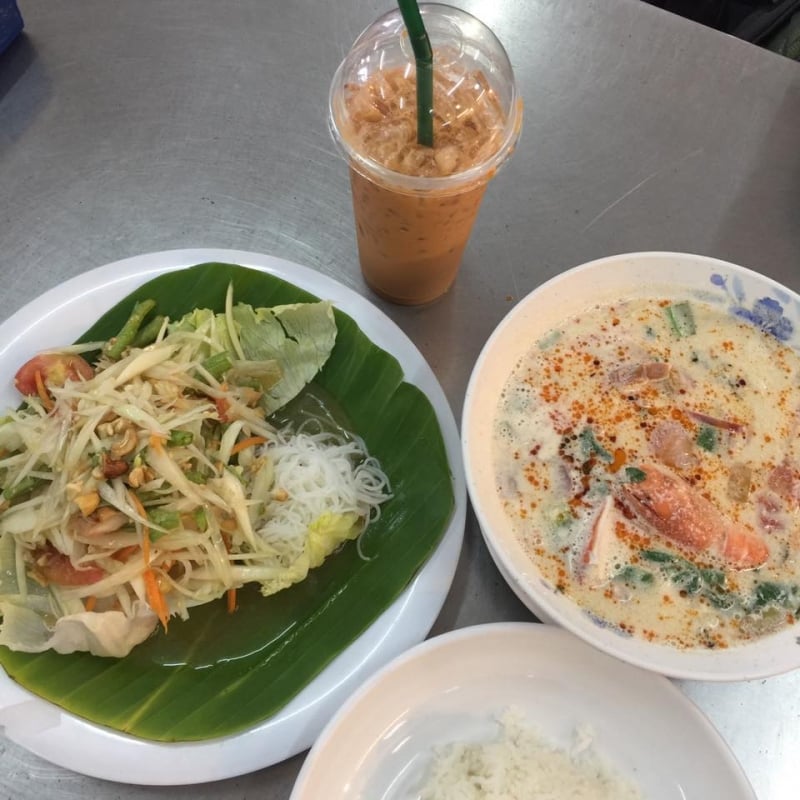 Saman Islam Restaurant is your ideal destination to enjoy a delicious meal while shopping at Chatuchak Market. The restaurant serves many delicious dishes, including noodles and Thai snacks. But the prices may be a little high.
Title : Section 16, Soi 24, Chatuchak Weekend Market, 251 Phahonyothin Rd, Chom Phon, Chatuchak, Bangkok 10900, Thailand
Working hours : from Saturday to Sunday, from 10:00 to 18:11
2- Kah Jak Halal Restaurant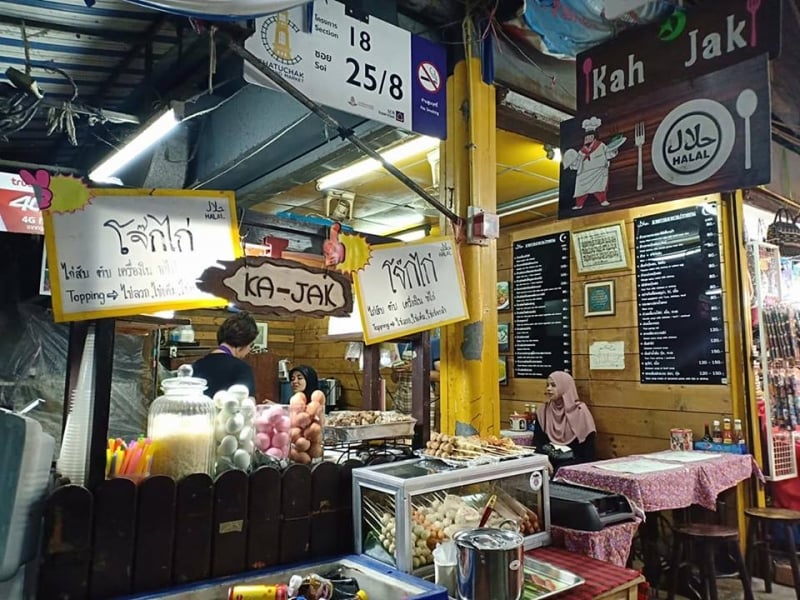 Located in the middle of the lively Chatuchak Market, Kah Jak is famous for serving krapao, a plain rice with chicken or beef and basil. It is your ideal destination to enjoy a delicious meal while shopping.
Title : Section 18, 25/8 Khwaeng Chatuchak, Khet Chatuchak, Krung Thep Maha Nakhon 10900, Thailand
Working hours : from Friday to Sunday, from 10:00 to 18:00
Note that these restaurants are owned by Muslims, but some of them may not be halal-certified restaurants, so be sure to check before eating your meal.
---
References:
Lonelyplanet.com
Planetware.com
Halalzilla.com
Hotels.com
---
Facebook Comments