Travel Destinations
Rio De Janeiro Travel Guide: Best Places to Visit
Rio de Janeiro: A Tapestry of Time, Tides, and Traditions
Introduction
Rio de Janeiro, bestowed with the UNESCO World Heritage title, is not merely a city between mountains and seas. It's a vivid canvas where nature's grandeur mingles with a pulsating cultural heart. While its geospatial allure beckons many, Rio is more than just its geographical charms; it's an urban oasis of architectural wonders cradling pockets of green sanctuaries.
Behind São Paulo in population count, Rio once wore the crown of Brazil's capital from 1763 to 1960 before Brasilia stepped into the limelight. Its roots trace back to the mid-16th century, an architectural gem crafted by Portuguese visionaries, serving as a golden gateway for treasures unearthed from Brazil's heartland. Cradled amidst undulating mountains and embracing sprawling beaches, Rio's jewels aren't just the iconic Sugarloaf peaks or sun-kissed shores. They're also the mosaic of edifices, gardens, parks, and spaces—each narrating tales from different epochs of this vibrant city's journey. Dive into Rio, and let history and nature waltz you through its enchanting streets.
---
Best tourist attractions of Rio de Janeiro, Brazil
1- Christ the Redeemer statue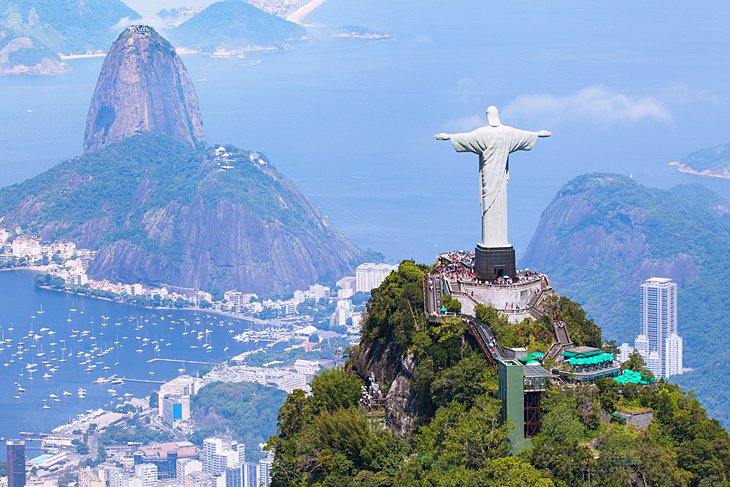 The 79-meter-tall Christ the Redeemer monument, a Rio de Janeiro landmark, dominates the 79-meter-high Corcovado Mountain panorama. It took Christian Catholics in Brazil three years, from 1922 to 1933, to construct this iconic statue. Polish-French artist Paul Landowski sculpted the statue in the flamboyant Art Deco style. It was the brainchild of Brazilian engineer Heitor da Silva Costa and French engineer Albert Caquet.
30 metres high with a 28-meter spread, the monument is 635 tonnes heavy. It's made of soapstone and reinforced concrete. A church for marriages and christenings is housed within the structure's eight-meter-high base. Trains travel 3.5 kilometres from Rua do Cosme Velho Street to the statue, passing through the Tijuca Forest National Park. For a limited time, you can see the Christ Redeemer Statue and optional Sugarloaf Mountain Tour before the general public. This tour may include a cable car ride up Sugarloaf Mountain and stunning views.
---
2- Sugarloaf Mountain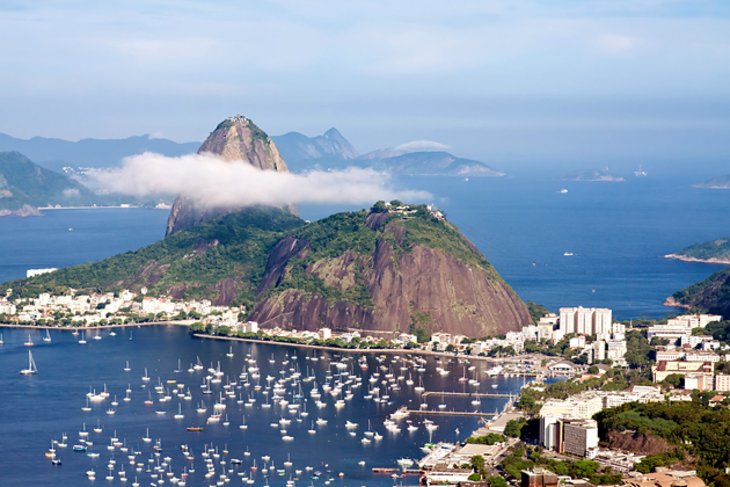 One of Rio de Janeiro's most recognisable landmarks is the summit of Sugarloaf Mountain, which rises 394 metres above the harbour. In the bay, the mountain surrounds the port and is only connected to the city by a thin strip of land. A cable car will take you to the top of Morro da Urca, and another cable car will take you to the top of Sugarloaf Mountain. From the summit, you can see the entire steep coast that encircles the bay and its islands. Between the Morro Cara de Co Hill and Sugarloaf Mountain is the 100-meter-high Praia da Urca Beach. Fort So Joo, one of three forts on Morro Cara de Co Hill, is open to visitors.
---
3- Copacabana Beach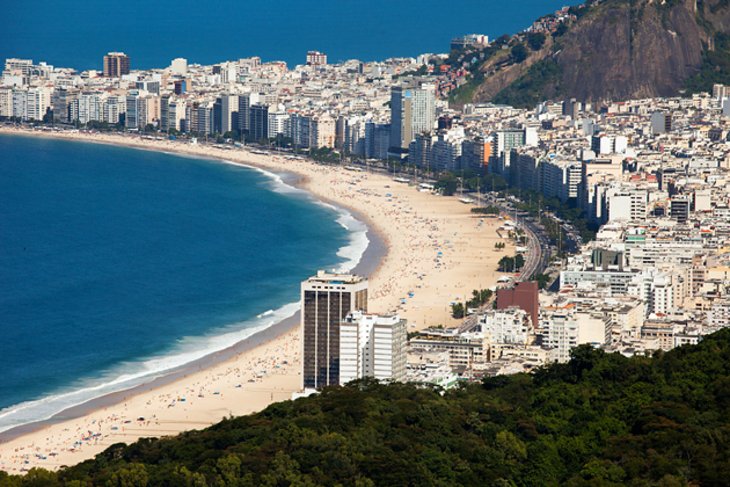 Four-kilometer-long Copacabana Beach in Rio de Janeiro's centre features magnificent golden sands. Old buildings, luxury hotels, world-renowned restaurants and cafes can all be found close to this world-famous beach, including Avenida Atlantica and Our Lady of Copacabana Church.
There's a historic hotel here called the Copacabana Palace Hotel, built in the 1920s and now designated as a National Historic Monument by the United States government. During its time as Brazil's capital, Rio de Janeiro served as a symbol of wealth, power, and luxury. Local celebrities and movie stars love to hang out at this hotel.
End of the beach also has the historic Fort Copacabana, built in 1914 and the site of an officer's revolt in 1922, when it was captured and cannons were fired at the city. The insurrection was put an end when the government dispatched warships to bomb the fort the following day. Learn more about this and other historical events at the fort's Museu Histórico do Exército. The fort's squares are littered with old cannon dating from the late 1800s and early 1900s.
Address: Praça Colonel Eugênio Franco, Rio de Janeiro
---
4- Ipanema Beach
The Jardim de Alá Canal separates Ipanema Beach from Leblon Beach. Along the stunning coastline, you'll find a number of top-notch hotels, cafes, and restaurants. Ipanema Beach gained worldwide fame after the release of The Girl from Ipanema. Several art galleries and theatres, as well as an experimental theatre, can be found in this neighbourhood. Sundays in Leblon have an art and antiques market at Quintal Space, while in Osorio, the public square hosts a handicraft market with music, art and handicrafts as well as local cuisine.
---
5- Carnaval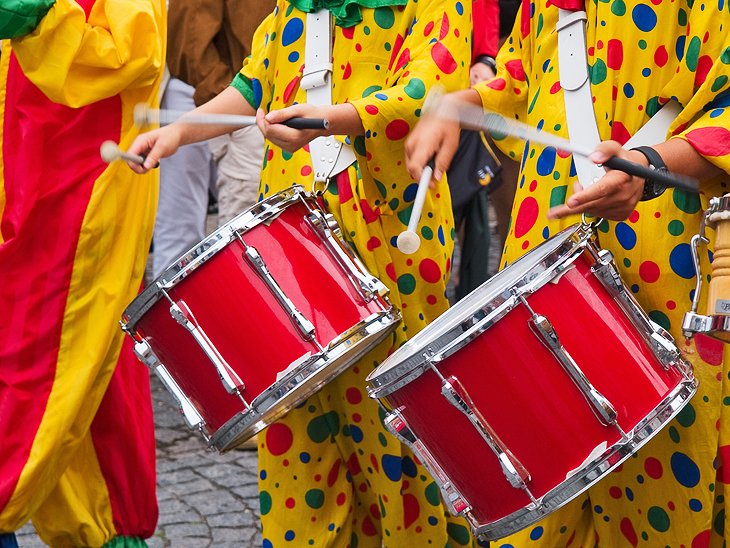 One of the most renowned Christian Church pre-Lent festivals, rivalling those held in Venice and New Orleans, this grand event takes place throughout the winter season. Festivals start soon after the new year, but the biggest crowds arrive in the four days leading up to Ash Wednesday, when art performances and samba dances are on full display for hundreds of thousands of people.
Other Brazilian cities, such as Bahia and Recife, hold Carnival celebrations as well, but Rio de Janeiro's Carnival is the most well-known and impressive. The Sambódromo area, designed by renowned Brazilian architect Oscar Niemeyer, hosts Samba Schools with a capacity of 50,000 spectators. When it was first used in 1984, it had to be refurbished for the Olympics in 2016. The Parade Route measures 700 metres in length and 13 metres in width.
---
6- Tijuca National Park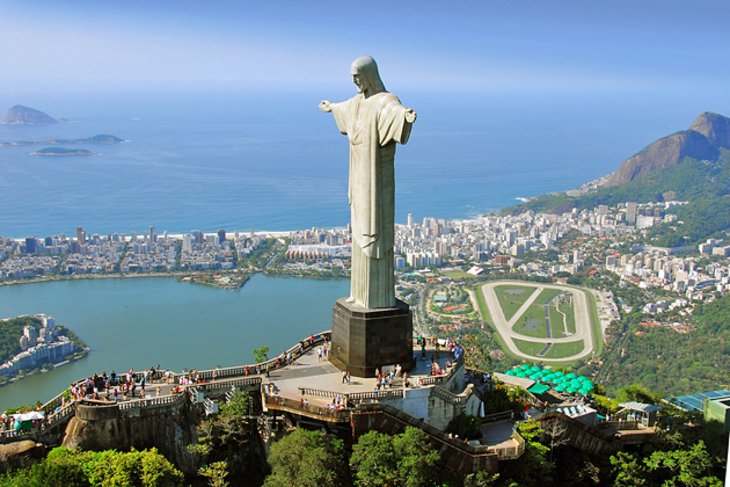 On Mount Corcovado, the National Park protects the Tijuca Forest and other areas with city views as well as the Christ the Redeemer monument. Take the train to Corcovado and walk through the forest to reach the park. The 3,300-hectare Tijuca Forest was established in the 1850s. In order to protect the city of Rio de Janeiro's water sources, a massive urban forest was created. There are many different species of wildlife to see in the park, including capuchin monkeys, Brazilian raccoons, toucans, falcons, and bright blue butterflies.
Rio's Largo do Boticário, near Corcovado Railway Station, is a beautiful square surrounded by a variety of architectural styles. Perched high on the Morro da Vista Chinesa Hill, this temple-style suite offers sweeping views of the municipal park, botanical garden, and the southern coast of Madeira. Mirante Dona Marta, perched on a cliff overlooking Botafogo Bay, offers even better views. The jungle springs are the source of many waterfalls, including the 30-meter-high Cascatinha Taunay. Nearby the park is the Museu do Açude Museum, which has impressive collections of West India Company pottery, as well as historical paintings of Rio de Janeiro by Brazilian and foreign artists, and Portuguese antiques dating from the seventeenth to the nineteenth century AD..
---
7- Botanical Garden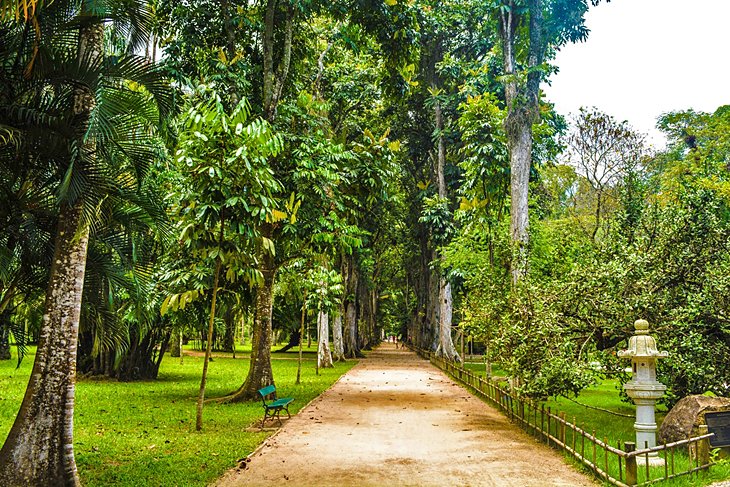 The 350-acre Rio de Janeiro Botanical Garden sits at the foot of Mount Corcovado. The botanical garden includes an ecological sanctuary, gardens, and a research laboratory. More than 2,000 different varieties of orchids can be found in the Orchidarium built in the 1920s from glass and iron. An authentic Japanese garden with cherry trees and wooden bridges can also be found there. There's a sensual garden in Braille, too, full of fragrant plants and herbs.
More than 8,000 plant, bird, and animal species call the park home, including marmoset monkeys and toucans, which is a UNESCO World Heritage Site. You can stroll through the grounds or ride in an electric carriage while admiring the majestic royal palm and brazilwood trees.
Address: R. Jardim Botânico, Rio de Janeiro
---
8- Maracanã stadium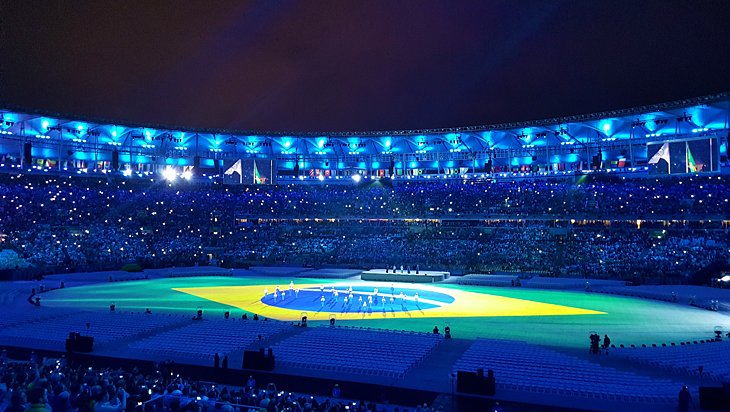 Brazil's largest stadium, Maracana, was the site of the opening and closing ceremonies for the 2016 Summer Olympics. The stadium underwent a complete makeover in advance of hosting World Cup games in 2014. Flamengo, Botafogo, and Vasco de Gama all play their home games at the stadium, which holds 78,000 people during football matches. This enormous stadium is also used for musical performances. Near Copacabana and Ipanema, parks and sports clubs line the shore of Lake Rodrigo de Freitas.
Adress: Av. Pres. Castelo Branco, Rio de Janeiro
---
9- Santa Teresa and the Stairs of Escadaria Selarón
It's no secret that Santa Teresa's steep, serene streets and century-old homes are some of the area's most attractive features. This neighbourhood is regarded as one of the most significant and visually appealing in all of Rio de Janeiro. Artists and intellectuals frequent the area's cafes and restaurants, which help to foster the area's charming bohemian vibe. The most amazing aspect of this neighbourhood is probably strolling through these stunning streets, which contain several notable tourist attractions, such as the Church of Santa Teresa, which dates back to 1720 AD.
Additionally, the Museu Chácara do Céu Museum houses an impressive array of works by Picasso, Miro, and Matisse, along with Chinese sculptures dating from the 17th to the 19th century A D. Various cultural and musical events are held in the Parque das Runas Park.
As one of Rio de Janeiro's most well-known tourist attractions, the Escadria Celaron stairway can be found just outside Santa Teresa. From 1990 until his death in 2013, Chilean-born artist Jorge Celaron decorated the steps in front of his house with mosaics made of tiles, ceramics, and mirrors in the Brazilian flag colours of blue, green, and yellow. Celaron began using broken tiles that he obtained from construction sites and demolished old buildings, but when tourists began to care about it, people supplied pottery and tiles from all over the world. Currently, there are pieces from more than 60 countries covering 250 steps of stairs that have seen many movies.
Address: Rua Manuel Carneiro (off Rua Joaquim Silva), Rio de Janeiro
---
10- São Bento Church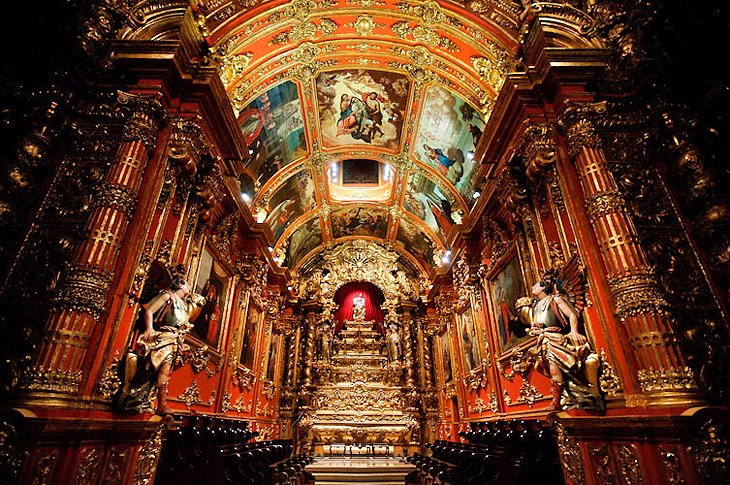 The Church and Monastery of São Bento is located on the hill above the harbor, and this site is one of the most important Benedictine monuments in Brazil. The original church was built in 1617 without internal aisles, and was expanded in the second half of the 17th century by adding 8 chapels. The interior of the church was decorated by Benedictine artists. The carvings covering the walls and ceiling are the work of the monk Domingo da Conceicao, who is also responsible for the statues of Saint Benedict and Saint Scholastica. The choir chapel contains silver artwork by Mystery Valentine, as well as 14 paintings by Ricardo de Pilar. The Senhor dos Martírios painting of Christ is a rare masterpiece.
---
11- Church of Saint Francis of Penance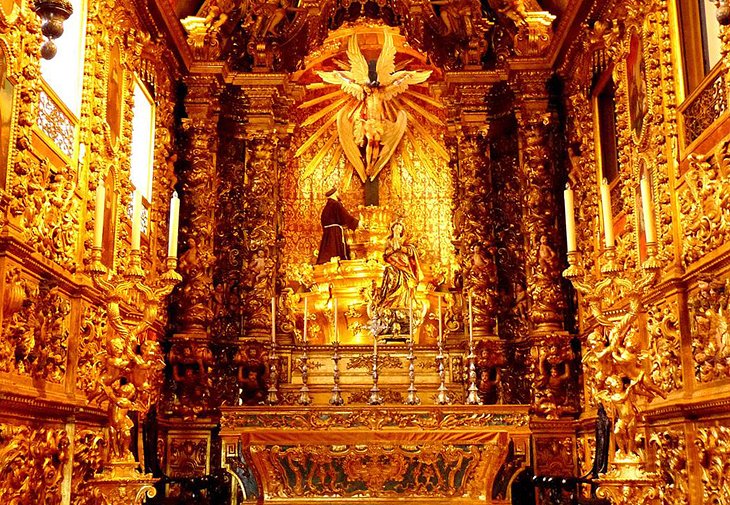 This church includes 3 sections, each with a separate entrance. The church is distinguished by its simple façade, while the interior design is rich in wood carvings. Manuel and Francisco Javier de Brito participated in the interior design, two prominent Portuguese sculptors famous for carving on wood, and they had a special character known as the Britto style, which is predominantly decorative, and which was influenced by the sculptor Alejadinho and other Brazilian Baroque artists. In the ceiling of the church is the first Tremblue Lowell painting in Brazil, painted by the artist Caetano da Costa Coelho in 1736, who later decorated the ceiling of the nave in the same style.
Address: Rua da Carioca, Rio de Janeiro
---
12- Municipal Theater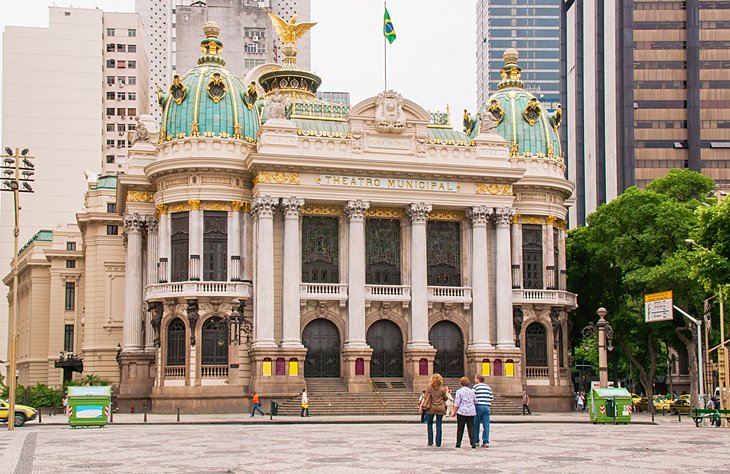 The large Municipal Theater was built in the early twentieth century and is inspired by the Paris Opera House. This famous theater is distinguished by its high-rise façade and luxurious interior design and exquisitely decorated. There are sculptures by Henrik Bernardelli and paintings by Rodolfo Amoudou and Eliseu Visconti. English-speaking guided tours are available, and you can also enjoy attending concerts and ballet shows hosted by the theater.
Address: Praça Floriano, Rio de Janeiro
---
13- Quinta da Boa Vista Park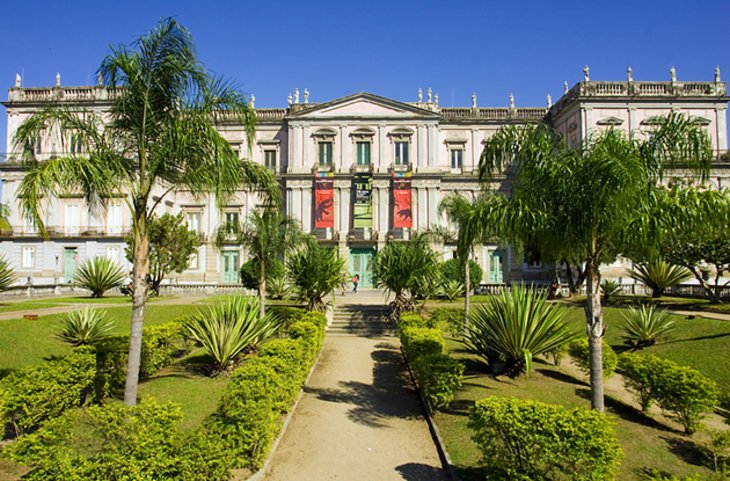 All gardens, villas and royal palaces in São Cristóvão have been converted into public gardens, parks and museums, and perhaps the first of these places is the Quinta da Boa Vista Palace, which was the residence of the royal family. Inside the palace is the National Museum, which includes the largest scientific collections including zoology, botany, ethnology and archeology, and it contains more than a million items. In the spacious park, there are gardens with lakes, forests and caves, which you can reach via a small railway line. Within the park there is also a zoo containing more than 2,000 species of mammals, birds and reptiles from Brazil and all over the world.
Address: São Cristóvão, Rio de Janeiro
---
14- Church of the Assumption of Our Lady of Mount Carmel and the municipality of Nossa Senhora do Carmo and Monte do Carmo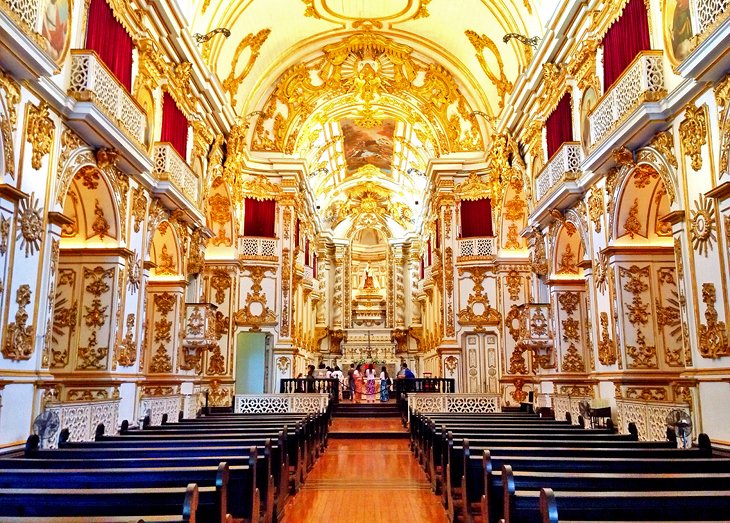 The Parish Church of Our Lady of Mount Carmel was the royal church from 1808 to 1889, and it remained the cathedral until it was replaced in 1976. The church features a Baroque façade, a stone entrance, and gold sculptures by Mystery Valentim. The cathedral features rich décor and a silver altar. And in one of the side streets is the Church of the Assumption Nossa Senhora do Cabo da Boa Esperança.
Address: Rua 1 de Maráo (off Rua do Ouvidor), Rio de Janeiro
---
15- Catedral de São Sebastião Cathedral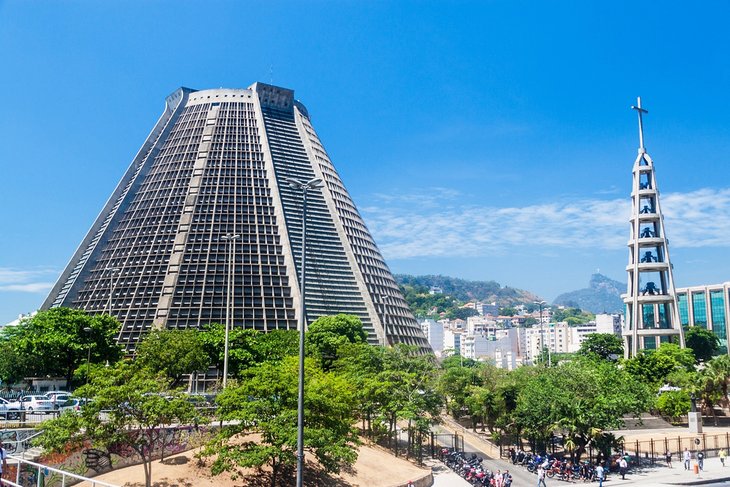 The architect Edgar Fonseca was inspired by the soaring Mayan pyramids in his design for Rio's new cathedral. The cathedral was built during the period from 1964 to 1979, and is usually referred to as the new cathedral, in order to distinguish it from the Church of the Virgin, Our Lady of the Mountain. The church has a capacity of about 5,000 people in its interior, which is 96 meters in size. Four stained-glass windows extend from the floor at a height of 64 meters to provide natural light during the day. At night, the church is lit from the inside through a lighthouse in the middle.
Address: Av. Chile 245, Rio de Janeiro
Watch in the video amazing panoramic views of the Brazilian city of Rio de Janeirohttps://www.youtube.com/embed/CnnYIzUQSb0?feature=oembed
---
Best cheap, medium and luxury hotels in Rio de Janeiro, Brazil
The city of Rio de Janeiro is distinguished by its wonderful location between the bay and high mountains, and there are many tourist attractions that are spread throughout the city. Premium hotels are found in the neighborhoods of Copacabana and Ipanema with beautiful beaches, fine cafes and restaurants. Fortunately, the city has a metro system that is fast and efficient. The Botafogo neighborhood near Copacabana is an ideal destination for tourists to stay. Here is a list of the best hotels in Rio de Janeiro:
Luxury Hotels: The Miramar by Windsor Hotel is located directly on Copacabana Beach, a few steps from Ipanema Beach. And there is an amazing swimming pool in the roof of the hotel. The hotel provides guests with benches and parasols on the beach. There is also the Belmond Copacabana Palace Hotel, which is characterized by luxury and elegance, which receives many movie stars and prominent personalities. JW Marriott Rio de Janeiro overlooks Copacabana Beach, and has a swimming pool in the roof, in addition to a spa and gym. The hotel provides guests with benches and parasols on the beach.
Mid-range Hotels: The Ipanema Inn is located close to the beach in the vibrant Ipanema district, and offers its guests an impeccable personal service. The Hotel Cesc Cubana is located on a quiet street near the beach, surrounded by restaurants and shops. There is also the Windsor Palace Hotel, which has a swimming pool in the roof, which offers its guests a large breakfast buffet and free airport drop-off service.
Budget Hotels: The Ibis Copacabana Posto 5 hotel is located close to the beach, next to a metro station. The Ibis Rio de Janeiro Botafogo is located in the residential Botafogo neighborhood, close to the cable car ascending to Sugarloaf Mountain. There is also the Mercure Botafogo Morisco Hotel, which has elevated rooms overlooking the statue of Christ the Redeemer, which sits on top of Mount Corcovado.
---
Tips for tourists visiting Rio de Janeiro, Brazil
If you like cities, beaches, delicious food, vibrant places and colors, you must visit Rio de Janeiro. Below, we will review together some of the tips you need to know in order to enjoy your visit to Rio de Janeiro, the largest city in Brazil.
1- If you want to take the bus, you must wave your hand
If you want to take the bus in Rio de Janeiro, even if you are standing at the bus station, you must wave your hand to the driver and express your desire to take the bus just as you do with taxis. And when you take the bus in Rio de Janeiro, you will find someone who will refund you the remaining amount of the ticket price, which is not the case in some other cities, such as Montreal, for example. You should know that the yellow seats are only for the disabled, the elderly, and pregnant women.
2- Take the metro
Rio de Janeiro has an efficient, clean and safe metro system. And when you visit Rio de Janeiro, be sure to use the metro.
3- Random pedestrian crossing
In Rio de Janeiro, it is common to see pedestrians crossing the street randomly without committing to traffic lights. Although this is not comparable to Asian cities, it is found in abundance in Rio de Janeiro. And when crossing the street, watch out for fast motorbikes.
4- Take the taxi from the right place
If you are at the airport and want to take a taxi instead of the bus, go straight to the departure area, you will pay less than if you went to the arrival area. Often the driver will not be able to speak to you in English, so make sure to know some phrases in Portuguese, or give him the address written in Portuguese. Generally speaking, most Brazilians are not fluent in English, and they prefer Portuguese, so be sure to learn it.
5- Enjoy delicious Brazilian food
Brazilian cuisine is very popular, and is known for its fruits and tapioca, as well as the vegoads, grills and other delicacies of the wonderful city of Rio de Janeiro. You may have certain eating habits, but it is okay to behave like locals and eat fresh fruit juice for breakfast and eat street food for lunch, as they are cheap and delicious, as they only cost $ 15 a day, and thus you can save a large portion of your budget. Another way to save is the option to pay according to the weight of the plate. You can also learn the secrets of Brazilian cuisine by attending a cooking course.
6- Do not drink tap water
Locals do not drink tap water, as bottled water is available everywhere. But be sure to use recyclable water bottles, to help protect the environment.
7- Withdraw cash at the airport
When you visit Rio de Janeiro, you will enjoy delicious food and other activities at cheap prices. You can spend 10 days in Rio de Janeiro for an amount ranging between 200 and 300 dollars, excluding accommodation. In Rio de Janeiro, you can use a credit card anywhere, but getting cash can be a little difficult because some banks may not accept credit cards. So, be sure to withdraw an amount of money at the airport, and avoid changing the currency at the airport because the exchange rate is not good.
8- Adhere to basic safety and security rules
Rio de Janeiro is a dangerous city, so you must follow rules to keep you safe, such as keeping your luggage and not going around alone at night.
---
7 most popular foods you should try when visiting Rio de Janeiro
Food in Rio de Janeiro is fresh, healthy and fast. The streets of Rio de Janeiro are filled with rickshaws and stalls selling snacks and fries. Here is a list of 7 delicious dishes that you must try when visiting Rio de Janeiro.
1- Açai
Açaí beans are distinguished by their rich nutritional value, and the people of Rio de Janeiro used to eat them as part of their daily meals before this delicious cereal became an indispensable popular dish. Coming from Amazon, this purple berry is served as a sweet juice, often accompanied by bananas or strawberries and granola. Açaí can be bought at any snack bar, and it is often sold on the beach as well. Acai beans contain high levels of energy, and Brazilians are keen to consume it when practicing their favorite sports.
2- Tapioca
Tapioca has its origins in northern Brazil, but it has gained popularity in Rio de Janeiro for being a tasty and healthy alternative to baking. Tapioca is made from the starch of cassava root and is a great choice for those who avoid gluten. It is usually sold in mobile stalls which are concentrated in the south and center of the city. Flour can be bought in supermarkets and is easy to make at home. The tapioca is prepared the same way as pancakes, and wrapped around different types of filling, such as ham and cheese. Nutella, strawberry or banana can also be used with condensed milk and coconut.
3- Pastel
Pastel is a delicacy in Rio de Janeiro, but it is not a healthy choice. It is customary for tourists to go on a tour of the local fruit and vegetable markets on Sundays and enjoy this delicious food for breakfast. Various ingredients are used in the filling, such as meat, cheese, dried meat and tomatoes. You can add more fun with an iced sugar cane juice drink.
4- Feijoada
Brazil is characterized by its large area, and each region is famous for its specific foods that distinguish it from other regions. But the Feijoada broke that rule, as its fame roamed Brazil's horizons. And when you visit Rio de Janeiro, be sure to eat the Brazilian feijoada, which is a mixture of black beans with various cuts of meat, ribs and sausages. It is served with varova (cassava flour), kale and rice, with the addition of orange juice.
5- Fried sardines with lime
Sardines are one of the most popular types of fish in Rio de Janeiro, after cod. Serve fried sardines without cutting it with a pinch of salt and lemon. The best way to eat fresh sardines is to buy them from vendors on the beach. It is truly an exceptional experience unlike any other. You can enjoy this delicious meal in the many restaurants and bars spread throughout Rio de Janeiro.
6- Popcorn
Popcorn is a popular food in Rio de Janeiro, and it is not only present in theaters, as mobile carts that sell delicious crunchy popcorn are spread in the city streets. Popcorn is available in sweet and savory flavors with the addition of bacon or caramel.
7- Chicken hearts
Rio de Janeiro is famous for its delicious grilled chicken hearts meal, served on wooden sticks. It is an amazing meal served in grill restaurants and on street barbecue carts.
---
Halal food and restaurants in Brazil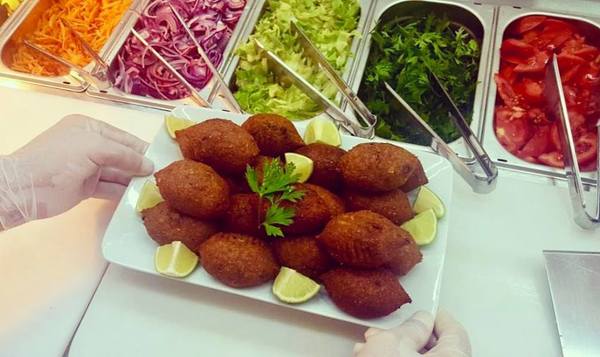 If you love to travel but have considerations regarding culture, religion or the quality of the food, you may face some difficulties when you visit a country with a different cultural character. And when you visit Brazil, you can enjoy delicious meals in local restaurants and discover new flavors, while at the same time you can adhere to your principles regarding halal food. And since Muslim tourists are keen to eat halal food and stay away from forbidden food and drinks, the following are some tips to help you enjoy eating halal food when visiting Brazil.
1- Big cities offer more options
Of course, big cities offer more options, especially when it comes to halal restaurants. In São Paulo there are many restaurants that are famous for serving halal food, including Abudi, Rosa do Líbano, and Restaurante Istanbul. And in Rio de Janeiro, there is a restaurante Baghdad. And in Porto Alegre, there is the Casa Blanka restaurant. In Foz do Iguaçu, there is the Castelo Libanês restaurant.
2- Eat plant varieties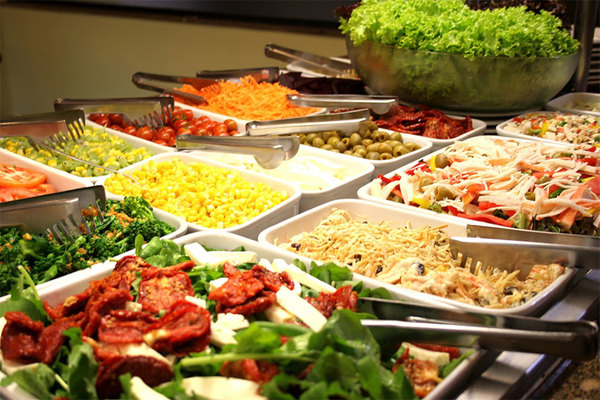 Usually vegetarian varieties are halal if no alcohol has been added to them. In major cities, there are many restaurants that specialize in serving vegetarian varieties, and there are other restaurants that offer vegetarian dishes in addition to other varieties. In Brazil, you can enjoy delicious vegetarian dishes consisting of rice and beans, and mixed vegetables can be added to it as well. There are also restaurants that serve food by weight, as they offer a variety of vegetarian items.
3- Eat seafood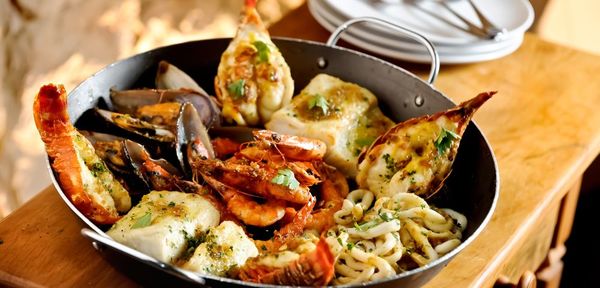 Muslim tourists completely refrain from eating pork, and they have special conditions regarding how to prepare other types of meat. But on the other hand, seafood is an ideal completely permissible option for Muslim tourists. And when you visit the beautiful Brazilian beaches, you can enjoy delicious and fresh seafood dishes.
We are pleased to know your experience with halal food and restaurants in Brazil. We are waiting for your comments.
---
Video Tour of Rio De Janeiro
---
References:
Viaretravel.com
Theculturetrip.com
Annieanywhere.com
Planetware.com
---
Facebook Comments