Travel Destinations
Tourism in Malaysia: Travel Tips for Tourists Visiting Kuala Lumpur, Penang, Langkawi and Malacca
Best places to visit, best Malaysian foods to try and practical information on Tourism in Malaysia
Malaysia, often hailed as "Asia in Miniature," stands as a testament to the wonders that coalesce when diverse cultures, stunning nature, and contemporary cityscapes converge. Situated at the crossroads of Southeast Asia, this gem of a country offers an intoxicating blend of Malay, Chinese, Indian, and indigenous influences, manifesting in its cuisine, festivals, and architectural marvels. From the sprawling rainforests of Borneo to the shimmering skyline of Kuala Lumpur, and the pristine beaches of the Perhentian Islands to the UNESCO heritage sites of Penang, Malaysia promises an enchanting journey for every traveler. As you delve into this article, prepare to be whisked away into the vibrant tapestry of experiences that make Malaysia a top tourism hotspot.
Best tourist attractions in Kuala Lumpur, Malaysia
The iconic Petronas Twin Towers, standing tall as the world's tallest twin structures, grace the skyline of Kuala Lumpur, Malaysia's vibrant capital. This bustling metropolis, a magnet for tourists, is a melting pot of cultures, offering a distinctive blend in its culinary delights, architectural wonders, and natural beauty. With a rich tapestry of attractions awaiting exploration, anyone considering a trip to Malaysia should earmark ample time to experience these unparalleled destinations.
Petronas Twin Towers
Rising to a majestic 451 meters, the Petronas Twin Towers dominate with their 88 floors, linked by an awe-inspiring sky bridge on the 41st floor. This bridge, one of the city's loftiest two-story connectors, wasn't merely an architectural afterthought. It was integrated to reinforce the towers' interconnected stability, enhancing their resistance to storms and wind forces.
In 2004, one of the towers earned the accolade of being the world's tallest twin structure. Today, it stands as a must-visit tourist magnet, drawing crowds for its unparalleled views. The 86th floor, in particular, hosts a special observation deck, offering visitors a mesmerizing panoramic vista of the city below.
A video showing the Petronas Twin Towers
Visiting Hours
The museum welcomes visitors from 9 a.m. to 9 p.m. from Monday to Saturday. Please note that on Fridays, while the museum remains open throughout the day, it takes a brief hiatus from 1 p.m. to 2 p.m. The museum remains closed on holidays and during special events.
Admission Fees:
Adults: RM80 (Approx. $20)
Children: RM33 (Approx. $8)
For a seamless experience, we recommend making a reservation in advance to avoid unnecessary waiting upon your arrival. If you're aiming for efficiency, consider taking the train. Not only is it a cost-effective option, but it's also one of the swiftest means of public transportation in Malaysia. Conveniently, the museum is just a short walk away from the train station.
---
Batu Caves
Batu Caves: Kuala Lumpur's Limestone Marvel
Standing as a testament to time, Batu Caves in Kuala Lumpur, with its ancient limestone formations, has beckoned travelers for almost four centuries. As you approach this iconic site, you'll be met by a majestic 140-foot statue of the Hindu deity Murugan. This meticulously sculpted figure draws admirers from every corner of the world, transcending religious boundaries.
Reaching the caves requires a bit of effort — a stair climb of about an hour and a half. But rest assured, as you ascend, the panoramic vistas that greet you at the summit make every step worth it.
Batu Caves encompasses three main caverns: the Temple Cave, the Dark Cave, and the Art Gallery Cave. The Temple Cave, the largest of the trio, houses several Hindu shrines and boasts a towering ceiling that stretches 300 feet skywards.
The Dark Cave, true to its name, introduces visitors to its unique residents, from elusive bats to rare reptiles. Meanwhile, the Art Gallery Cave is adorned with murals and sculptures, each narrating tales of Hindu mythology and spirituality.
A word of caution: the vicinity is a playground for monkeys. It's advisable not to carry food and to be mindful of your belongings. To make the most of your visit, aim for the morning hours, and arm yourself with water bottles, especially on warmer days.
Visiting Hours
Batu Caves are accessible from 6 a.m. to 9 p.m. However, for the Dark Cave, visiting hours are restricted from 10 a.m. to 4 p.m.
Admission Fees:
Entry to Batu Caves is complimentary. For the Dark Cave, the following charges apply:
Adults: RM35 (Approx. $8)
Children: RM28 (Approx. $7)
---
Kuala Lumpur Tower
Kuala Lumpur Tower: A Glimpse from the Clouds
Though the Kuala Lumpur Tower, often referred to as the Kuala Lumpur Lighthouse, ranks as the world's seventh-tallest communication tower, it promises vistas rivaling those from the famed Petronas Towers. This isn't merely an analogy; from its peak at 420 meters, the views are genuinely reminiscent of what one would experience from its iconic twin counterparts.
The tower's crowning jewel, the Sky Deck, offers breathtaking horizon views, whereas the Observation Deck presents a sweeping panorama of the city's heart. Interestingly, the Observation Deck stands slightly higher than the viewing platform of the Petronas Towers, rendering the Kuala Lumpur Tower with a slight edge in the skyline race.
For a blend of culinary and visual delights, consider a meal at the Atmosphere 360 revolving restaurant situated within the tower. Here, diners are treated to a constant 360-degree panorama of Kuala Lumpur's mesmerizing cityscape.
Visiting Hours
The Atmosphere 360 restaurant operates from 1:30 a.m. to 11 p.m., while the tower itself welcomes visitors from 9 a.m. to 10 p.m. daily.
Admission Fees:
Observation Deck:
Adults: RM49 (Approx. $12)
Children: RM29 (Approx. $7)
Sky Deck:
Adults: RM99 (Approx. $24)
Children: RM52 (Approx. $13)
---
Chinatown
Bargain Hunts and Historic Wonders: Kuala Lumpur's Chinatown Experience
Kuala Lumpur's Chinatown, nestled in the heart of the Petaling district, is a haven for those with a penchant for shopping and a love for striking a good deal. From trendy clothing and quirky accessories to unique souvenirs and handcrafted goods, the area is brimming with quality finds at pocket-friendly prices.
But Chinatown is more than just a shopper's paradise. Its streets are steeped in history, with a treasure trove of ancient Hindu and Buddhist temples peppered throughout. The intricacy and splendor of their architectural designs rank them among the world's most visually arresting structures. As such, they attract not just shoppers, but also culture enthusiasts and history buffs.
The Chan See Shu Yuen Temple, one of the oldest and grandest in Chinatown, stands as a testament to the rich tapestry of Chinese civilization and heritage. Beyond its iconic architecture, the temple also houses an array of sculptures and artwork that paint a vivid picture of China's storied past.
Video Tour of Chinatown, Kuala Lumpur, Malaysia
Numerous restaurants and cafés in Chinatown serve authentic Chinese fare and beverages, so if you're in Kuala Lumpur, stopping by will give you the feeling of being in a Chinese-speaking city without actually being in one.
Opening Timings
It's best to get to Chinatown by train because it's only about five minutes away from Pasar Seni train station, making it one of the fastest and most cost-effective ways to visit the Chinese market in Singapore.
---
Taman Negara Park
One of Malaysia's most famous and oldest tropical forests, Taman Negara Park is a must-see for nature and adventure lovers visiting Kuala Lumpur. Noteworthy is the fact that the park spans over 4343 square kilometres and includes parts of three states: Pahang, Kelantan, and Terengganu.
For those looking for a unique hiking experience in the shade of a canopy of trees or in search of endangered species like rhinoceros, tiger, or elephant, the park is home to all of these and more. The park's hanging walkway offers the best hiking you've ever had, and there are plenty of other things to see and do as well. In the caves, you can also go small canoeing so you can see more of the park.
While the suspended walkway is approximately 45 metres high and 530 metres long, you can enjoy nature from the park's highest point while wildlife enthusiasts can enjoy numerous plants with a beautiful perspective.
Opening Timings:
Shrine hours are 9 a.m to 5 p.m. daily, with the exception of days with inclement weather when it may be closed.
Entrance fees:
Hanging Walk: RM5 ($ 1)
Boating: Prices range from RM100 to RM150 ($ 24) ($ 34)
To get to this shrine, you can either take public transportation or rent a boat and cross the river on your own. In spite of this, taxis are the most popular mode of transportation, which is what most visitors do, but you can also explore the city on foot. Travel time is at least three hours.
Instead of driving, head to the KL Sentral Railway Station and take the train to Jerantut, where you can then take a taxi or bus to Kuala Tembeling, where the park officially begins.
---
Sultan Abdul Samad Building
This 19th-century structure, which is regarded as one of the finest examples of Moorish architecture and which draws a large number of tourists throughout the year, is regarded as a treasure of the region and the most popular tourist destination in Kuala Lumpur. It used to be the British colonial leadership's headquarters, and today it draws a large number of tourists throughout the year.
One of the city's most important celebration and event gathering places is Merdaka Square, which is home to the city's famous National Day Parade, which is held annually on August 31st.
It is worth noting that this structure is one of the most beautiful architectural masterpieces in the city, as it features a beautiful copper dome as well as a clock tower with a spectacular outlook, and there are other tourist sites nearby, like the Gombak River and Klang River, Petaling Street and Merdaka Squre Club and the Jamek Masjid Mosque.
Therefore, visitors can enjoy when visiting this famous tourist attraction with buildings with a wonderful view, and they can also take memorial photos and spend a wonderful and special time with family or friends, and for this reason, this shrine is considered one of the most famous and cheapest places in Kuala Lumpur as well, as visiting it does not require any fees.
Opening Timings
The building is open to visitors daily for twenty-four hours, but is closed on Saturdays and Sundays.
Entrance fees:
There is no fee to enter the building, as it is completely free for visitors, and the building is located 10 minutes from the Sultan Abdul Samad Mosque train station, so it is better for you to use public transportation, which will save you a lot of effort and money.
---
Kuala Lumpur Aquarium – Aquaria KLCC
The Aquarium of Kuala Lumpur is one of the largest tourist attractions in the world, housing nearly 20,000 marine creatures from around the world. This aquarium is located below the building of the Kuala Lumpur Convention Center in the city center, and there is an underwater tunnel of ninety meters long, and this aquarium is one of the most important tourist attractions in the city.
You will enjoy seeing many living creatures up close, such as giant sharks and stingrays, in addition to sea turtles, piranha, and many other unique marine creatures. The aquarium also simulates the marine environment suitable for these fish to appear as if they are in their original habitat.
There you will also enjoy many shows, such as seeing professional divers feeding these marine animals, and there is also a designated area to see some marine animals where you are allowed to touch some of them such as starfish and bamboo sharks.
Video reviewing the Kuala Lumpur Aquariumhttps://www.youtube.com/embed/197YIYYIOY8?feature=oembedVideo of the Aquarium of Kuala Lumpur, one of the most important tourist attractions in Malaysia
Opening Timings:
The Aquarium is open from ten in the morning until eight in the evening every day.
Entrance fees:
Adults: 69 ringgit ($ 17)
Children: RM59 ($ 14)
Senior citizens: RM49 ($ 12)
It is best to use public transportation to reach the Aquarium, as the place is very close to the city-center train station, thus saving a lot of money and effort.
---
Kuala Lumpur Bird Park
This park is considered one of the largest birdhouses in the world as it includes nearly three thousand different species of birds, and the park was built on an area of ​​approximately 21 acres and includes many natural homes, which made the birds easily adapt to it.
The Kuala Lumpur Bird Park is part of the Lake Gardens, which includes many gardens such as the KL Butterfly Park and the National Monument, which includes some of the memorials and the Botanical garden in addition to the Deer park, and once you reach the park, you will find many birds flying over your head. In amazing harmony.
There, you will enjoy watching many birds as diverse as flamingos, swans, storks and peacocks, which will make it a great experience for you if you are a fan of birds and nature. And if you love to photograph nature, this park is the place to go for your favorite hobbies during your visit to Kuala Lumpur.
The park is divided into four areas, the first two of which are simulating the atmosphere of a tropical rainforest, where many birds fly freely and in perfect harmony. The third zone is dedicated to the elusive rhinoceros, and the fourth zone includes more than twenty parrot species and birds that cannot fly and live in separate homes.
There are also many fun daily shows and bird feeding programs that allow visitors to get close to these diverse birds.
Opening Timings:
The park is open from nine in the morning until six in the evening every day
Entrance fees:
Adults: RM67 ($ 16)
Children: RM45 ($ 11)
This park is considered one of Kuala Lumpur's distinctive landmarks that suit all ages, so if you are in the city, do not miss the opportunity to visit this wonderful landmark, and the train is one of the best means of transportation that will take you to the place in a short time, as the park is very close to the train station.
---
Genting Highlands
Genting Highlands is one of the most beautiful tourist resorts, which is located on the top of a hill, only 50 kilometers away from Kuala Lumpur, and during your stay at the resort, you can enjoy many activities such as visiting parks and sightseeing in the city in addition to shopping.
You can start by riding the cable car, which will allow you to see the Genting Highlands as well as the tropical jungle of the city from the top, as this cable car is nearly 6000 feet from the surface of the earth.
It is worth noting that visitors can also go to many strawberry farms to enjoy its amazing view, and they can pick some of them according to their choice and buy them from farmers when they leave the farms, so visiting this wonderful countryside or resort is one of the best things that can be done during your visit to Kuala Lumpur in particular. If you want to get a little out of the hustle and bustle of the city.
Opening Timings:
Visitors can visit this landmark any time they want as per their plans, but the cable car service is operated from 7:30 in the morning until midnight.
Cable Car Fee:
There are three types of tickets for the cable car service, which are as follows:
Regular one-way ticket 8 RM ($ 2)
Regular roundtrip ticket is RM16 ($ 4).
Premium ticket (fast) one way 40 RM (10 $)
Strawberry farms entrance fee:
Adults: RM8 ($ 2)
Children: 5 RM ($ 1).
You can use the cable car service to reach Genting Heights or rent a taxi as per your choice of course, and you can also if you like public transportation, which enables you to enjoy the road and look at nature more, as you can take the bus from the Kuala Lumpur Bus Station, which will save you a lot of money and time.
---
Jalan Alor Street
Jalan Alor Street is the most famous place for popular food in Kuala Lumpur, where at nightfall you will find that the street is fully lit in order to allow food vendors to open their stalls to people, and there are many restaurants on the street that contain fish meals from various kitchens such as Chinese, Malaysian, Indian, Vietnamese and Thai cuisine. It makes locals and tourists alike come to this place to enjoy the many varied cuisines.
Therefore, you will find it a little difficult at the beginning, but of course, you can try all the varied and different varieties according to your choice and the availability of money with you, and this street is considered one of the most important attractions for food lovers and those who do not mind trying new varieties and recipes different from their favorite meals, such as chicken or seafood.
Opening Timings:
Vendors start to open their stalls from five in the evening until midnight, so if you want to eat many items, it is better to go early to enjoy the place before it is crowded, and it is worth noting that the prices there are not exorbitant, as you will be able to try all the dishes at medium prices than you are used to In your home, and you can reach this street by train, as the street is about ten minutes away from the station, so it is better for you to use public transportation as a better way than renting a private taxi in order to save money and be able to experience more food.
---
Popular Malaysian foods worth trying
Many people who travel to Kuala Lumpur want to know the cuisine that the country is famous for, so we will show you the ten best foods that you can eat during your visit to Kuala Lumpur. We recommend that you do not leave the city before you taste some of these foods, to enjoy their distinctive taste that you will not forget throughout your life.
Nasi lemak
If you traveled to Kuala Lumpur without tasting Nazi Gureng then you can consider your trip to Malaysia not complete. This distinct dish is served in many ways, the most famous of which is Nasi Limak served with some of the famous appetizers in Kuala Lumpur or with fried chicken thighs.
Ikan bakar
This dish will appeal to you even if you are not a fan of grilled fish, because Kuala Lumpur restaurants present it in ways that make you accept it constantly because of the beauty of its taste.
You must enjoy the taste of the famous Ikan Bakar dish when you head to Kuala Lumpur, as this dish can be served in many ways, it can be served fresh without additives, or served by adding a little water with a little salt and hot sauce, or grilled and served by adding a few spices to it . Whatever the way this dish is served, it will be delicious in all cases, and it is a dish that is worth hundreds of miles to just enjoy its great taste.
Roti canai
This dish of bread can be obtained in places that are famous for its manufacture in the city of Kuala Lumpur, this dish is also known as roti kossung and has become one of the most famous dishes in Kuala Lumpur and one of the main dishes there for nearly twenty years, it is a light dish with a delicious taste, and you can eat it without any additives Or with the addition of curry or lamb as you wish and desire.
Ramly burger
This type of burger is considered distinct and whose prices are affordable for everyone, and this burger is Malaysian in origin and many countries in the world try to imitate it but they cannot offer it with the same taste, and you can find it easily in all parts of Malaysia, as finding it is not difficult as it is One of the popular dishes in Kuala Lumpur.
Try the best types of burgers, such as the burger, which consists of two pieces of Ramlee burger, whether it is chicken or beef, with eggs, cheese and black pepper sauce, then enjoy the delicious taste.
Banana leave rice
This dish is served by placing a piece of banana leaf, then placing the appetizers on the side of the plate in an orderly way, adding rice to the dish, and finally adding curry sauce on top of the rice. This dish is native to South India, and it can be served in Kuala Lumpur the Malaysian way by adding fried chicken or fish with it.
Brown Sugar Appam
It is a cake made from fermented rice dough, and it is getting a high level of fame in Kuala Lumpur, where it is served in the form of regular opam or with coconut milk, or with brown sugar or mixed together and put on an opam cake and then it is heated on the fire with the need to be The edges are thin, and keeping in mind the sugar is left in small pieces, so that the flavor of the cake is caramelized and coconut.
Chicken Rice
This dish must be eaten with at least half of the chicken, and the rice may taste slightly sticky, but it has a very delicious taste, and is cooked with fully mature chicken, and this dish is eaten with the addition of ginger spices to it, and the origin of this dish goes back to Malaysia.
Hokkien mee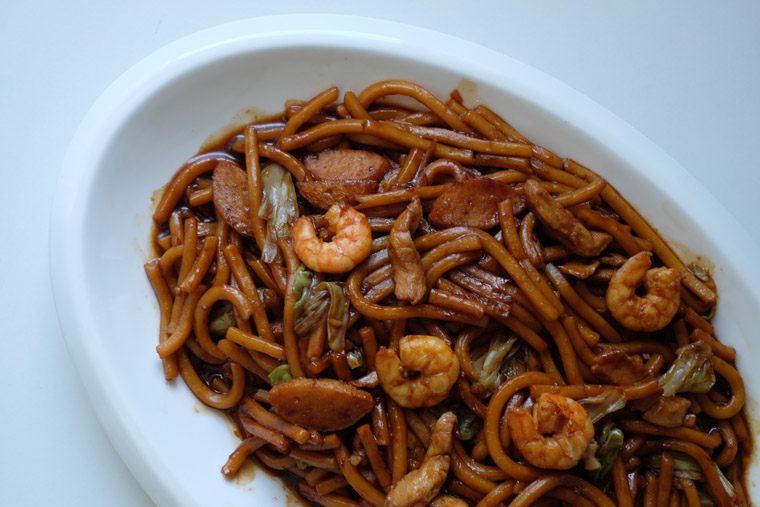 This meal has been famous in the city of Kuala Lumpur for more than eighty years, and the Hokkien Mai dish is served in the most famous noodle restaurants in Kuala Lumpur, and you only need to eat these delicious noodles covered with dark soy sauce, and it usually contains pieces of pork, and therefore it is necessary to alert everyone who refuses About eating pork.
Cendol
Cindol is one of the wonderful types of desserts famous in Kuala Lumpur, it is a delicious and fresh coconut milk cream that is placed on the top of the cindol plate and inside it is green pandan jelly, and this combination of ingredients makes it a delicious and favorite dessert for everyone.
---
Tips for tourists traveling to Kuala Lumpur, Malaysia
Tips for Tourists Visiting Malaysia
Respect Cultural Norms: Malaysia is a multicultural country with a mix of Malay, Chinese, Indian, and indigenous cultures. Always be respectful of local customs and religious practices. For instance, it's customary to remove shoes when entering someone's home.
Dress Modestly: Especially when visiting religious sites. Women should consider wearing long skirts or pants and covering their shoulders. Men should avoid wearing sleeveless shirts in such places.
Bargaining is Common: Especially in markets. However, do it politely and with a smile. Always remember it's a friendly negotiation.
Stay Hydrated: The tropical climate means it can get quite hot and humid. Carry a water bottle with you and drink frequently.
Local Food: Malaysia is a food paradise! Try local dishes like nasi lemak, satay, roti canai, and laksa. Street food is both delicious and affordable, but always ensure you're eating at stalls that look clean and have a high turnover.
Avoid Monsoon Seasons: If you're heading to the east coast of Peninsular Malaysia or Borneo, be aware of monsoon seasons which can affect travel plans.
Public Transportation: The train system in cities like Kuala Lumpur is efficient and affordable. Taxis are also available but always insist on using the meter.
Useful Phrases: While Bahasa Malaysia is the official language, English is widely spoken. However, a few phrases in Bahasa can go a long way. "Terima kasih" means thank you.
Safety First: Like any other tourist destination, be cautious of your surroundings. Avoid dark alleys at night and always keep an eye on your belongings.
SIM Cards: Local SIM cards are easily available and affordable. Having a local number can be handy for maps, translations, or making reservations.
Tipping: It's not a common practice in Malaysia, and service charges are often included in bills at restaurants.
National Parks: If you're an outdoor enthusiast, don't miss out on Malaysia's national parks like Taman Negara and Borneo's Kinabalu Park.
Respect Wildlife: Especially relevant if you're visiting places like Borneo. Never feed wild animals, and always maintain a safe distance.
Stay Adaptable: Malaysia's diverse culture means an array of festivals and public holidays. Some businesses may close during these times, so it's good to be aware and plan accordingly.
Money Matters: The Malaysian currency is Ringgit (MYR). ATMs are widespread, and credit cards are accepted in most urban areas. However, always carry some cash, especially when traveling to more rural locations.
No Drugs Policy: Malaysia has a very strict no-drugs policy, with severe penalties including the death penalty for drug trafficking.
By keeping these tips in mind, you can ensure a pleasant and enriching experience during your stay in Malaysia. Enjoy the beauty, diversity, and warmth that the country has to offer!
The tourist attractions are close to each other
Kuala Lumpur might look like a fairly large city on the map, but fortunately most of the must-see attractions are in close proximity. There are modern malls located next to each other in Bukit Bintang and there are many street markets connected to each other in Pasar Seni, so you will not have to make long trips to see all the sights in the Malaysian capital. The only stressful part of the trip is walking, especially when you are loaded with shopping purchases. However, if you want to cut back on walking, you can walk the Bukit Bintang-KLCC Trail, take the LRT / Monorail, or take the complimentary purple MyRapid buses to get around most of the attractions.
Prepare for hot weather
Malaysia is located on the equator – the wettest tropical region in the entire planet. Given the urban atmosphere, the weather in Kuala Lumpur is likely to be hot on some days, although recent climate change has caused more rain. Carry your summer clothes suitable for hot temperatures, and be sure to head to the many restaurants for a hot or cold drink. And rain is likely to occur in the evening, so take advantage of the hot afternoons to visit the sights you are planning to visit.
Visit the gardens
If you want to be away from the hustle and bustle of the city for a while, head to the nature reserves located in the heart of Kuala Lumpur. You don't have to go far to spend time with the most beautiful plants and animals in Asia and enjoy breathing fresh air into your lungs instead of car smoke. Most of these gardens do not need more than half a day to visit and explore, for example, the KL Bird Park, the adjacent KL Butterfly Park, and the neighboring KL Lake Gardens.
Shop wisely
From luxury and high-end products at the Pavilion Mall to cheap and discreet goods in Sungei Wang, there is no end to shopping opportunities to buy various types of products bearing the most famous international brands, and the Kuala Lumpur Golden Triangle of Kuala Lumpur is the best shopping area. It includes a group of leading stores for major brands. And if you have finished searching for the shoes and clothes that you want to buy, we recommend that you head to the old areas in Kuala Lumpur to see the shopping stores in a different style, and the most important of these old areas is the Chinatown area or Chinatown, which is located in an area called Pasar Seni (translates to Market Art) specifically in Petaling Street. You will find yourself in the midst of countless antiques and decorations around every nook and cranny of Chinatown, but remember be sure to haggle for the best price.
Enjoy the night markets
One of the things not to be missed when visiting Kuala Lumpur is taking a trip to the night markets or Pasar Malam. Enjoy witnessing the Southeast Asian lifestyle that has its roots in Pasar Malam Sri Petaling, or the more popular Taman Connaught region. Get a little adventurous and try dining out from the roadside stalls as street Asian cuisine mixes with local traditional dishes. The scenery will be quite crowded, so pay attention and keep valuables in your pockets and other belongings.
Cultural celebrations
Since Kuala Lumpur is a multicultural city, you often cannot get acquainted with all the cultural features of the city during your short vacation, those features that are evident in the many cultural festivals and religious holidays that Kuala Lumpur witnesses. These festivals and holidays are often celebrated on a large scale, as special decorations are used everywhere and special activities and events are carried out. A great example is the Chinese New Year celebrations, where all popular shops and cafes display some kind of Chinese motifs as a distinctive way to welcome their visitors.
Get adventurous and explore cities other than Kuala Lumpur
Kuala Lumpur is a great city to explore, but the rest of Malaysia will have a lot of fun as well. You can plan weekend trips to visit some cities far from the Malaysian capital, Kuala Lumpur. There are, for example, wonderful cities such as Malacca, Langkawi and Penang, so it is not recommended to make all your vacation in Malaysia limited to the capital only.
Don't let the local language make you feel alienated
Kuala Lumpur is a vital center for tourism and business, so locals are more willing to speak English despite their ability to use Chinese, Malay and Hindi. Learning a few phrases with the local yield won't be difficult for you, but make sure the majority of locals are willing to speak English to help you as a visitor or tourist.
---
Ten must-do activities in Penang Island, Malaysia
If you want to explore Penang on a short tourist visit, there are many spots that you should not miss in your itinerary. In our list of the ten most important activities in Penang we excluded the unimportant places and focused on places that represent the spirit of the island to the point that missing a visit to one of them is almost the same as not visiting Penang in the first place. During the preparation of this list, we have chosen an exciting group of modern and distinctive sites, including amusement parks and gardens suitable for family trips, and natural and cultural attractions that suit visitors of all ages.
1. Penang Hill
Penang Hill – or Flagstaff Hill as it is officially known – is 821 meters above sea level, making it much better than the hot weather below. Penang Hill is one of the most important sites in it, and you should not miss the pleasure of visiting it, as its visitors enjoy seeing the entire island during their trip to the top. The best way to reach its summit is the train that takes half an hour to take you to the summit to enjoy an unparalleled scenery, you can also visit the Hindu temple, church and mosque in it, there is also a snake show that you can watch and take a souvenir photo with a tamed Python for a specific fee.
2. Kek Lok Si Temple
Kek Lok Si Temple is located on the top of a hill in the small town of Air Itam, and is part of a huge temple complex in Southeast Asia. The temple complex is filled with exquisitely designed gardens and sacred temples and was built more than a hundred years ago. An amazing seven-story temple or Pagoda known as the Temple of a Thousand Buddha, this temple combines Thai, Chinese and Burmese styles in one structure and includes an amazing collection of Buddha statues made of different types of precious materials. In the temple complex, you will also find statues of the four Heavenly Kings guarding the four poles of the compass – north, south, east and west – and in the center of them are the laughing Buddha statue.
3. The Cheong Fatt Tze Mansion
The Xiong Fatt Palace was the home of an influential Chinese industrialist in the early nineties of the nineteenth century, and this palace winning many international awards is considered one of the best works of Chinese architecture in the eighteenth and nineteenth centuries. It took more than seven years to build that edifice by an elite of the most skilled Chinese craftsmen. The palace includes five granite courtyards, thirty-eight rooms, seven staircases, and twenty-two stained-glass windows. Locals call it the Blue Palace and it is one of the only three traditional Chinese palaces found outside of China. In 1989, the palace was renovated and restored and converted into an ancient hotel with sixteen rooms, famous for its beautiful blue façades. His visit and guided tours are available to the public at exactly eleven, one-thirty, and three o'clock, with an entrance fee of 12 ringgit for one visitor.
4. Amusement Park Escape Adventureland
The few hours you spend at Penang Escape Amusement Park will be some of the most exciting and exciting hours of your entire life. Lurking rapidly in the open air tens of meters off the ground is sure to be an unforgettable experience. It is a theme park specializing in what is called zip-lining, which is a person rushing through the air at great speed while suspended by a cable or a taut tendon, which Australians call Flying foxes. There are also lots of other fun activities in these parks such as free fall from a 20-meter-high jumping platform, sliding into a toboggan tube and swinging on a swing hanging ropes from trees.
Opening hours: 9:00 – 18:00
Address: 828 Jalan Teluk Bahang, 11050 Penang
Phone: +604 881 1106
5. Adventure Zone Theme Park
Often parents find it very difficult to provide entertainment and entertainment for their youngsters and to enjoy this time with them as well when traveling on a family vacation. This 10,300-square-foot Adventure Land Park is Penang's solution to this problem. This park has been designed in a suitable way for families with many and varied activities that suit visitors of all ages and ensure that your little ones integrate and enjoy them. The park contains more than thirty activities and is divided into three areas, an area for children equipped with games compatible with international safety standards, an area for older children, and an area for distinguished activities.
Best Tourist Attractions and Full Travel Guide of the Malaysian island of Penang
The most wonderful part of the experience for adults and children is in the unique activities area, where there are three slides, two slides Astra and Double Trail are designed for children, and the third slider, which is 24 feet high, is suitable for everyone. The kids' area has fixed and swinging ladders for climbing, grab bars, jumpers and more, while the toddler zone is packed with rails, cushioned climbing towers and plenty of safe games to make kids under the age of four feel excited and happy. Free internet is available in the park, which is suitable for parents who just want to relax in the café inside the park, or you can take a fifteen minute Segway ride.
Opening hours: 10:00 – 19:00
Address: Shangri-La Rasa Sayang Resort & Spa and Shangri La Golden Sands Resort, Jalan Batu Ferringhi.
Phone: +604 886 1911
6. Made in Penang Interactive Museum
The Made in Penang Museum breaks down the notion of museums being boring and unfashionable, and instead offers visitors an entertaining and exciting experience by intelligently viewing the artworks displayed in 3D. For example, you will find an image of the Penang Snake Temple with a huge anthropomorphic snake in 3D protruding from the image.
Integration and participation in the experience is the largest part of the fun in this museum, and the exhibits vary between historical pictures such as pictures of battles and cannons and pictures of elevators with famous characters from horror films. Artists use a variety of colors, highlights and some props to make each photo unique.
Opening hours: 9:00 – 18:00
Address: 3 Pengkalan Weld, Georgetown, Penang
Phone: +604 262 6119
7. Penang War Museum
Built by the British army over Bukit Maung in the twentieth century, Penang War Museum is important to its history. It was used as a base for the Japanese army during World War II, and its walls tell stories of prisoners of war and their torture to obtain information. This hill has gained a reputation among locals for being haunted and haunted as a result of this bloody past that they avoid climbing the hill at nightfall. Despite that frightening past, when it was converted into a museum nearly three decades later, the restoration and construction work did not destroy the underground tunnels and vents, making it a great location for exploration and wandering. You can also see the base's old ammunition caches, cannon firing cells, sleeping quarters, and the medical clinic.
8. Fort Cornwallis
Fort Cornwallis is one of Penang's most famous attractions. If you look inside its star-shaped walls that are ten feet high, you can see a 17th century chapel, some prison cells, an ammunition storage area, and more. There are also some amazing ancient bronze cannons, including one that locals who superstitious believe can have a positive effect on female fertility. Taking its name from Charles Cornwallis, the former ruler of India, the fort was built entirely of wood but repeated renovations over the years have produced its current concrete façade.
9. Penang Khoo Khongsi
The Khongsi House in Penang is a Chinese Clan House for individuals with the Khoo Family Title. The clan's home facilitates some of the family's specific social and spiritual obligations between extended kinship, ancestors, and the outside community. Also known as the Dragon Mountain Hall, this place symbolizes good luck and wealth and stone carvings adorn the entrance hall and wings. In the frescoes you can see clips of birthdays and weddings, and most of them are remembered for the thirty-six divine commandments scattered within it. If you look up, you will see huge paper lamps that give the place a warm orange glow and carvings made of ceramics for the immortals, the edges of the ceiling decorate carps and dragons harmoniously and magnificently.
10. Temple Wat Shia Manjakalaram Wat Chaiya Mangkalaram
Wat Chaya Mangkalaram is a Thai temple built in 1845, and it houses a giant reclining Buddha statue. At thirty-three meters tall, he is said to be the third in the world in terms of size among his statues, and it embodies Buddha's complete separation from worldly matters during the last days of his life. Apart from the famous Buddha statue in its last days, you will find next to it smaller sculptures of Buddha in various shapes and positions around the temple, as well as statues of Thai gods. Moreover, the temple contains wonderful colorful murals depicting the life story of Buddha.
---
Ten things to do when visiting Malacca, Malaysia
What will surprise you about Malaka is that it is a unique mixture of modern life and a heritage that dates back many centuries. Tourists express this by saying, "If you visit an angel, you really have visited Malaysia." It is a small city but has a lot to offer. You can say that it is a quiet city compared to the hustle and bustle of Kuala Lumpur, but this is not bad at all. It is an ideal getaway for a quiet and relaxing holiday, as its religious sites, interesting museums and quiet paths provide you with a slower and more relaxing pace of life and remind you of the greatness of an angel in the past where it used to be. The Venice of the East is at its zenith. Get a wonderful experience in Malacca with our nominations for the best activities in this city considered by UNESCO as part of the world heritage. Despite the scarcity of public transportation, most of the important places are close to each other and you can move between them on foot easily, so be prepared to explore!
1. Malaka River Cruise
The Angel River Tour is an ideal option for a quick and enjoyable exploration of the city, as it will give you the opportunity to see the best sites of this historic city such as the traditional Malaysian village of Kampung Morten and the wonderful murals on the sides of the Jonker Walk. To start your river tour, you need to go to one of the two piers at which boats stop, one of them is the Muara Jetty which is located next to the Quayside Heritage Center, and the other is the Taman Rempah Jetty which is located next to the Hang Jebat bridge.
Opening hours: 9:00 – 23:30
Address: Jalan Laksamana, an angel
Phone: +606 281 4322
Rates: RM15 for adults and RM5 for children under 12 years old
2. The Menara Taming Sari
If you don't find the idea of ​​a Nile cruise exciting enough for you, what do you think of seeing the city from the top? The Taming Sari Lighthouse in Banda Hilir is a rotating tower, offering you a 360-degree view of this exciting city. The tour is probably only seven minutes long, but you will be able to get a glimpse of the entire city and all it has to offer from the top attractions such as St. Paul's Hill. Paul's Hill, Independence Memorial Building, and trendy shopping venues such as Dataran Pahlawan and Mahkota Parade. This tour will cost you RM20 but if you are looking for a quick way to explore the city this tour is the perfect solution.
3. The Botanical Garden
Escape from the hustle and bustle of the city and immerse yourself in the lush green nature when you visit the Ayer Keroh Botanical Garden. The park is home to more than three hundred species of plants and animals. Enjoy a morning walk, jog and jog, or take your bike ride down the park paths. Don't miss The Book Village, which is located right in the heart of the park. Its shelves contain more than 15,000 books, making it an ideal spot to relax and enjoy a wonderful reading.
Opening hours: Botanical Garden: Tuesday – Thursday 9:00 – 17:00, Saturday – Sunday 9:00 – 18:00; Books Village: Tuesday – Thursday 9:00 – 15:00, Friday 9 – 12:30, Sunday and public holidays 9:00 – 18:00
Phone: +606 232 8401
Address: Lebuh Ayer Keroh, an angel
Prices: Free
4. Experience local food products
Some claim Malaqa is the city with the best food in Malaysia, and we strongly agree with them. Visitors from all over Malaysia flock to an angel to get some of the foods available exclusively in Malacca, so you should take advantage of the opportunity during your visit to it. We recommend that you go to one of the largest food manufacturers in Mala, Tan Kim Hock to try the delicious coconut candy and San Shu Gong to try the durian chocolate and the distinctive biscuit. When you're done, you should also try the LW Pineapple Tarts, which are served fresh as soon as they come out of the oven.
Tan Kim Hook
Opening hours: Monday – Sunday 9:00 – 20:00
Address: 85, 87 and 89, Jalan Bendahara, Malacca
Phone: +606 282 6099
San Shu-jung
Opening hours: Monday – Sunday 10:00 – 22:00
Address: 33 Jalan Hang Jebat, an angel
Phone: +606 282 8381
LW Nyonya Pineapple Tarts House
Opening hours: Monday – Sunday 10:00 – 20:00
Address: 90 Jalan Tokong, an angel
Phone: +606 281 1626
5. Visit a Malaysian village
Despite the spread of Malaysian villages throughout the country, only a few of them have managed to preserve their traditional customs and ways of life. Fortunately, Kampung Morten in Malacca is one of those villages, as this attractive village is located on the banks of the Melaka River and maintains its authentic surroundings, colorful wooden houses and the traditional way of carrying out daily life activities. Visit the living museum Villa Sentosa to get a unique and rare look inside the traditional Malaysian home and the Malaysian way of life, a member of the family that lives in will act as your tour guide himself!
Opening hours: Monday – Thursday 09:00 – 13:00, 14:00 – 17:00; Friday 9:00 – 13:00, 14:45 – 17:00; Saturday – Sunday 9:00 – 13:00, 14:00 – 17:00
Address: 136 Kampung Morten, an angel
Phone: +606 282 2988
6. Learn batik
Batik is a complex art, but this does not mean that it is impossible to try it on your own. Learn the art of batik printing and take your personal production as a souvenir from your journey back home through the workshops of Melaka Batik House, where tourism looks with a deep appreciation for this type of high-level art. The workshops include lunches and required equipment. Reserve your seat in these workshops and we will guarantee an unforgettable experience.
Opening hours: Monday – Sunday 9:00 – 21:00
Address: 15251 Melaka International Trade Center (MITC) Malaka, Ayer Keroh, Malacca
Phone: +606 232 3900
7. Try the Peranakan dishes
Melaka is the birthplace of the Peranakan, the descendants of 15th-century Chinese immigrants who settled in Malaysia and married Malaysian women who produced a distinct mixture of two civilizations and a very diverse lifestyle. You can see this reflected in the Peranakan dishes that contain Chinese ingredients infused with spices and cooked in Malaysian styles. We recommend dishes such as Assam fish and otak-otaka, but for a greater variety of foods, head to five of the best restaurants in Malaka and pamper your savory teat.
A video showing the most important tourist places in Malacca, Malaysia
8. A'Famosa Resort
A'Famosa Resort in Alor Gajah is located a 45-minute drive from Malacca's city center, but it is well worth the trip if you are looking for a fun and family-friendly getaway. This resort consists of a sprawling water park, animal safaris and a thrilling cowboy town that offers spectacular performances of Amerindians and fireworks every night, moreover, it offers accommodations inside. Follow their promotions to get the best value for your money.
9. Jonker Street
Of course you can't say you've visited an angel if you haven't toured Jonker Street. Undisputedly the perfect place to immerse yourself in the city's heritage and enjoy shopping, dining and nightlife, Jonker Street is lively and surrounded by museums such as the Baba Nyonya Heritage Museum, souvenir shops, antique stores and art galleries, as well as plenty of bars and specialty shops. Visit it during Friday and Saturday evenings to enjoy its famous evening market, or visit during the day to see the best shops on Jonker Street that you cannot miss. Do not forget to bring enough money with you to cover all your desires.
10. Banda Hilir attractions
For a history lesson, Panda Hillier's range of top attractions is the right destination for you. You'll find important historical attractions such as the Stadthuys and St. Paul's Church. Paul's Church, next to interesting museums such as the Maritime Museum and the Malacca Sultanate Palace Museum, and if you want a full tour of all available attractions, you should book the Dutch Heritage Trail Tour to enjoy an integrated educational experience. These attractions, which are located so close to each other that they allow you to move between them on foot, are an ideal location for photography, so grab your camera and set out to take amazing, unparalleled pictures.
---
Best Places to Visit in Langkawi, Malaysia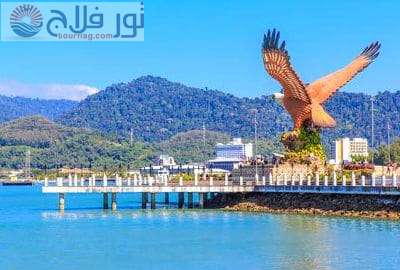 Langkawi Island is one of the most beautiful tourist cities in Malaysia, with its beautiful clear beaches, gardens, wonderful wild parks, waterfalls, and a captivating forest mountain nature of hearts and eyes, with a rich and ancient cultural heritage, and many shopping sites that suit different desires and levels.
Geographically, Langkawi Island is an archipelago of 99 main islands and 5 revealed by the tidal waves of the Andaman Sea, located in the framework of the city of Kuah in northwestern Malaysia, and is classified as the most beautiful and popular tourist among the islands of Malaysia in general, making it an ideal spot for a fun family outing, and a more ideal and special location For newlyweds who want to spend an unforgettable honeymoon vacation, and a quiet and secluded place for those wishing to relax in the most beautiful scenery of nature.
Whether you are one of these or others and want to travel to Langkawi and enjoy an unforgettable and dazzling vacation, you should follow our article today to learn about the best tourist places in Langkawi recommended to visit.
1- Langkawi Cable Car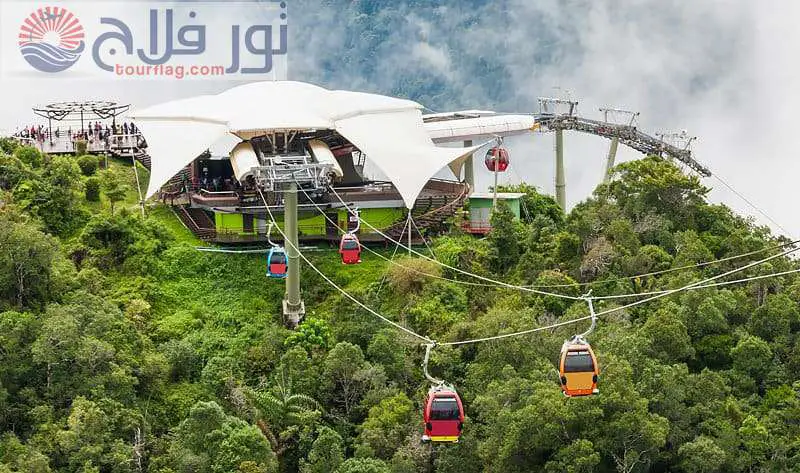 One of the most important activities that you have to do during tourism in Langkawi is riding a mountain cable car, where you can see and capture the most wonderful pictures of the island's most beautiful landscapes during a trip that does not take more than a quarter of an hour.
The cable car starts its journey from the eastern village, one of the most important tourist areas in Langkawi, to Mt Sinkang Mountain at an altitude of 708 meters, where you can enjoy a wide panoramic view that reaches the borders of the Indonesian island of Sumatra through the watchtower at the top of the mountain, so do not miss an opportunity Experience the cable car ride and enjoy these unparalleled views.
Tickets to enter the Langkawi Cable Car: start from 33-83 MYR
Weighted time to visit Langkawi cable car: 25 minutes.
---
2- Langkawi Sky Bridge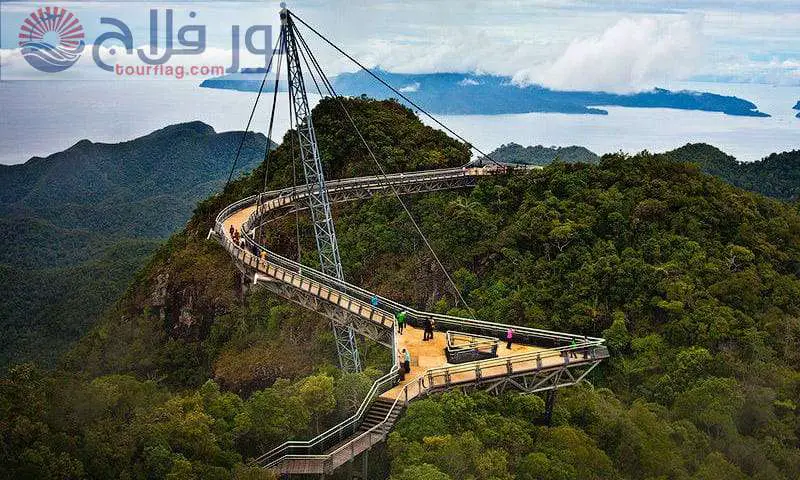 One of the most famous and most beautiful tourist attractions in Langkawi, and the most ideal for the new bride, as it provides romantic and poetic moments with its charming view of a group of Langkawi's small islands, its rural areas and some of its most important tourist attractions.
The Langkawi Sky is a 125-meter long pedestrian bridge close to the summit of Mt Cinkang Mountain and the Seven Wells Falls, making it the only way to reach it by taking a mountain cable car. Complementing the beauty of the tour, Langkawi Sky offers triple viewing platforms along with the most beautiful landscapes surrounding it.
3- Eagle Square langkawi "Dataran Helang"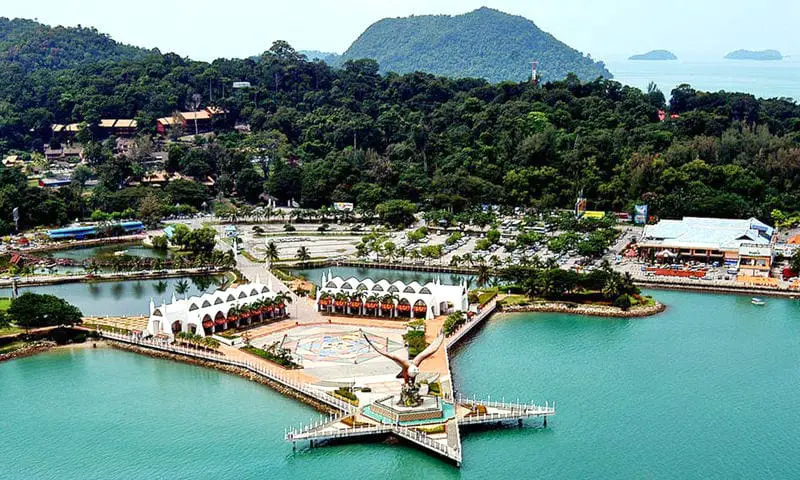 One of the most important and most famous tourist places in Langkawi, which attracts large numbers of tourists to visit the island from different parts of the world, thanks to its central location from other landmarks of Langkawi and from the recreation and entertainment squares.
The square is located in the city of Kuah, the most famous and important city on the island, and is famous for the statue of the flying eagle, which rises 12 meters from the surface of the ground, along with the many fountains, bridges and picturesque landscapes that surround it from everywhere, along with the finest restaurants and cafes in the area.
4- Art In Paradise Exhibition, Langkawi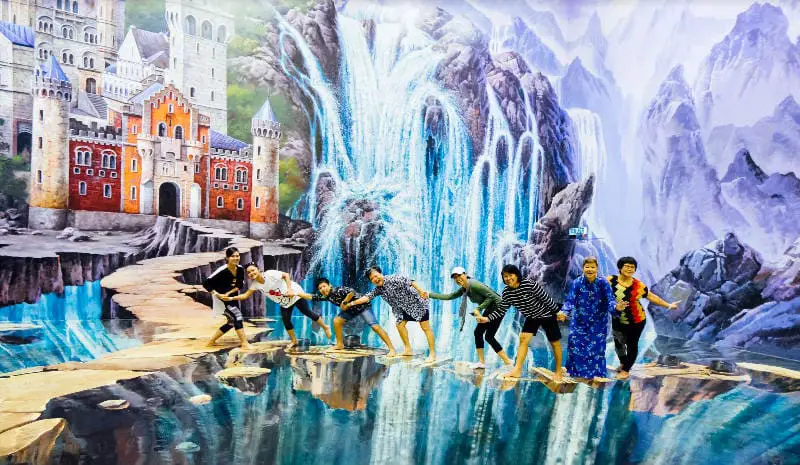 Art Heaven Gallery and Museum is one of the tourist places in Langkawi that is unparalleled or similar in Malaysia as a whole, the exhibition is the only 3D art museum in the Malaysian Peninsula, and in it you can enjoy viewing and photographing more than 200 works of 3D art, which makes it an ideal spot to visit An amateur and fan of all kinds of plastic arts.
It is worth noting that the exhibition and museum, the only one of its kind in Malaysia, is divided into 9 halls, one of which displays a castle model, the second embodies a safari area, the third embodies the Malaysian culture and civilization, and the fourth embodies the ancient Egyptian civilization.
Entry tickets prices Gallery Art Committee Langkawi for children: 28 RM.
Entry tickets prices Gallery Art Committee Langkawi Adults: 38 RM.
The most important beaches of Langkawi
1- Cenang Beach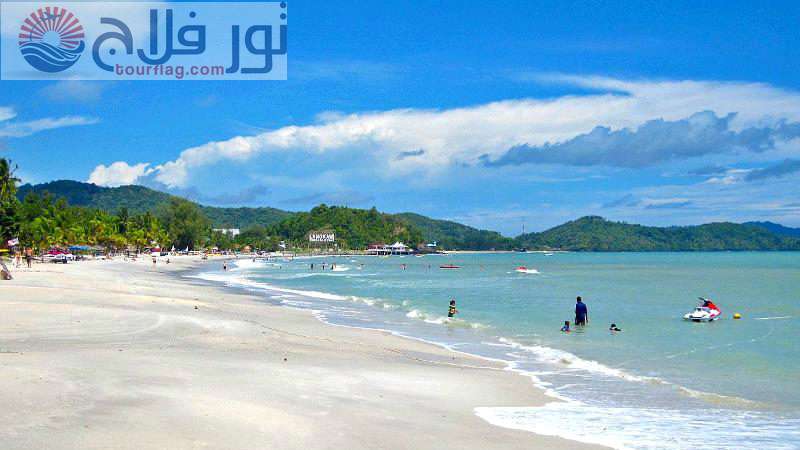 One of the most famous and popular beaches of Langkawi among the local residents of the island as well as foreign tourists, with its charming landscapes, fun and fun recreational activities and an exciting atmosphere of adventure.
In the clear waters of Cenang, you can practice the most enjoyable and exciting water sports that characterize tourism in Langkawi, such as swimming, diving, surfing or riding an inflatable boat, with the experience of paragliding on the picturesque beach.
For those looking for tranquility and recreation, Cenang Beach provides them with an opportunity to bask and sunbathe in the presence of the gentle rays of the sun, and watch the magical sunset that Langkawi provides to its visitors.
2- Tanjung Rhu Beach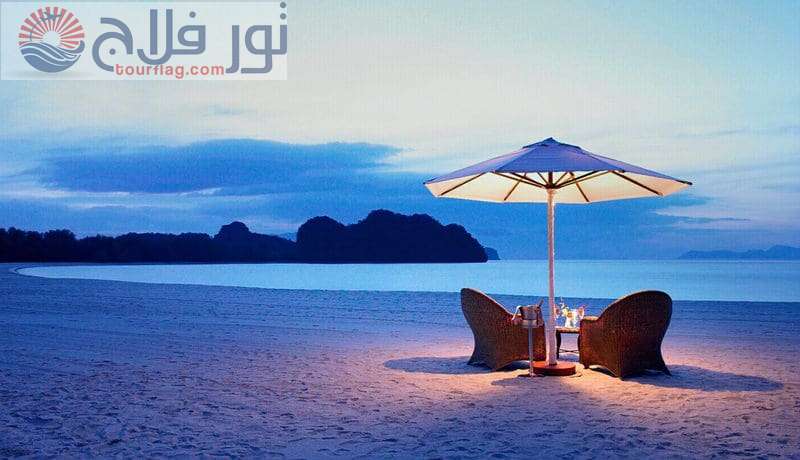 If you are looking for a vacation that is characterized by calm and isolation while tourism in Langkawi, then welcome to one of the most tourist places in Langkawi provided for you, which is Tanjung Rhu North Beach.
Thanks to its isolation and being one of the most visited beaches of Langkawi, it has clean water and pure white sand, with a small marina for boats that you can rent one for an unforgettable cruise, and visit one of the wonders of tourism in Malaysia , which is known as the cave of stories that are woven around it The myths, which you can hear from a local guide or a believer in Langkawi Island.
3- Tengah Beach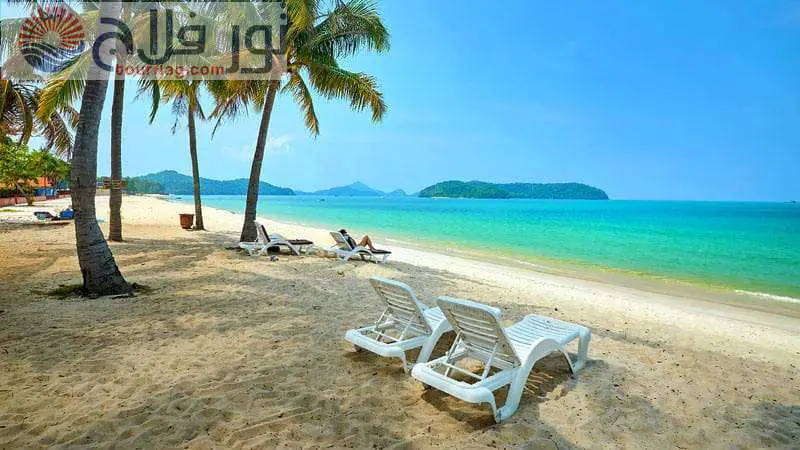 One of the most quiet and isolated beaches of Langkawi due to the lack of services and the limited forms of entertainment compared to Cenang Beach, which is located at the southern end of it, so that some classify Tengah as an extension of Cenang Beach and not a separate beach from it as it is in reality.
Thanks to its small number of visitors, Tengah Beach is an ideal spot for those looking for relaxation, tranquility and seclusion, and for those looking for an ideal location for a honeymoon vacation with the highest level of privacy and romance.
Despite his calmness and isolation, you will not be able to resist the skateboards and rubber boats for a fun and crazy thrilling water ride that documents your Langkawi tourism trip.
Best parks of Langkawi
1- Kilim Karst Geoforest Park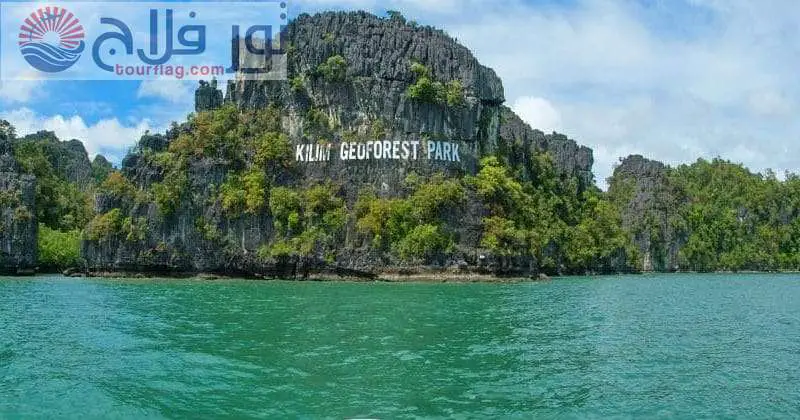 One of the most beautiful and important tourist places in Malaysia, not only because of its stunning beauty and enchanting eye-catching, makes it a favorite destination during tourism tours in Langkawi, but for its environmental benefit to the country also after the tsunami in 2004, where the water reserve acts as a reservoir for tidal water and floods .
You can enjoy the alluring beauty of Kilim Karst by taking a canoe, passing its dense mangrove forests, rugged caves and hot springs for a fun and relaxing journey of 2-3 hours.
Ticket prices to enter the Kilim Karst Reserve: from RM200-300 .
Weighted time to visit Kilim Karst Reserve: 1.5 hours.
2- Langkawi Wildlife Park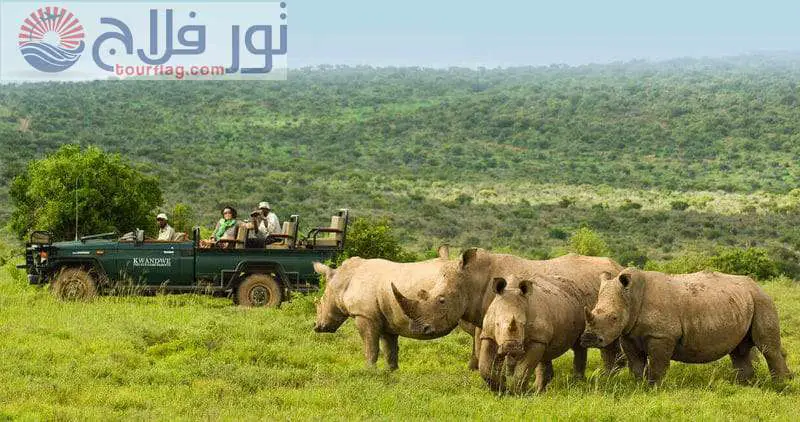 One of the best tourist places in Langkawi and the most ideal for family picnics with the company of children, where they can watch, feed and photograph more than 150 different species of waterfowl and colorful, and other more diverse species of reptiles and mammals coexist and look as if they are in their natural environment, so that children can approach them In safety.
When traveling to Langkawi, and during your visit to the park, you can also enjoy the most wonderful landscapes that the place provides to its visitors, such as waterfalls, lakes, water ponds, artificial fountains, and others.
Ticket prices for entry into Langkawi Wildlife Park for adults: RM39
Ticket prices for entry to Langkawi Wildlife Park for Children: RM22.
Weighted time to visit Langkawi Wildlife Park: 2 hours.
3- Underwater World Langkawi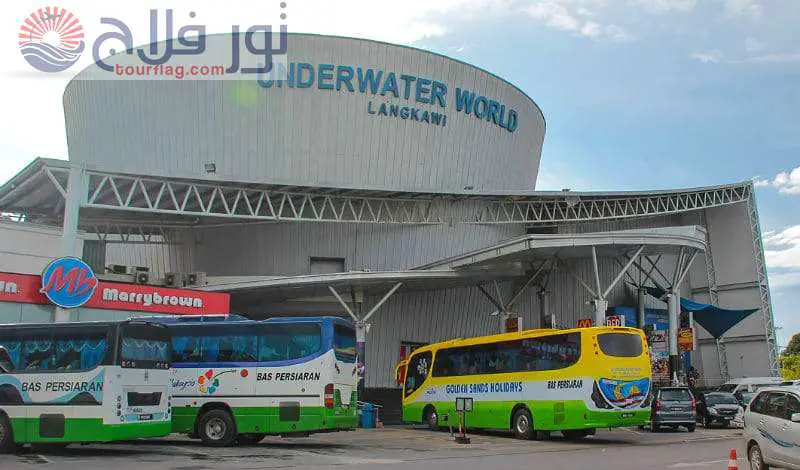 One of the best tourist places in Langkawi for family picnics with children, where they can closely enjoy the beauty of marine life that characterizes the island of Langkawi, specifically the Cenang Beach area, by wandering through a tunnel extending to 15 meters that contains water basins containing various species of fish and creatures The local aquatic population has up to 500 species such as hippos, sharks, sea turtles, rock penguins, rays, and others.
You can also take a wonderful, unparalleled shopping tour inside the park through the commercial complex that includes it, selling luxury local and international products through the Cocoa Village and Paradise Zone shopping.
Ticket prices for entry to the Underwater World of Langkawi for adults: RM43
Tickets to enter the underwater world of Langkawi for children: RM33.
Weighted time to visit Langkawi Underwater World: 2 hours.
4- Crocodile Adventureland Langkawi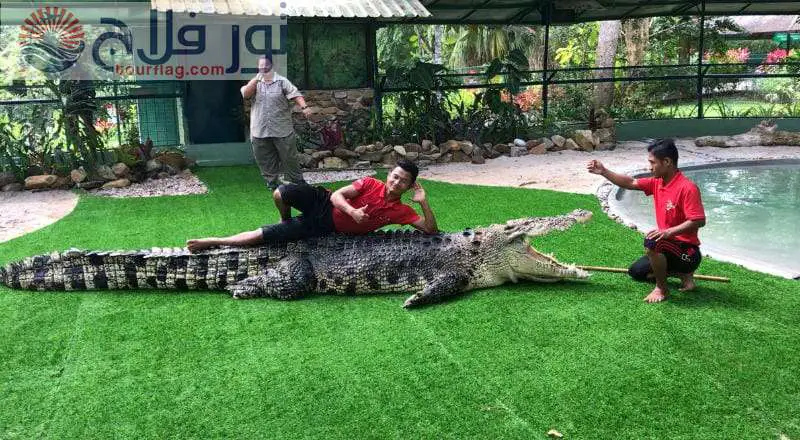 Crocodile Park is one of the most popular tourist attractions in Malaysia, the Asian continent and the world as a whole, and is ideal for family picnics with children, as it is the only park among the tourist attractions in Langkawi, during which you can see, feed and take the most wonderful photographs of different, rare and giant species of crocodiles, numbering up to 4 thousand species. It is spread over an area of ​​20 acres, the most famous of which are the giant yujang-lang, which weighs up to 1,000 pounds, the Thymostoma, and the Simaice.
This is in addition to the bridge that you can cross over and watch the small and large giant crocodiles swim in the pool of water and devour their food, and you can also buy gifts and souvenirs for you and your family and friends from the stores spread across the park that take their various goods in the shape of a crocodile due to the nature of the place.
Prices for entrance tickets to Langkawi Crocodile Park for adults: from RM 45 – 90
Prices of entrance tickets to Langkawi Crocodile Park for Children: from 35 – 75 RM.
Weighted time to visit Langkawi Crocodile Park: 2 hours.
5- Pulau Payar Marine Park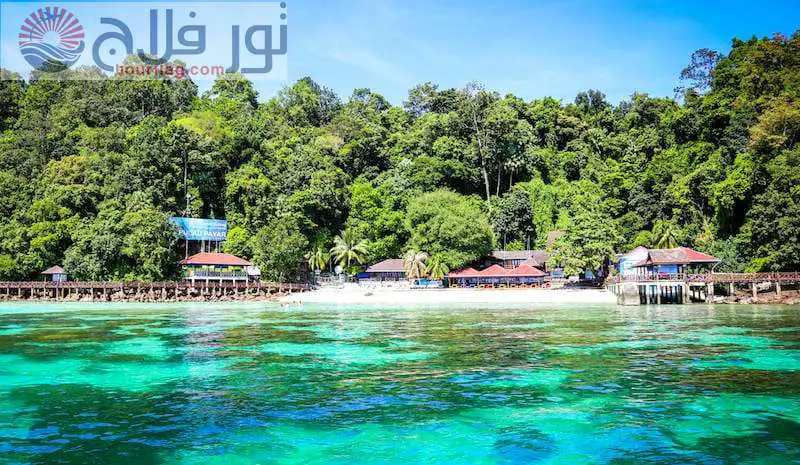 It is a marine reserve that is classified as one of the most beautiful tourist attractions in Langkawi, and the most ideal for family picnics with the company of children, where you can enjoy being among the most beautiful marine creatures that are famous for the coasts of Langkawi Island and seeing them see the eye for an hour or a quarter by taking a speedboat or diving among them.
The reserve is located 30 km from the center of the island, and the coral park is the most famous of its sections, with its picturesque colorful coral reefs that attract tourists to visit and take the most wonderful photographs.
The most important natural landmarks of Langkawi
1- The Seven Wells Waterfalls (Telaga Tujuh Waterfalls)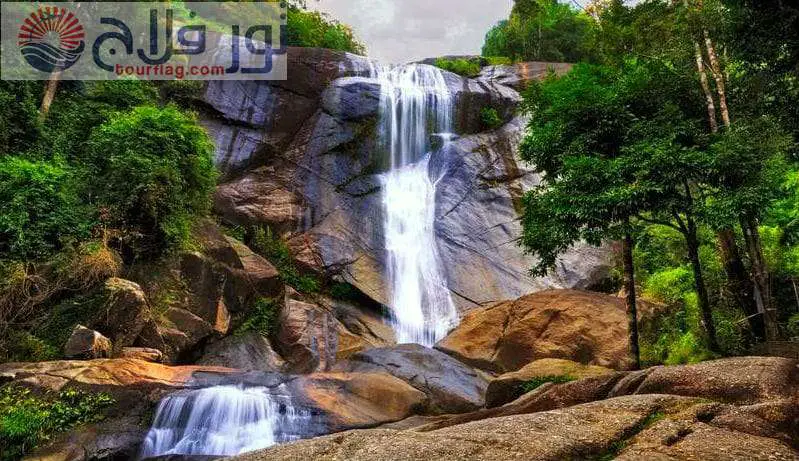 The waterfalls or the seven water wells are one of the most beautiful and famous tourist areas in Langkawi, as it displays an exquisite natural painting reflected in 7 wells or natural ponds dug in the rock, and the water flows to it from the cracks of Mat Cenang Mountain.
The Seven Wells Falls, with frightening myths created by Malay residents and believed in them, is a wonderful opportunity and ideal for those who are stubborn lovers of excitement and adventure, as they can test their courage in climbing the rugged summit of waterfalls or swimming in them while watching a group of monkeys, cute local squirrels and horns of the trumpet that this spot is famous for From Langkawi.
2- Temurun Waterfall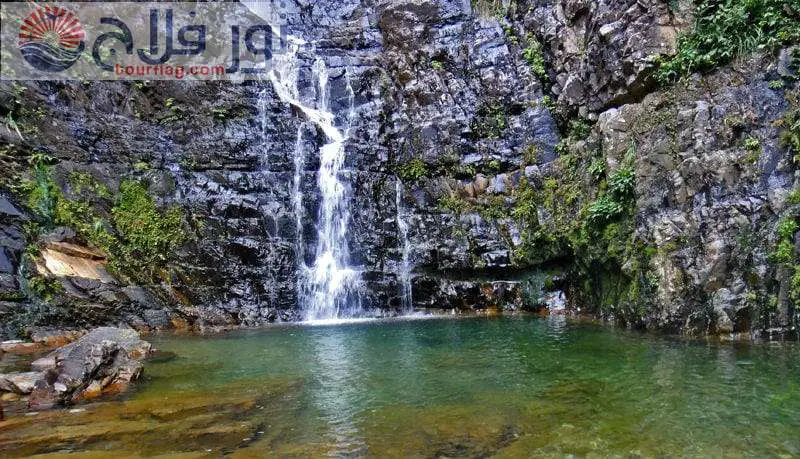 Temurun Waterfall is one of the most important tourist places in Langkawi and the most popular and visited by locals in Malay and foreign tourists, as it is the longest and oldest Langkawi waterfalls ever, with an age of about 5 million years and a length that extends up to 200 meters to the foot of Mount Matt Sengang in Datai Bay, And in close proximity to the famous crocodile park.
The path to the waterfall, which is not more than 5 minutes from the main road, is easy and smooth, despite the presence of some rugged steps, which makes it an ideal spot for safari tours, climbing or swimming in the pond resulting from the flow of water from the surrounding rocks, in the company of some animals and wild birds Fun things like butterflies, squirrels, and macaques, as long as you don't try to touch them.
If you get a wonderful and integrated panoramic view that extends to the neighboring Indonesian islands, you can continue the trip to the summit of Matt Sinkang to enjoy this through the observation platforms spread throughout it.
Recommended time to visit Timron Waterfall: 2 hours.
3- Ayer Hangat Village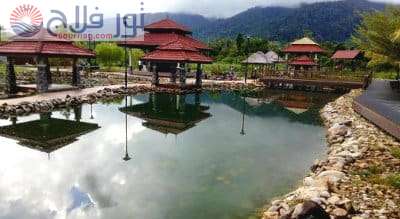 It is a heritage village associated with a group of local legends, 14 km north of the city of Kuah on the island of Langkawi, Malaysia.
The village is important among the other natural attractions that distinguish tourism in Langkawi from being a popular and internationally renowned tourist spa for healing from intractable skin, bone and joint diseases.
Hot springs and wells that help with healing may spread throughout the world, but the most important characteristic of Ayr Hangat Village is that its hot springs are salty and not fresh, a feature that only distinguishes 3 regions around the world, including this village.
Over the past few years, Air Hangat has witnessed a great development by introducing Jacuzzi baths, and providing multiple squares for restaurants, cafes, souvenir shops and cultural entertainment offerings that attract the attention of tourists as well.
Ticket prices for adults to enter Hot Springs: RM15
Ticket prices for Hot Springs Children Village entrance : RM10.
Weighted time to visit Hot Springs: 1 hour.
4- Dayang Bunting Island, Pregnant Virgin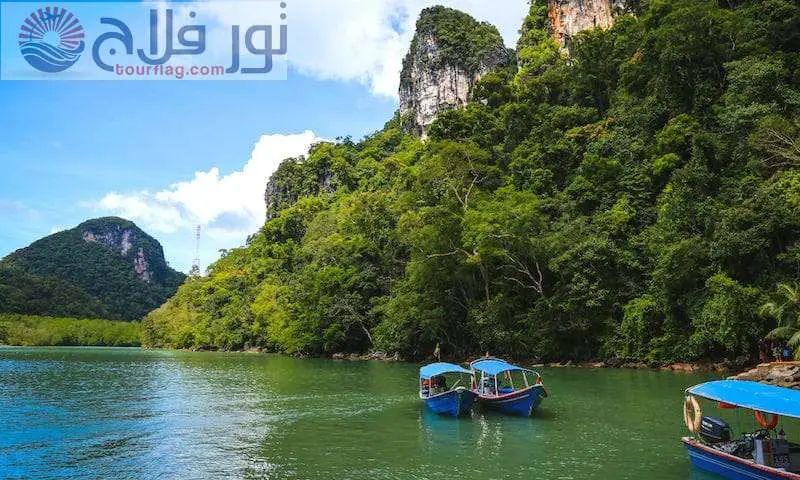 One of the most important and strange tourist attractions in Langkawi, due to its unique charming nature and the myths associated with it that the local islanders believe in.
Daiyang Banting is the second largest of the 99 Langkawi Islands, located east of Singa Island, and is characterized by its clear, fresh blue lake despite the sea coast, which is separated from it by a narrow rocky strip, as well as green hills covered by dense rainforests.
The name of the island, which is one of the most famous tourist places in Langkawi among its locals and foreign tourists, is due to its appearance, which appears as a woman lying on her back with a swollen belly as if she is pregnant, and according to some myths, Lake Gilimard in the pregnant Virgin Island, which is characterized by its picturesque and virgin nature, helps the fertility of women who suffer Of late and problems with pregnancy.
5- Gunung Raya Mountain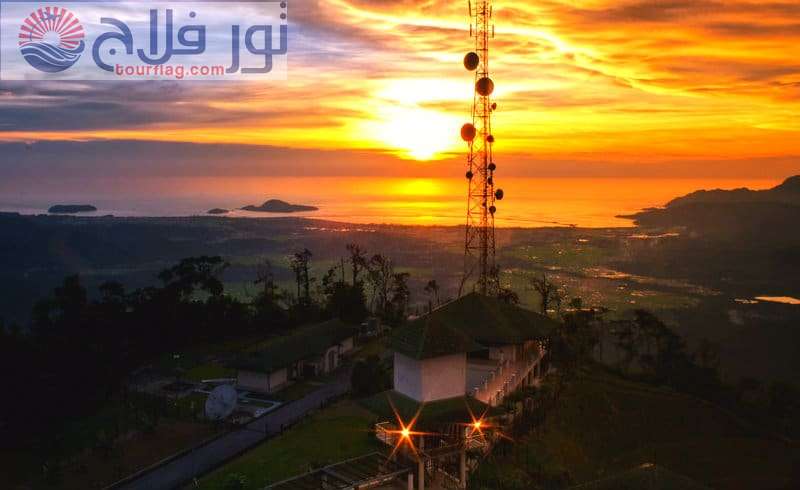 One of the most important and most popular tourist attractions in Langkawi, and among the tourist places in Malaysia that everyone who loves the atmosphere of adventure and excitement passes through, the highest mountain peak of its kind in Langkawi attracts with its steep height of up to 881 meters, and its steep slope, amateurs, professionals, and fans of mythology. Many frightening and entertaining heritage and historical myths revolve around the mountain.
As for those who are a fan of photography and a fan of observing animals as they are in their natural environment, you can enjoy watching dozens of species of foxes, eagles, monkeys, etc., in addition to the vast areas of rainforests that embrace the summit of Gunung Raya.
The most important markets and malls of Langkawi
1- Cenang Mall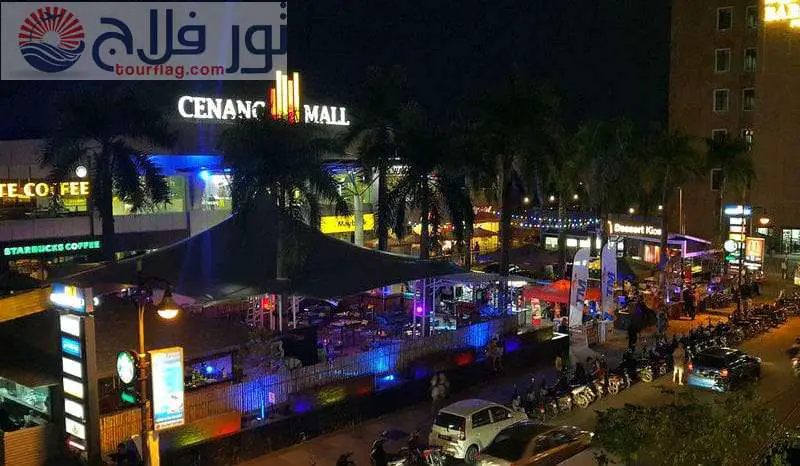 If you or you are a shopping enthusiast seeking to acquire the finest international brands of various goods, including the latest international fashion lines, welcome to one of the most important tourist places in Langkawi to fulfill this purpose, which is "Cenang Mall", one of the newest and largest fully air-conditioned shopping malls on the island of Langkawi. Tourist era, which dates back to the year 2012, and its size, which extends to 1110 square meters .
Cenang Mall includes a large number of stores and shopping plazas for the most famous international brands, with a number of the finest restaurants and cafes with international chains such as McDonald's, Kentucky, Starbucks, Old Town White Coffee, Manhattan Fish Market, and others.
In addition to a number of distinct entertainment areas for families and children, places for prayer and infant care, a spacious private garage, and facilities to serve people with special needs.
Recommended time to visit Cenang Mall: 1.5 hours.
2- Langkawi Night Market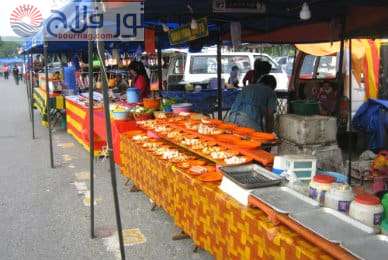 If you are not a fan of visiting modern shopping malls that drain a lot of money, especially if your budget that you set in order to travel to and stay in Langkawi is limited, then tourism tours in Langkawi will definitely provide you with suitable shopping sites that suit medium and limited budgets, especially if you are one of those They are proficient in the art of negotiation and bargaining.
Langkawi provides daily and throughout the week popular night markets in different locations of the island, selling clothes, jewelry, watches and imitation leather goods, as well as fresh food at reasonable prices, and your shopping tour increases the pleasure of experiencing street food offered by small stalls of the finest local Malaysian foods such as fried bananas and chicken rice Crackers and other items are at much lower prices than large restaurants.
In conclusion, dear tourist, and after we reviewed with you a group of the most beautiful and famous tourist attractions in Langkawi that are irresistible, we hope that our article has helped you in getting rid of your confusion and drawing a tight plan before traveling to hike in one of the most beautiful and popular tourist sites in Malaysia, and we wish you an enjoyable and successful trip To Langkawi.
---
Facebook Comments