The Sinai Peninsula's most popular tourist destination, Sharm El-Sheikh, is also a top diving location. Sharm is known for its underwater beauty in the Red Sea, particularly in the waters of the Ras Mohammed marine reserve to the south. Diving and snorkelling are still popular activities here. It's right here, and it's a popular diving spot for a lot of people.
There are also excellent beaches in Sharm El Sheikh, making it a popular vacation spot for families looking for a relaxing beach getaway. After exploring Egypt's archaeological sites, Sharm El Sheikh is a great place to relax on the beach and see the local marine life. If you want to plan your trip around Sharm El Sheikh's most popular tourist attractions and activities, consult the following list.
---
Tourist attractions and activities that you can do in Sharm El-Sheikh
1. Ras Muhammed Reserve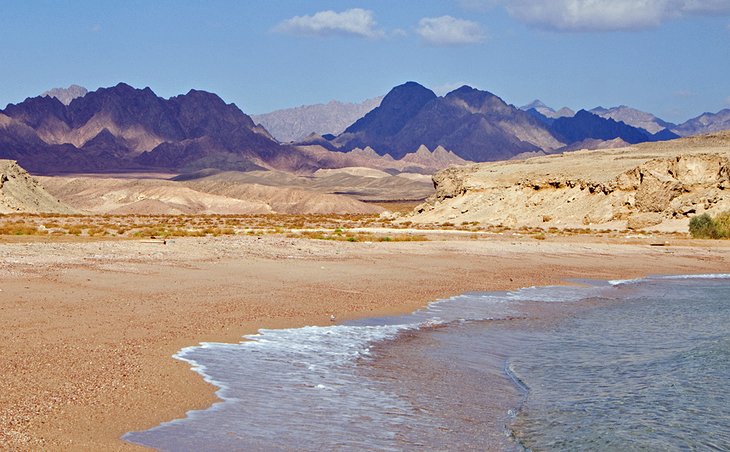 Some of Sharm El Sheikh's most popular attractions include the Ras Mohammed peninsula, home to some of the world's best diving sites. The peninsula also contains the world's second-largest Mangrove forest and a saltwater lake, making it a popular tourist destination. A trip to Ras Mohammed National Park is a must for anyone visiting Sharm El Sheikh. The best beaches in the area include Old Quay Beach (which has coral reefs that can be reached directly from the shore) and Aqaba Beach.
The Shark Observatory, located on Ras Mohammed's southern tip and offering stunning views of both the Red Sea and the Gulf of Aqaba, is a must-visit for tourists.
Location: 38 kilometers south of Sharm el-Sheikh
---
2. Thistlegorm diving site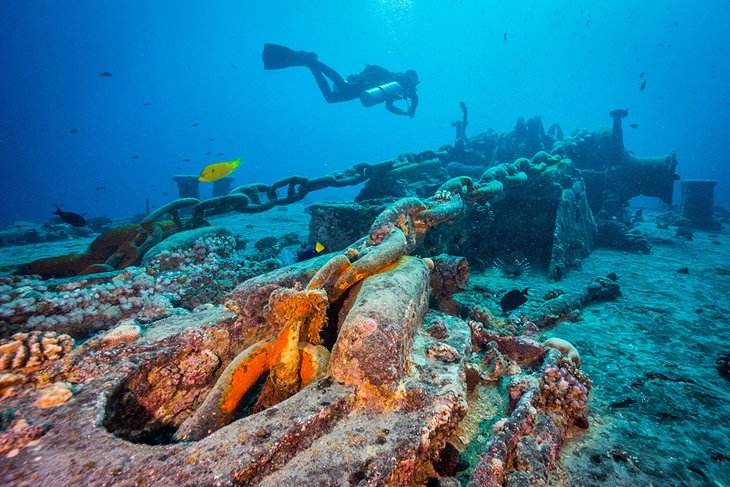 Divers who travel to Sharm el-Sheikh for the sole purpose of exploring shipwrecks like the Thistlegorm are in for a treat. Ships carrying British troops' supplies were bombed during WWII and now fish swim through their chambers and cargo carriers full of jeep, motorcycle and weaponry that never reach their intended destination. To see the wreck, take a day trip or overnight cruise from Sharm El Sheikh to the Strait of Gopal, which is off the western coast of the Sinai Peninsula. To make the most of your time, all boat tours include two dives on the wreck and a stop in Ras Mohammed National Park. As an added bonus, evening tours include a night dive on the wreck.
---
3. Naama Bay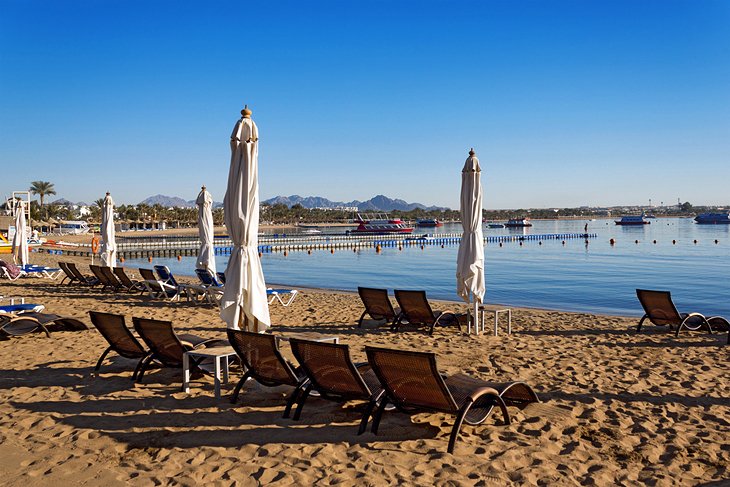 Naama Bay, with its white sand beach and palm trees waving in the wind, is the centre of activity in Sharm El Sheikh. As an alternative to the sand, Naama Bay's pedestrian-only street runs the length of the beach and is surrounded by numerous luxury resorts. Naama Bay is truly the definition of a beach. Naama Bay is also one of the best places to go sunbathing in Egypt, with a lot of options. There are plenty of parasols and chairs on the beach, and cafes right on the sand mean you'll never have to leave this sand-filled paradise.
Video: Tourist Guide of Naama Bay in Sharm El Sheikh
---
4. Jolanda reef diving site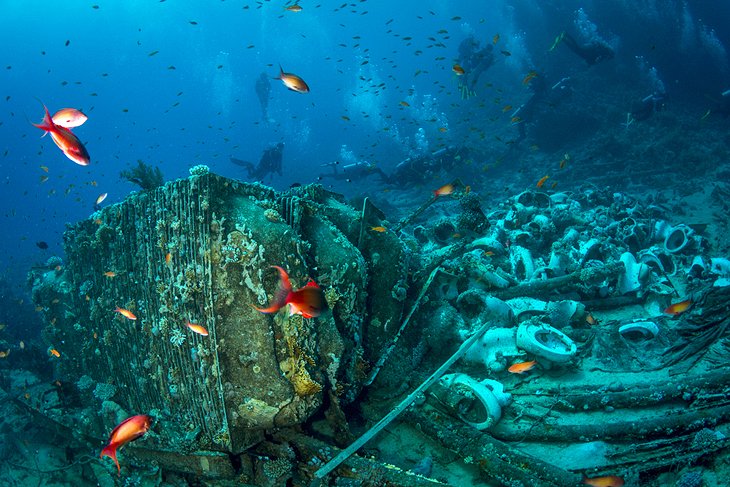 In the northern Red Sea, the Jolanda Reef (also known as Yolanda Reef) is a popular diving site. Within the Ras Mohammed Marine Sanctuary, divers visit the Jolanda Wreck, which was sunk in 1980 by a Cypriot cargo ship carrying Cypriot history. More needs to be said. Coral walls along Shark Reef's outer edges are home to a wide variety of species and stunning coral gardens, making it more than just a wreck. The Jolanda Reef.
---
5. Ras Umm Sid beach and coral reefs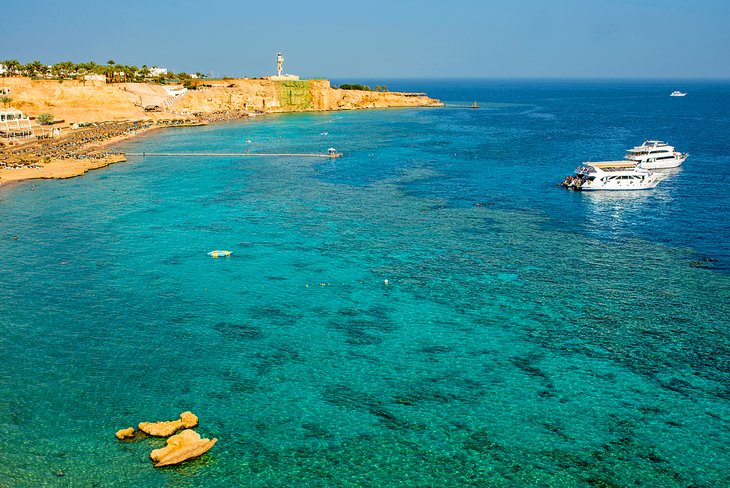 In the southern part of Sharm El Sheikh, near the lighthouse, lies Ras Umm Sid Beach, one of the city's most beautiful beaches. Since there are fantastic coral reefs right off the coast, many beachgoers engage in water sports such as snorkelling. In addition to the sand, the Ras Umm Sid reef is a great place to learn to dive for people who are just starting out. Local diving instructors make use of it for training and experimentation because of this. Even if you only snorkel, you will see a wide variety of marine life.
Address: Al Fanar Street.
---
6. Day trip to Saint Catherine Monastery, Sharm El-Sheikh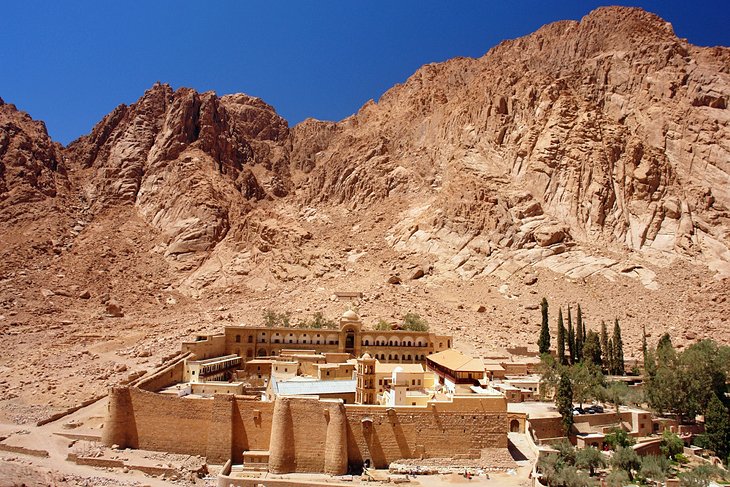 The first historical site in the Sinai Peninsula, Saint Catherine's Monastery, is where Moses is said to have received the Ten Commandments. It is located at the foot of Mount Sinai. In addition to housing the Old Testament's "burning bush," this Greek Orthodox monastery also houses a museum featuring a collection of religious icons and ancient manuscripts, many of which are extremely rare. This excursion is a must-do for history buffs in Sharm El Sheikh because it includes a hike to the top of Mount Sinai.
Location: 209 kilometers northwest of Sharm el-Sheikh.
---
7. A day trip to Mount Sinai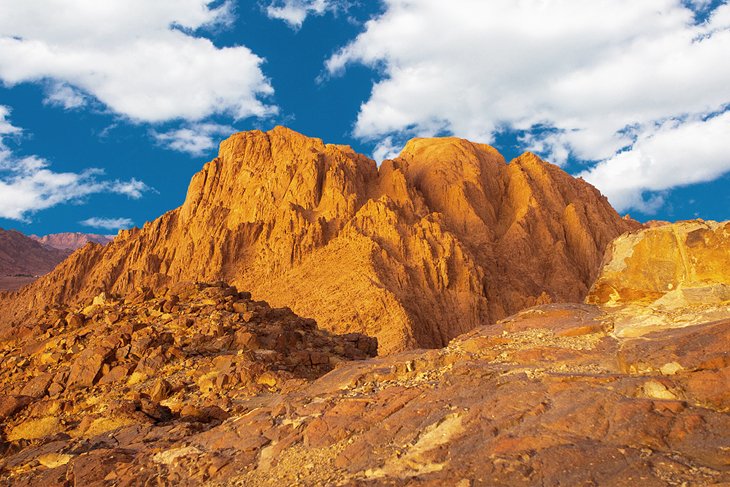 You'll find Mount Sinai's craggy heart is stunning even if you leave the warm beaches of the coast. Visit Mount Sinai's peak to see a wide expanse of orange peaks undulating in front of you. This mountain is sacred to the three monotheistic religions because it is where Moses received the Ten Commandments, and climbing it is a pilgrimage. For a large number of individuals (this trip is usually accompanied by a visit to the Monastery of Saint Catherine which lies on the same road).
The summit can be reached via one of two routes. The Camel Road is a muddled path littered with hazards. The more difficult but more beautiful Steps of Repentance are a set of stone steps carved by a monastery.
It's best to start your tour in Sharm El-Sheikh in the evening so that you can arrive at the pass in the early morning to catch a glimpse of the sunrise over the surrounding mountains.
Location: 209 kilometers northwest of Sharm el-Sheikh.
---
8. Sharks Bay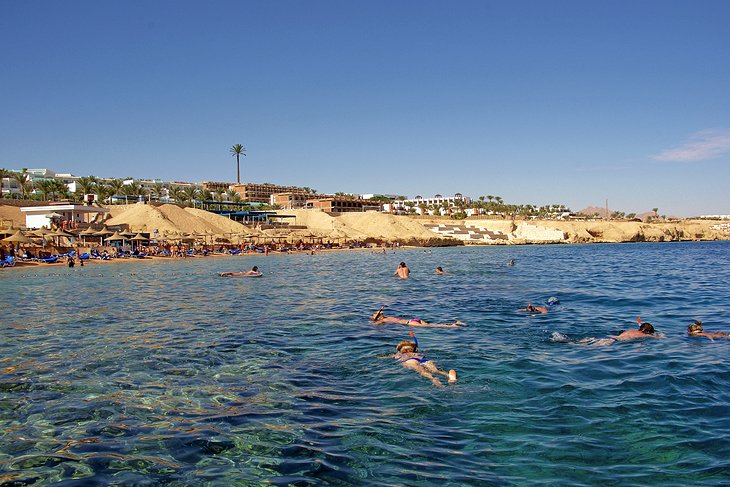 Some of Sharm el-most Sheikh's opulent five-star resorts and hotels can be found in Shark Bay, which is north of Naama Bay. They are all situated along the sandy beach. If you're looking for peace and quiet while on vacation, this is the place for you. You can eat in the Soho Square Center, which has a variety of Sharm El Sheikh's best restaurants and cafes in addition to the shops, so you won't miss any entertainment activities while staying here.
Address: 7 kilometers north of Sharm el-Sheikh.
---
9. Jackson Reef reef dive site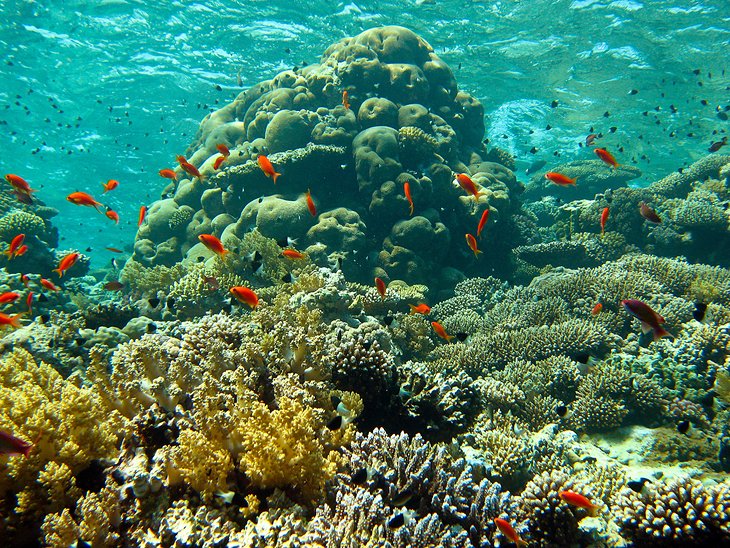 Divers from Sharm El Sheikh and beyond flock to dive at Jackson Reef, which is located in the Strait of Tiran between the Sinai Peninsula and Saudi Arabia's southern tip. It's known for its abundance of fish and is a great place to see sharks and other marine life. On the reef, you'll also find the wreck of the Lara Croft. For experienced divers, diving among the wreckage of a cargo ship is a thrilling adventure.
---
10. Day trip to a blue hole or a Blue Hole
Visitors to Sinai's Blue Hole dive site travel from all over the world to experience this world-renowned dive site. In this sinkhole, a few divers perish each year due to diving beyond their limits and experience, which is the predominant cause of death. Despite the site's bad reputation, divers who follow safe diving practises and limit their exposure are completely safe. If you don't want to go down to those depths, there are many fish near the surface that you can see if you don't want to dive there. The fish life and breathtaking scenes of the ethereal blue below make diving in this area particularly lovely.
Location: 100 kilometers north of Sharm el-Sheikh
---
11. Day trip to Dahab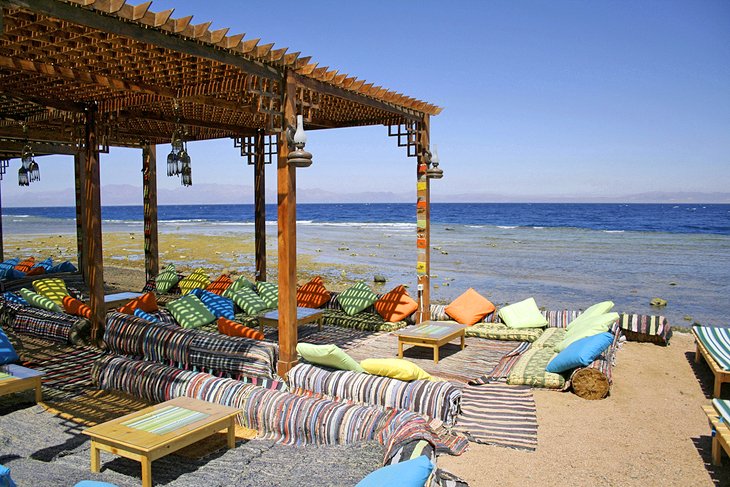 Dahab is a popular beach resort in the Sinai Peninsula for budget travellers who prefer it to Sharm El Sheikh because of its lower prices. Dahab's beachfront offers a variety of restaurants and cafés with a youthful vibe. The characteristic retail area extends to the main highway and features souvenir shops and diving facilities, which is why the majority of visitors come here. Dahab's calm and pleasant atmosphere is one of the reasons tourists choose to spend a day outside of Sharm El Sheikh.
Location: 90 kilometers north of Sharm el-Sheikh
Video Tour of the Beautiful City of Dahab, Egypt
---
12. Dunravan diving site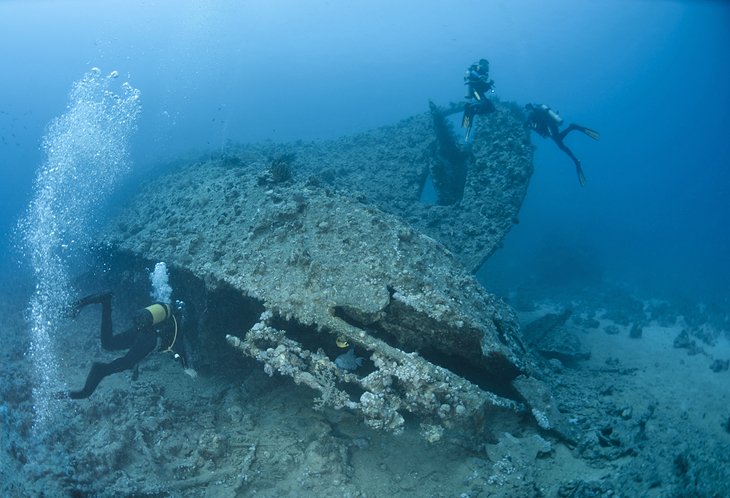 The SS Dunraven was bound for Mumbai when it ran aground on a coral reef and sank off the Sinai Peninsula's tip in 1876. (then Bombay). Because of its size and location, the steamboat has become a breeding ground for a wide range of marine life. The ship's barnacle-infested hull was commandeered. Cardinal fish, goat fish (sockfish), mori eels, and scorpion fish can all be found by divers. Sharm El-Sheikh can be reached in two hours by boat, and diving here is often combined with trips to Ras Mohamed National Park or Zestel Gorm.
---
13. Sharm el-Sheikh old market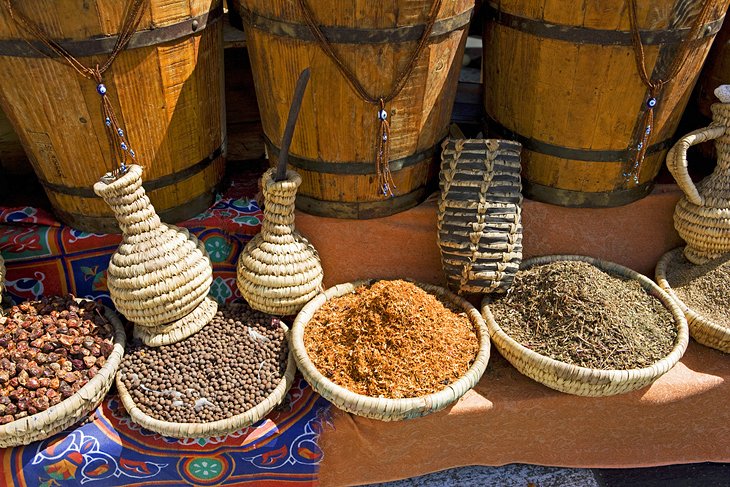 If you're looking for traditional hookah supplies or beautifully carved woodwork, head to the Sharm El-Sheikh Old Market, also known as Sharm Al-Maya. After sunset is the ideal time to visit the historic Sharm market, which is where you will be staying. The sweltering heat of the day is no longer an issue, so you can comfortably browse the web. The restaurants and cafes in this area are also reasonably priced and lively, making it a great place to spend an evening. The market has a different feel from the rest of Sharm El Sheikh, which is crowded with locals and much noisier.
There's a reconstructed Al-Sahab Mosque outside of the souk district with an amazing Fatimid, Mamluk, and Ottoman-style facade.
Address: Sharm El-Maya Road.
Video: A tour of the old market in Sharm el-Sheikhhttps://www.youtube.com/embed/3kFftRXCk2Q?feature=oembedVideo tour of the old market, Sharm El-Sheikh
---
14. Gardens dive site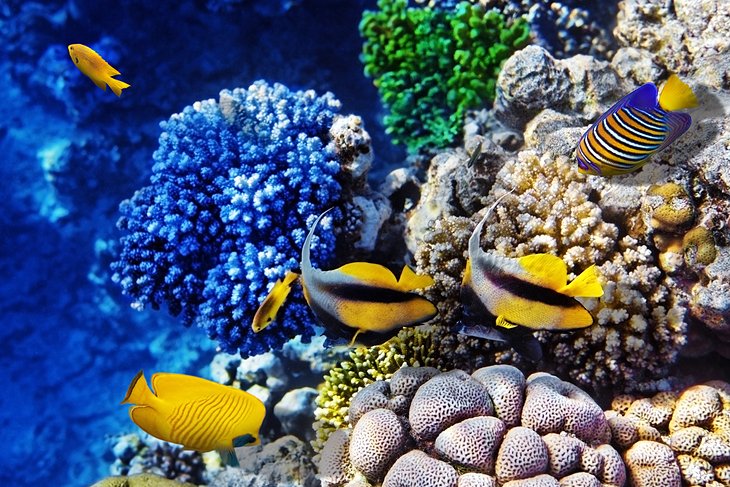 Naama Bay's northernmost coral reef gardens stretch all the way to the coast. Underwater gardens, central gardens, and distant gardens can all be reached by boat or land and are the three types of diving sites available on coral reefs. Even if you don't want to dive or swim, the neighbouring reef park has some spectacular coral reefs and a plethora of sea life to see up close.
---
15. Thomas Reef Reef Dive Site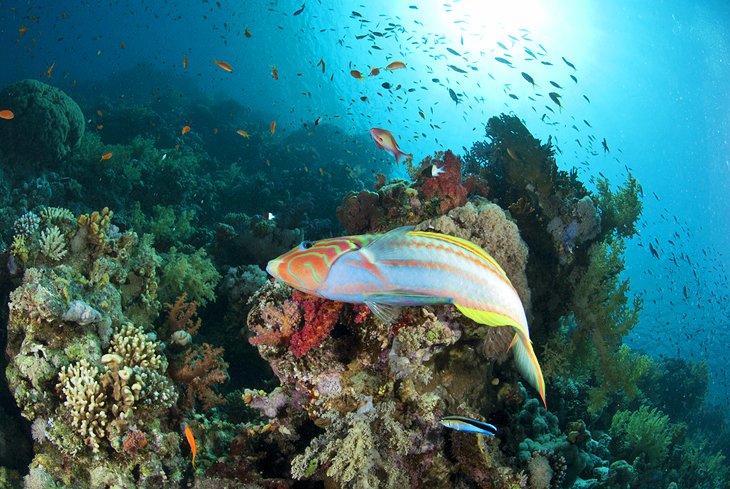 This site is part of a group of diving sites in the Tiran Strait, where the Thomas Reef offers amazing underwater vistas that include soft corals and a variety of fish species. Really, it is a deep diving excursion among the coral reefs with a group of experienced divers to witness the wonderful colorful coral reefs. This is one of the best snorkeling excursions in Sharm El Sheikh for those who really want to witness the diversity of marine creatures that make their home in the Red Sea.
---
16. Day trip to Colored Canyon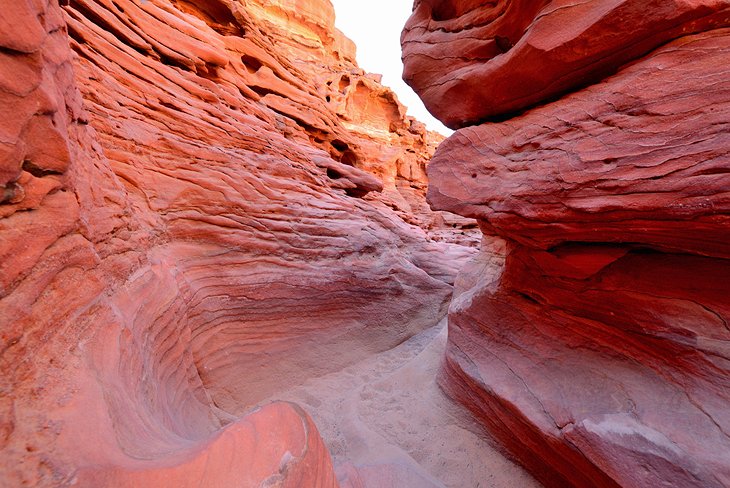 The mineral-rich layered rock formations in this valley are one of the best natural tourist attractions outside the waters in Sinai. It is a display of the natural beauty of the desert, with plenty of opportunities for rock wandering and hiking fun. This is one of the best destinations in Sharm el-Sheikh for nature lovers, and exploring the peaks and rocks of strange shape, which acquired the shimmering red and orange colors, made it a wonderful place for photography.
Location: 177 kilometers north of Sharm el-Sheikh.
Video Tour of Colored Canyon, Sinai, Egypt
---
17. Nabq Protectorate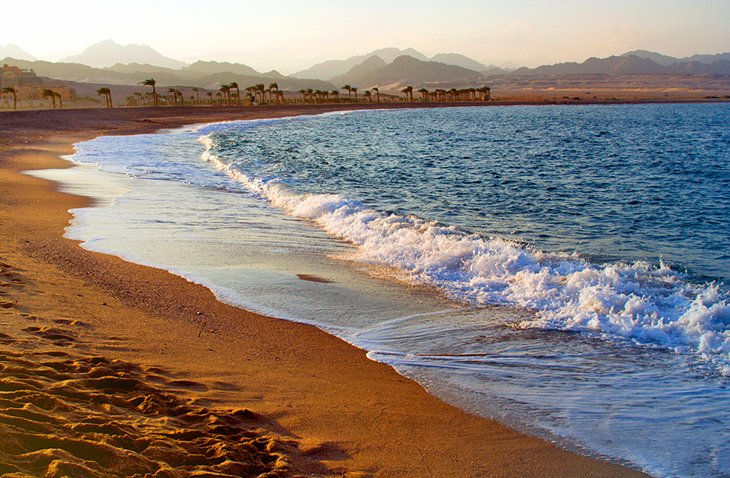 To the north of Sharm el-Sheikh lies Nabq Reserve, which is teeming with coastal desert landscapes of arid beauty and is home to mangrove forests in the far north. The landscape here is a scene of sand dunes, secluded beaches and arak bushes, and it is one of the most important wildlife sites in Egypt, as it contains a huge amount of birds as well as deer and plants. There are also excellent opportunities for snorkeling offshore here.
Location: 20 kilometers north of Sharm el-Sheikh
---
Best cheap, medium and luxury hotels in Sharm El Sheikh, Egypt
Sharm el-Sheikh is a vast city, with Naama Bay being the center of the city, Sharm Al-Maya to the south, and Shark Bay to the north. In general, Shark Bay is home to the most exclusive resorts, Sharm Al Maya and Hadaba (between Naama Bay and Sharm Al Maya) contain medium-sized resorts in terms of service and budget, while Naama Bay contains a mixture of the three.
Luxury Hotels : In Garden Bay (between Naama Bay and Shark Bay) the Hyatt Regency Hotel has rooms overlooking the lush gardens that lead to the beach. Along the coast in Shark Bay, the Four Seasons Resort Sharm El Sheikh features plenty of Arabic design in the rooms and an idyllic beach of white sand lined with palm trees.
Mid- Range Hotels : The Stella Di Mare Hotel & Resort – which is suitable for families – has palm-fringed pools, multiple restaurants and a team dedicated to leisure activities. The Mövenpick Resort Sharm El Sheikh is located on the top of a cliff overlooking the bay with the pleasure of a private beach and a package of the best restaurants in the city. Xperience Seabreeze Resort in Shark Bay features good prices, sea views, large pools and signature dinners.
Budget hotels : The best budget hotels are concentrated in the Naama Bay area and are very, very suitable for diving lovers, and they operate as centers for learning diving in addition to accommodation. Camel Dive Club & Hotel is located in the center of Naama, while Oona's Dive Club is nestled in the northern bend of the bay.
---
Popular sightseeing tours in Sharm El Sheikh, Egypt
Camel safari: A camel safari in Sharm El Sheikh takes you on a one-hour desert trek from a camel ride to the surrounding desert plains. The tour includes a transfer service and an accompanying guide from the hotel.
Snorkeling excursions : Tours are prepared for beginners in diving, where you go on a boat trip to the reefs of Tiran Island for an experience, then lunch and in the afternoon snorkeling around the coral reefs.
Full-day Mount Sinai Tour : The private tour includes a trip to Saint Catherine and Mount Sinai, climbing the mountain in the dawn hours before sunrise, and a visit to the monastery.
---
Tips for tourists traveling to Sharm El Sheikh, Egypt
Travelers who enjoy winter trips should make sure to bring some heavy clothes with them, as at night the temperature often drops to 15 degrees Celsius, so these clothes will be useful especially for hikers.
Although in summer the temperature rarely drops below 40 degrees, the heat here is not unbearable, but it is best to go for long walks and excursions in the early morning. Afternoon travelers are also advised to spend these times indoors.
Sharm El Sheikh has a well-developed tourist bus service. Tourists with sufficient periods of time can take a trip to Cairo; The journey takes about 7 hours. While Hurghada can be reached easily by ferry in just an hour and a half.
The most common form of public transportation is the indoor buses, which run the streets from early morning until late at night in less than 5 minutes. Some large hotels also have their own buses. Vacationers can also take a taxi. Regardless of the mode of transportation, it is always best to agree on the fare in advance.
Those who prefer to travel by car can rent a car without problems, as it is only sufficient for them to carry a recognized set of documents and a credit card. It is worth noting that the quality of the roads in the city is very good, and the price of petrol will suit everyone, even travelers with limited budgets.
Tourists planning to visit the local beaches will definitely seek to purchase special beach shoes; Because not all local beaches provide the opportunity to swim freely without shoes due to the presence of coral, taking into account that there are no coral in Sharm Al-Maya Bay.
As not all beaches are without coral reefs, it is not always possible to have a rest with children there; That is why the private beaches of high-end hotels are usually best for families.
Almost all accommodations in the resort of Sharm El Sheikh are classified as high-end, so it will be difficult to find a three-star hotel. However, the rates in local hotels are very reasonable and depend largely on the location rather than the level and scope of services. The hotels located in the vicinity of the beach are the most expensive hotels.
---
The best food and restaurants in Sharm El Sheikh, Egypt
In Sharm El-Sheikh there are many attractive restaurants and cafes that welcome and delight tourists and city visitors. Mahoney – located across from the Carrefour shopping complex – is hugely popular with meat lovers. If you are an experienced traveler who believes or believes, this restaurant is where you can sample the best steak and many other delicious and distinctive meat dishes. In addition to meat, there is a variety of seafood. You can also order some traditional Russian foods like beet root soup and pancakes. The undoubted advantage of Mahoney is the availability of distinct types of alcoholic beverages.
For those – who want to enjoy classic folk cuisine, we recommend visiting the Egyptian Restaurant located in the Old Town. The restaurant may seem very simple, but the quality of the famous dishes is always at the top, where you find traditional kebabs of lamb meat, lentil soup, rice, original dishes of chicken, stuffed pigeons and other varieties of pigeons, which can surprise Egyptian guests as well. The only drawback to these popular places is the lack of alcoholic drinks.
Sure enough, travelers who are accustomed to going to simple dining venues will enjoy Gad Restaurant, which can be described as an Egyptian fast food restaurant. Serving simple and affordable food, the traditional cuisine, appetizing sandwiches and appetizers, and simple desserts are sure to delight hungry travelers. Gad Restaurant is located in the immediate vicinity of the hotel complex; So its main visitors are tourists. It is also worth noting that there is a luxurious restaurant of the same name in the old city, which also specializes in Egyptian cuisine.
Faris Restaurant invites guests to enjoy delicious seafood, where the chefs present exquisite dishes of fish, shrimp and squid. Large meals are among the distinguishing features of this restaurant. There are two locations for Fares Restaurant in Sharm el-Sheikh: one is located in the old city and the other is in the Mercato area.
Makani Restaurant is among other popular restaurants, and it is located in the same building as the famous Sheikh Abdullah supermarket. It has a very varied menu, and visitors can order fine sandwiches, wraps and desserts. For those who love Japanese food, they are sure to enjoy the Little Buddha Restaurant, which offers delicious meals. The restaurant stays open late. And there is always a fun evening program.
---
The Colors of Life in Sharm El Sheikh – Traditions, Festivals and Lifestyle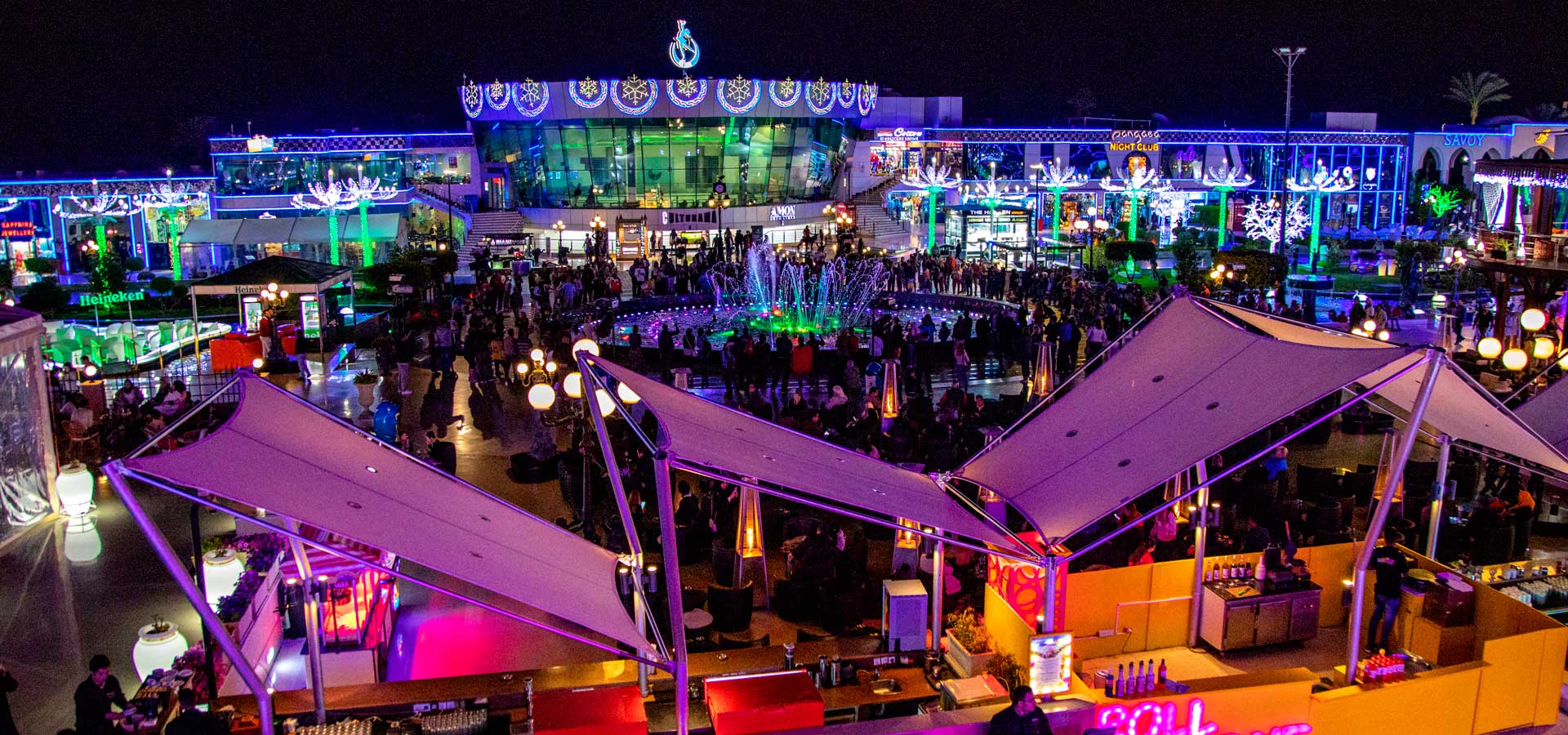 Sharm El Sheikh is a famous resort with a unique culture; Therefore, travelers should make sure to tour the busy city streets, visit local markets and try local food, in order to be acquainted with all the subtleties of the rhythm of life there. A regular walk around town can be an unforgettable experience. Attentive travelers will feel that they are traveling to different countries, the truth is that Sharm El Sheikh contains many original neighborhoods that have an atmosphere of their own.
The picturesque area of ​​Soho is often called Little Britain; Because it really looks like a classic British town. Here you can find not only a large number of European restaurants, but also quite original telephone booths like the one you can find on British streets. In fact, this area of ​​the city is the most similar to the European regions. It is a very beautiful and well looked after area and an ideal place for evening walks. The Soho region is also distinguished by its high prices comparable to European prices; You can only find high-end stores and restaurants there.
Video: A tour of Soho Square, Sharm El Sheikh
---
There is also the nickname "Little Italy", which is given to Mercato Street 2 in Sharm El-Sheikh. It is also a very attractive place, where you can visit a lot of shops and entertainment venues. As for the traditional Egyptian areas, the ancient city is still the undisputed leader in this part. And it enjoys constant popularity among shoppers and visitors.
Tourists wishing to explore this picturesque region should be prepared to pay close attention to local shopkeepers; Many vendors everywhere in the Old City will try to attract foreign visitors to buy from their stores in every possible way. Therefore, you should handle such behavior with care and understanding. If you do not need any services from these merchants, you can politely decline. We do not recommend that women go alone for a walk around the Old City, because as before, they may be annoyed or harassed by vendors. And those attracted by the attractive local goods should not forget to bargain at the local stores.
---
Photos of Sharm El Sheikh and Dahab, Egypt
References:
Facebook Comments