Travel Destinations
Sharm El Sheikh Travel Guide: Best activities and best places to visit
Best places, hotels, restaurants and activities in Sharm El Sheikh, Egypt
Nestled in the Sinai Peninsula, Sharm El-Sheikh stands as a beacon for travel enthusiasts, not only as the region's premier tourist hotspot but also as a world-renowned diving haven. The crystalline waters of the Red Sea, particularly those encompassing the Ras Mohammed marine reserve to the south, unveil an underwater world of unparalleled beauty. While diving and snorkeling remain the top activities, drawing countless aquatic adventurers every year, Sharm is more than just its submerged wonders.
The pristine beaches of Sharm El-Sheikh, kissed by golden sands and sunlit waves, offer the perfect sanctuary for families seeking the serene embrace of a coastal retreat. For travelers who've wandered amidst Egypt's vast archaeological landscapes, this coastal haven provides a refreshing contrast — a chance to lounge on the beach, cocktail in hand, as the vibrant hues of marine life dance beneath the waves. As you chart your journey to this Egyptian gem, let our curated list guide you through Sharm El-Sheikh's can't-miss attractions and experiences.
---
Tourist attractions and activities that you can do in Sharm El-Sheikh
1. Ras Muhammed Reserve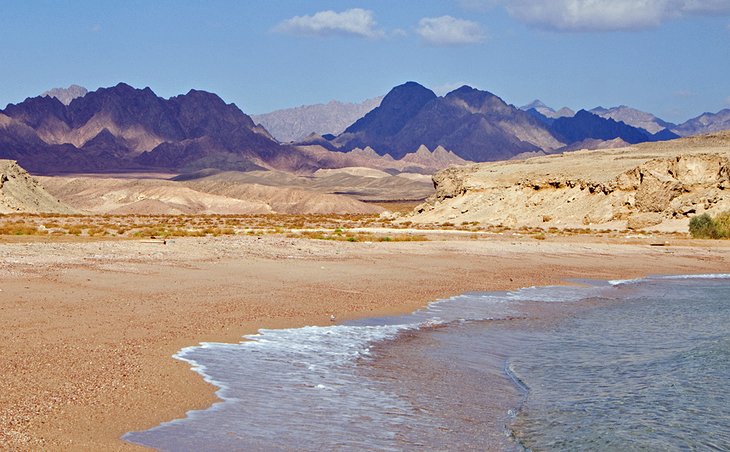 Some of Sharm El Sheikh's most popular attractions include the Ras Mohammed peninsula, home to some of the world's best diving sites. The peninsula also contains the world's second-largest Mangrove forest and a saltwater lake, making it a popular tourist destination. A trip to Ras Mohammed National Park is a must for anyone visiting Sharm El Sheikh. The best beaches in the area include Old Quay Beach (which has coral reefs that can be reached directly from the shore) and Aqaba Beach.
The Shark Observatory, located on Ras Mohammed's southern tip and offering stunning views of both the Red Sea and the Gulf of Aqaba, is a must-visit for tourists.
Location: 38 kilometers south of Sharm el-Sheikh
---
2. Thistlegorm diving site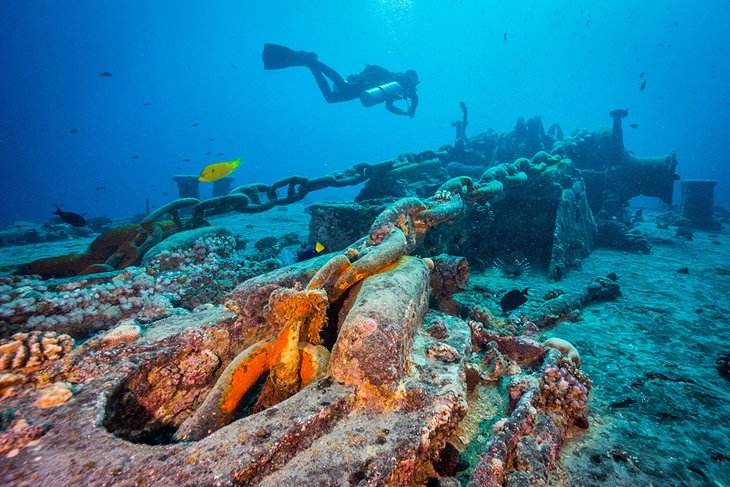 Divers who travel to Sharm el-Sheikh for the sole purpose of exploring shipwrecks like the Thistlegorm are in for a treat. Ships carrying British troops' supplies were bombed during WWII and now fish swim through their chambers and cargo carriers full of jeep, motorcycle and weaponry that never reach their intended destination. To see the wreck, take a day trip or overnight cruise from Sharm El Sheikh to the Strait of Gopal, which is off the western coast of the Sinai Peninsula. To make the most of your time, all boat tours include two dives on the wreck and a stop in Ras Mohammed National Park. As an added bonus, evening tours include a night dive on the wreck.
---
3. Naama Bay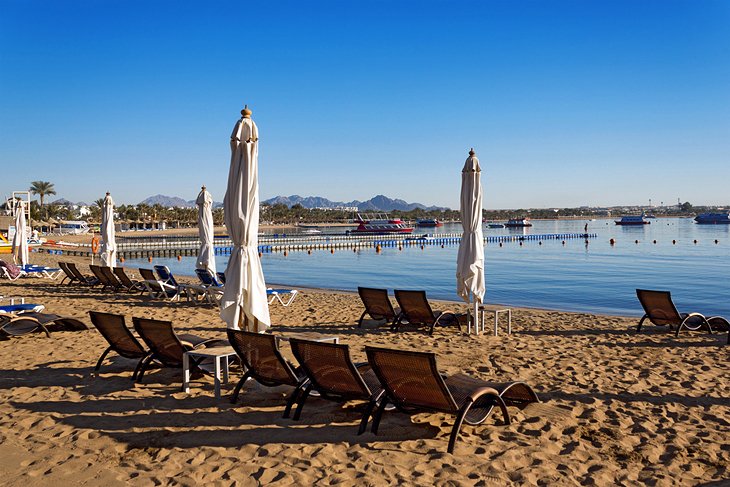 Naama Bay, with its white sand beach and palm trees waving in the wind, is the centre of activity in Sharm El Sheikh. As an alternative to the sand, Naama Bay's pedestrian-only street runs the length of the beach and is surrounded by numerous luxury resorts. Naama Bay is truly the definition of a beach. Naama Bay is also one of the best places to go sunbathing in Egypt, with a lot of options. There are plenty of parasols and chairs on the beach, and cafes right on the sand mean you'll never have to leave this sand-filled paradise.
Video: Tourist Guide of Naama Bay in Sharm El Sheikh
---
4. Jolanda reef diving site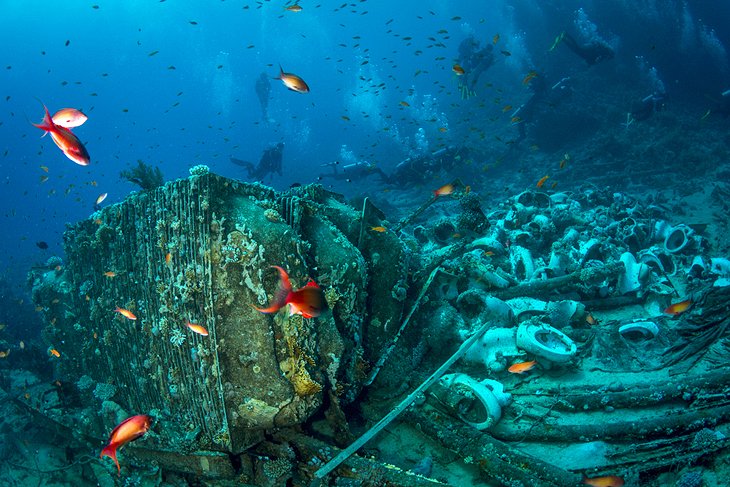 In the northern Red Sea, the Jolanda Reef (also known as Yolanda Reef) is a popular diving site. Within the Ras Mohammed Marine Sanctuary, divers visit the Jolanda Wreck, which was sunk in 1980 by a Cypriot cargo ship carrying Cypriot history. More needs to be said. Coral walls along Shark Reef's outer edges are home to a wide variety of species and stunning coral gardens, making it more than just a wreck. The Jolanda Reef.
---
5. Ras Umm Sid beach and coral reefs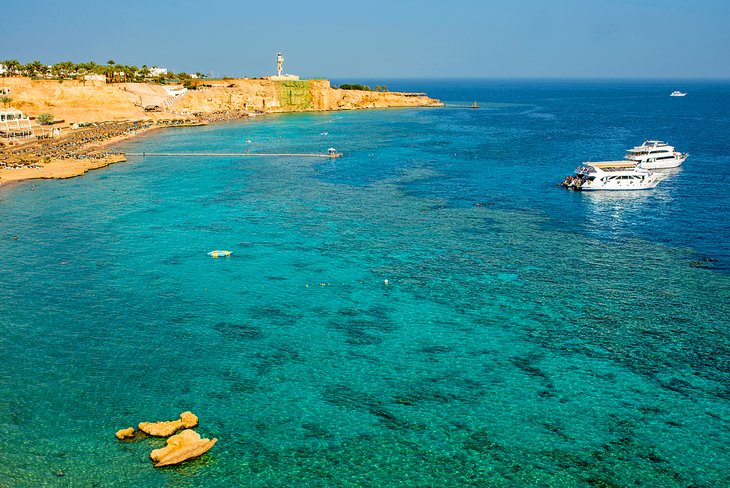 In the southern part of Sharm El Sheikh, near the lighthouse, lies Ras Umm Sid Beach, one of the city's most beautiful beaches. Since there are fantastic coral reefs right off the coast, many beachgoers engage in water sports such as snorkelling. In addition to the sand, the Ras Umm Sid reef is a great place to learn to dive for people who are just starting out. Local diving instructors make use of it for training and experimentation because of this. Even if you only snorkel, you will see a wide variety of marine life.
Address: Al Fanar Street.
---
6. Day trip to Saint Catherine Monastery, Sharm El-Sheikh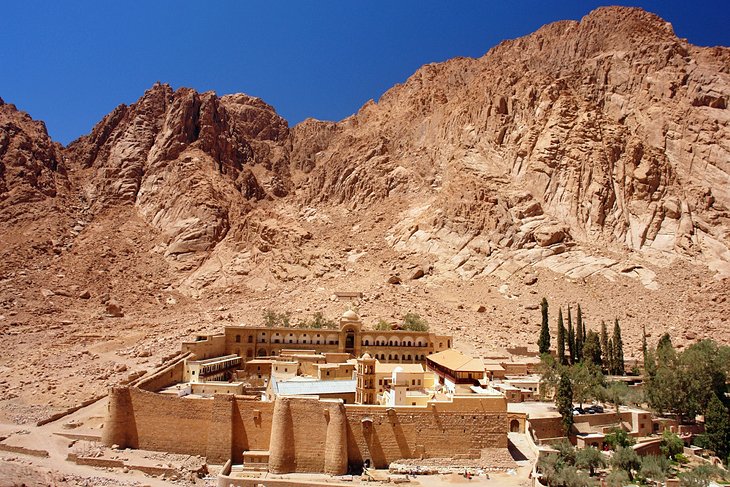 The first historical site in the Sinai Peninsula, Saint Catherine's Monastery, is where Moses is said to have received the Ten Commandments. It is located at the foot of Mount Sinai. In addition to housing the Old Testament's "burning bush," this Greek Orthodox monastery also houses a museum featuring a collection of religious icons and ancient manuscripts, many of which are extremely rare. This excursion is a must-do for history buffs in Sharm El Sheikh because it includes a hike to the top of Mount Sinai.
Location: 209 kilometers northwest of Sharm el-Sheikh.
---
7. A day trip to Mount Sinai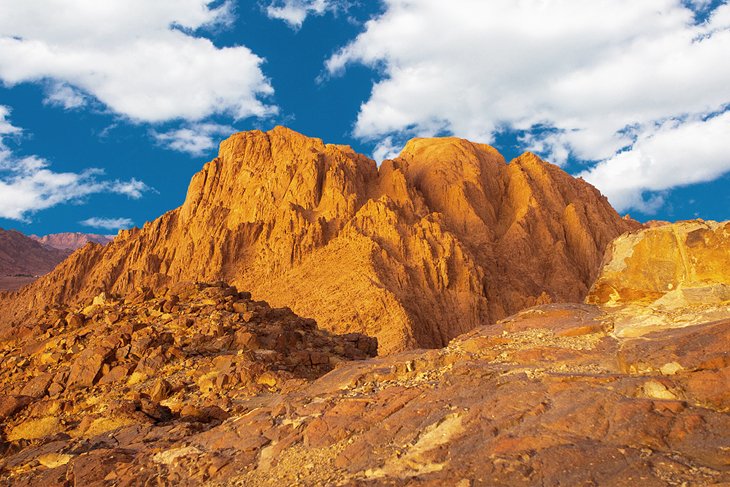 You'll find Mount Sinai's craggy heart is stunning even if you leave the warm beaches of the coast. Visit Mount Sinai's peak to see a wide expanse of orange peaks undulating in front of you. This mountain is sacred to the three monotheistic religions because it is where Moses received the Ten Commandments, and climbing it is a pilgrimage. For a large number of individuals (this trip is usually accompanied by a visit to the Monastery of Saint Catherine which lies on the same road).
The summit can be reached via one of two routes. The Camel Road is a muddled path littered with hazards. The more difficult but more beautiful Steps of Repentance are a set of stone steps carved by a monastery.
It's best to start your tour in Sharm El-Sheikh in the evening so that you can arrive at the pass in the early morning to catch a glimpse of the sunrise over the surrounding mountains.
Location: 209 kilometers northwest of Sharm el-Sheikh.
---
8. Sharks Bay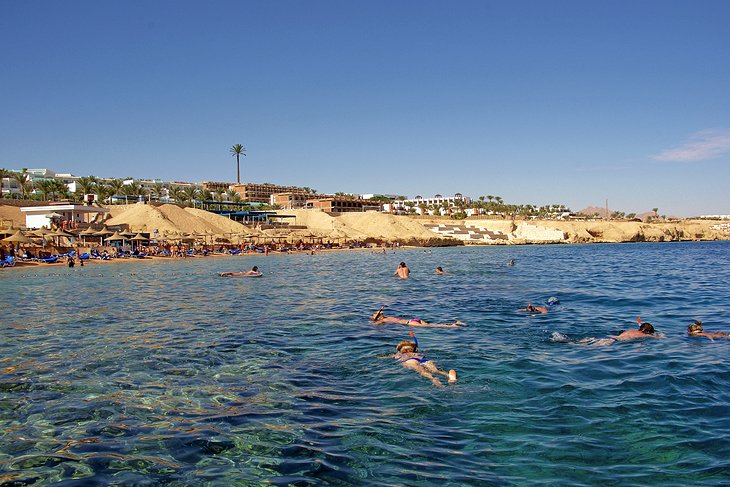 Some of Sharm el-most Sheikh's opulent five-star resorts and hotels can be found in Shark Bay, which is north of Naama Bay. They are all situated along the sandy beach. If you're looking for peace and quiet while on vacation, this is the place for you. You can eat in the Soho Square Center, which has a variety of Sharm El Sheikh's best restaurants and cafes in addition to the shops, so you won't miss any entertainment activities while staying here.
Address: 7 kilometers north of Sharm el-Sheikh.
---
9. Jackson Reef reef dive site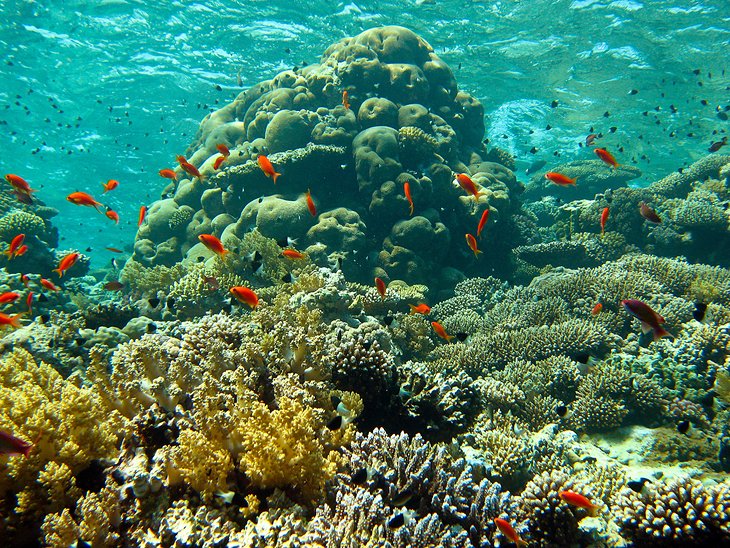 Divers from Sharm El Sheikh and beyond flock to dive at Jackson Reef, which is located in the Strait of Tiran between the Sinai Peninsula and Saudi Arabia's southern tip. It's known for its abundance of fish and is a great place to see sharks and other marine life. On the reef, you'll also find the wreck of the Lara Croft. For experienced divers, diving among the wreckage of a cargo ship is a thrilling adventure.
---
10. Day trip to a blue hole or a Blue Hole
Visitors to Sinai's Blue Hole dive site travel from all over the world to experience this world-renowned dive site. In this sinkhole, a few divers perish each year due to diving beyond their limits and experience, which is the predominant cause of death. Despite the site's bad reputation, divers who follow safe diving practises and limit their exposure are completely safe. If you don't want to go down to those depths, there are many fish near the surface that you can see if you don't want to dive there. The fish life and breathtaking scenes of the ethereal blue below make diving in this area particularly lovely.
Location: 100 kilometers north of Sharm el-Sheikh
---
11. Day trip to Dahab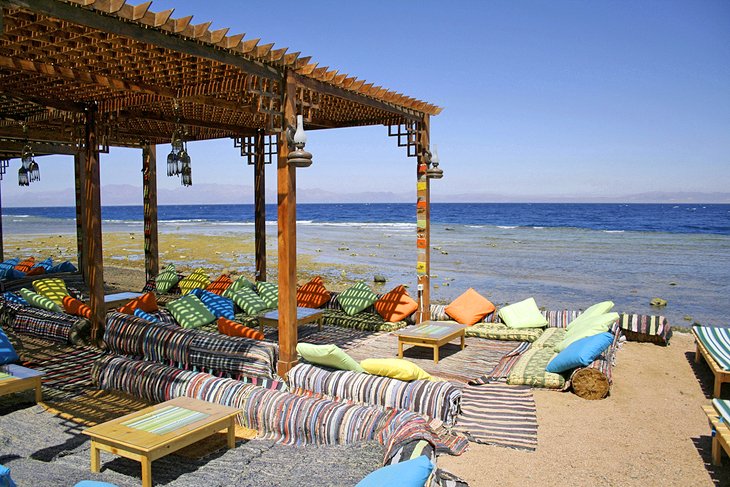 Dahab is a popular beach resort in the Sinai Peninsula for budget travellers who prefer it to Sharm El Sheikh because of its lower prices. Dahab's beachfront offers a variety of restaurants and cafés with a youthful vibe. The characteristic retail area extends to the main highway and features souvenir shops and diving facilities, which is why the majority of visitors come here. Dahab's calm and pleasant atmosphere is one of the reasons tourists choose to spend a day outside of Sharm El Sheikh.
Location: 90 kilometers north of Sharm el-Sheikh
Video Tour of the Beautiful City of Dahab, Egypt
---
12. Dunravan diving site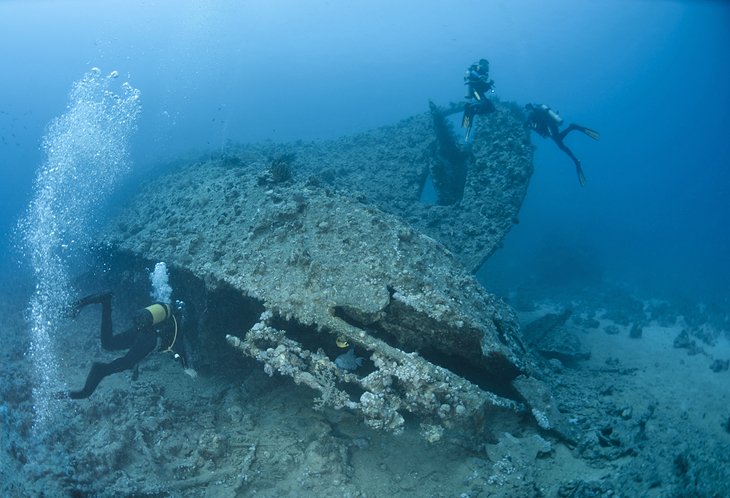 The SS Dunraven was bound for Mumbai when it ran aground on a coral reef and sank off the Sinai Peninsula's tip in 1876. (then Bombay). Because of its size and location, the steamboat has become a breeding ground for a wide range of marine life. The ship's barnacle-infested hull was commandeered. Cardinal fish, goat fish (sockfish), mori eels, and scorpion fish can all be found by divers. Sharm El-Sheikh can be reached in two hours by boat, and diving here is often combined with trips to Ras Mohamed National Park or Zestel Gorm.
---
13. Sharm el-Sheikh old market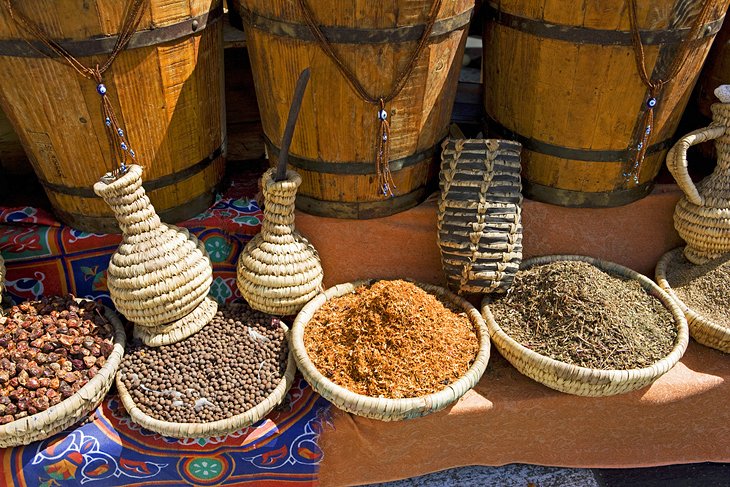 If you're looking for traditional hookah supplies or beautifully carved woodwork, head to the Sharm El-Sheikh Old Market, also known as Sharm Al-Maya. After sunset is the ideal time to visit the historic Sharm market, which is where you will be staying. The sweltering heat of the day is no longer an issue, so you can comfortably browse the web. The restaurants and cafes in this area are also reasonably priced and lively, making it a great place to spend an evening. The market has a different feel from the rest of Sharm El Sheikh, which is crowded with locals and much noisier.
There's a reconstructed Al-Sahab Mosque outside of the souk district with an amazing Fatimid, Mamluk, and Ottoman-style facade.
Address: Sharm El-Maya Road.
Video: A tour of the old market in Sharm el-Sheikhhttps://www.youtube.com/embed/3kFftRXCk2Q?feature=oembedVideo tour of the old market, Sharm El-Sheikh
---
14. Gardens dive site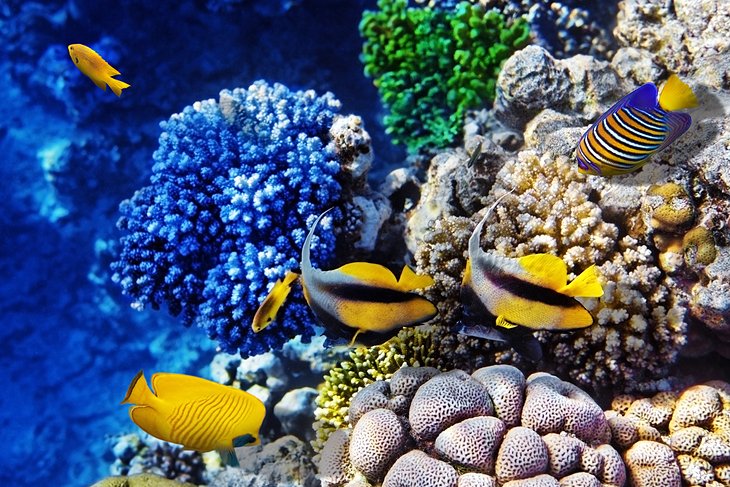 Naama Bay's northernmost coral reef gardens stretch all the way to the coast. Underwater gardens, central gardens, and distant gardens can all be reached by boat or land and are the three types of diving sites available on coral reefs. Even if you don't want to dive or swim, the neighbouring reef park has some spectacular coral reefs and a plethora of sea life to see up close.
---
15. Thomas Reef Reef Dive Site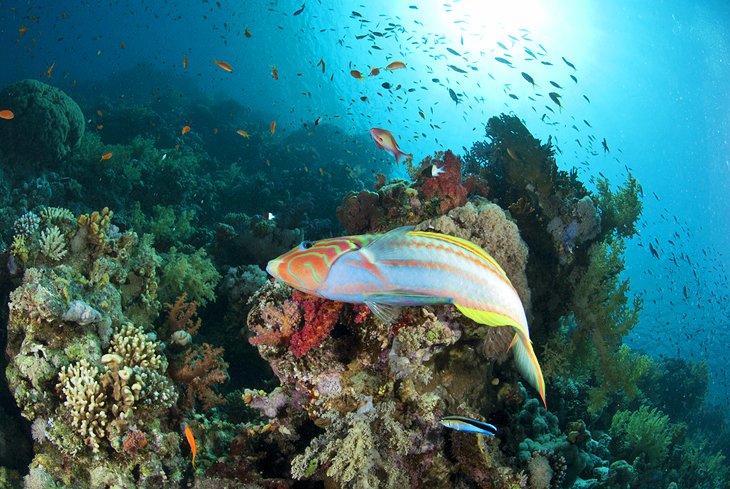 This site is part of a group of diving sites in the Tiran Strait, where the Thomas Reef offers amazing underwater vistas that include soft corals and a variety of fish species. Really, it is a deep diving excursion among the coral reefs with a group of experienced divers to witness the wonderful colorful coral reefs. This is one of the best snorkeling excursions in Sharm El Sheikh for those who really want to witness the diversity of marine creatures that make their home in the Red Sea.
---
16. Day trip to Colored Canyon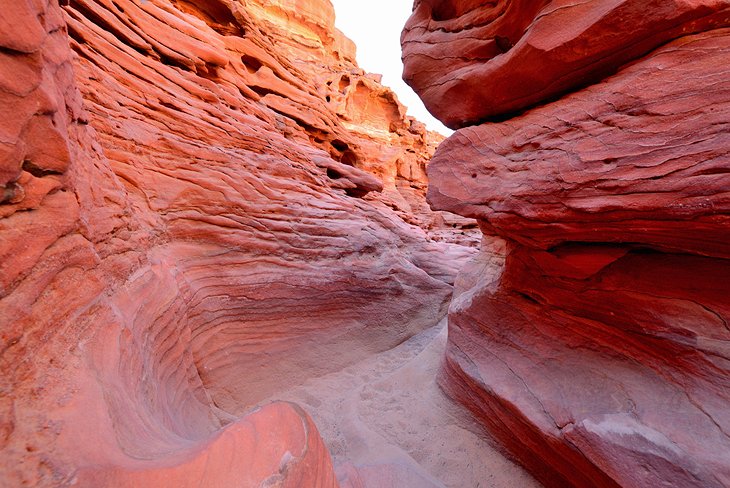 The mineral-rich layered rock formations in this valley are one of the best natural tourist attractions outside the waters in Sinai. It is a display of the natural beauty of the desert, with plenty of opportunities for rock wandering and hiking fun. This is one of the best destinations in Sharm el-Sheikh for nature lovers, and exploring the peaks and rocks of strange shape, which acquired the shimmering red and orange colors, made it a wonderful place for photography.
Location: 177 kilometers north of Sharm el-Sheikh.
Video Tour of Colored Canyon, Sinai, Egypt
---
17. Nabq Protectorate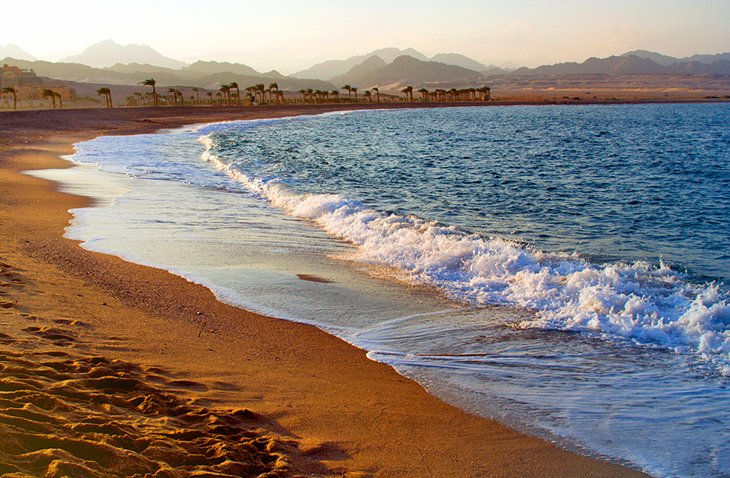 To the north of Sharm el-Sheikh lies Nabq Reserve, which is teeming with coastal desert landscapes of arid beauty and is home to mangrove forests in the far north. The landscape here is a scene of sand dunes, secluded beaches and arak bushes, and it is one of the most important wildlife sites in Egypt, as it contains a huge amount of birds as well as deer and plants. There are also excellent opportunities for snorkeling offshore here.
Location: 20 kilometers north of Sharm el-Sheikh
---
Sharm El Sheikh: Hotels for Every Budget
Sharm El Sheikh, the Egyptian Red Sea jewel, offers accommodations that cater to all sorts of travelers, from budget backpackers to luxury seekers. Here's a list of the best hotels in Sharm El Sheikh for every budget:
1. Luxury – Four Seasons Resort, Sharm El Sheikh:
Nestled between the shimmering Red Sea and the undulating Sinai Desert, the Four Seasons boasts a seamless blend of traditional Egyptian architecture with contemporary amenities. A gastronomic journey awaits in its array of gourmet restaurants, while the PADI dive center offers diving excursions into world-renowned coral reefs.
2. Mid-Range – Stella Di Mare Beach Hotel & Spa:
Offering value for money without compromising on quality, Stella Di Mare provides an impressive array of amenities. Situated at the edge of a mesmerizing cliff, it grants sweeping views of the Red Sea. The private beach, diverse restaurants, and an excellent spa make it an attractive mid-budget choice.
3. Boutique – The Bay View Resort Taba Heights:
For travelers who prefer a more intimate setting, this boutique resort offers a unique blend of comfort and personalized service. With fewer rooms, the hotel focuses on creating a bespoke experience for its guests. The views of the nearby mountains and the Red Sea are unparalleled.
4. Budget – Falcon Naama Star:
Perfect for backpackers and travelers on a tight budget, Falcon Naama Star provides a cozy, comfortable base to explore Sharm El Sheikh. Located in the bustling Naama Bay area, guests have easy access to local markets, eateries, and nightlife. The hotel offers basic amenities, including a swimming pool and a couple of dining options.
5. Family-Friendly – Rixos Premium Seagate:
For families, the Rixos Premium Seagate is an ideal choice. With its kid-friendly amenities, including a children's club, multiple swimming pools, and a variety of dining options, it ensures that guests of all ages have something to enjoy. The all-inclusive packages offer great value, making family vacations more manageable on the pocket.
6. All-Inclusive – Royal Savoy Hotel and Villas:
For those who prefer an all-inclusive experience, the Royal Savoy offers a lavish escape with a myriad of dining and entertainment options, all included in the stay. From themed dinner nights to water sports and evening entertainment, guests can indulge without worrying about additional costs.
In Sharm El Sheikh, whether you're a solo traveler, a couple on a romantic getaway, or a family on vacation, there's a hotel for every budget and preference. Always remember to check the latest reviews and offers on hotel booking platforms to get the best deals.
---
Popular sightseeing tours in Sharm El Sheikh, Egypt
Camel safari: A camel safari in Sharm El Sheikh takes you on a one-hour desert trek from a camel ride to the surrounding desert plains. The tour includes a transfer service and an accompanying guide from the hotel.
Snorkeling excursions : Tours are prepared for beginners in diving, where you go on a boat trip to the reefs of Tiran Island for an experience, then lunch and in the afternoon snorkeling around the coral reefs.
Full-day Mount Sinai Tour : The private tour includes a trip to Saint Catherine and Mount Sinai, climbing the mountain in the dawn hours before sunrise, and a visit to the monastery.
---
Tips for tourists traveling to Sharm El Sheikh, Egypt
Tips for Tourists Traveling to Sharm El Sheikh, Egypt
Respect Local Customs: Egypt is a predominantly Muslim country. It's essential to dress modestly, especially when visiting religious sites. For women, it's recommended to wear long skirts or trousers and have a scarf handy for covering the head when required.
Stay Hydrated: The Egyptian sun can be relentless, especially during summer. Always carry a bottle of water with you and drink frequently to stay hydrated.
Currency and Tipping: The local currency is the Egyptian Pound (EGP). While many places accept credit cards, having some cash is useful for small purchases and tipping. Tipping, known as 'baksheesh', is customary in Egypt for various services.
Bargaining is Key: Haggling is a part of Egyptian culture, especially in local markets. Always negotiate the price when buying souvenirs or using local services.
Safety Measures: While Sharm El Sheikh is generally safe, it's wise to avoid flaunting wealth and always be wary of pickpockets, especially in crowded areas.
Travel Insurance: Ensure you have comprehensive travel insurance that covers any activities you plan to do, especially water sports and diving.
Stay Sun-safe: Apart from staying hydrated, ensure you wear sunscreen, sunglasses, and a hat to protect against the strong sun.
Diving Precautions: Sharm El Sheikh is a diving paradise. If you're planning to dive, make sure you choose a reputable diving school. Also, be aware of the necessary precautions and always follow the safety guidelines provided.
Try Local Cuisine: Egyptian cuisine is delicious. Don't miss out on trying dishes like koshary, falafel, and tagine. In Sharm, you'll also find a variety of fresh seafood options.
Learn Basic Arabic Phrases: While many locals speak English, especially in tourist areas, knowing a few basic Arabic phrases can be helpful and appreciated by the locals. A simple "Shukran" (Thank you) can go a long way.
Local SIM Card: Consider getting a local SIM card if you're planning to stay for more than a few days. It's generally cheap and will help you stay connected.
Respect Marine Life: While snorkeling or diving, ensure you don't touch the corals or marine animals. Preserving the environment is crucial for the continuation of the beauty the Red Sea offers.
Stay Updated: Keep an eye on travel advisories from your country's foreign office regarding travel conditions in the region.
Plan Day Trips: While Sharm El Sheikh offers plenty on its own, consider day trips to nearby attractions like the St. Catherine's Monastery or the colored canyon.
Stay Alert: It's essential to be aware of your surroundings and trust your instincts. If something doesn't feel right, avoid it.
By following these tips, tourists can ensure a memorable, pleasant, and safe trip to Sharm El Sheikh. Enjoy the sun, sea, and the unique blend of cultures in this beautiful Egyptian resort town!
---
The best food and restaurants in Sharm El Sheikh, Egypt
Sharm El Sheikh, known primarily for its captivating beaches and diving sites, also boasts a culinary scene that draws inspiration from both traditional Egyptian flavors and international tastes. Here's a glimpse into the city's gastronomic delights and where to find them:
1. Traditional Egyptian Dishes to Try:
Koshary: A satisfying mixture of rice, macaroni, lentils, topped with a spicy tomato sauce and crispy onions.
Tagine: Not to be confused with the Moroccan version, Egyptian tagines are slow-cooked savory stews.
Falafel (Tameya): Made from fava beans rather than chickpeas, these deep-fried balls are a breakfast favorite.
Molokhia: A green soup made from the leaves of the jute plant, often served with chicken or rabbit.
2. Top Restaurants in Sharm El Sheikh:
Fares Seafood: An authentic dining experience where you can select your seafood and have it cooked to your preference. The fresh calamari and grilled fish are a must-try.
Tam Tam: A cozy establishment serving Egyptian and Middle Eastern cuisines. Their lamb dishes are particularly recommended.
El Masrien: This place offers an authentic taste of traditional Egyptian grilled meats and other local delicacies.
Rangoli: Located in the luxurious Sofitel Hotel, Rangoli serves outstanding Indian cuisine with a delightful view of the Red Sea.
Onions: This restaurant is renowned for its Egyptian and international dishes. Their meze (a collection of small dishes) is worth ordering.
Casa Mia: For those craving Italian, this place serves some of the best pizzas and pasta in Sharm. The ambiance is cozy, complemented by the friendly staff.
Farsha Mountain Lounge: This isn't just a restaurant but an experience. Perched on a cliff, it offers a panoramic view of the sea. The setting is bohemian, with low tables and cushions, perfect for enjoying their shishas and a variety of teas.
3. Desserts and Beverages:
Om Ali: A delicious Egyptian bread pudding, made with puff pastry, milk, and a mix of nuts.
Kunafa: A sweet pastry made of thin noodle-like strands, often layered with cheese, cream, or nuts.
Hibiscus tea: A deep red beverage made from dried hibiscus flowers, it's both tart and sweet.
Sugar Cane Juice: A refreshing drink especially popular in the warmer months.
4. Street Food: Don't miss the chance to savor the street food of Sharm El Sheikh. Local vendors offer delights like shawarma, fresh fruit juices, and falafels that are not only delicious but also pocket-friendly.
Whether you're craving fresh seafood, traditional Egyptian flavors, or international cuisine, Sharm El Sheikh has a dining spot for you. The city's restaurants not only provide mouth-watering dishes but also captivating views of the Red Sea, ensuring a memorable dining experience.
---
The Colors of Life in Sharm El Sheikh – Traditions, Festivals and Lifestyle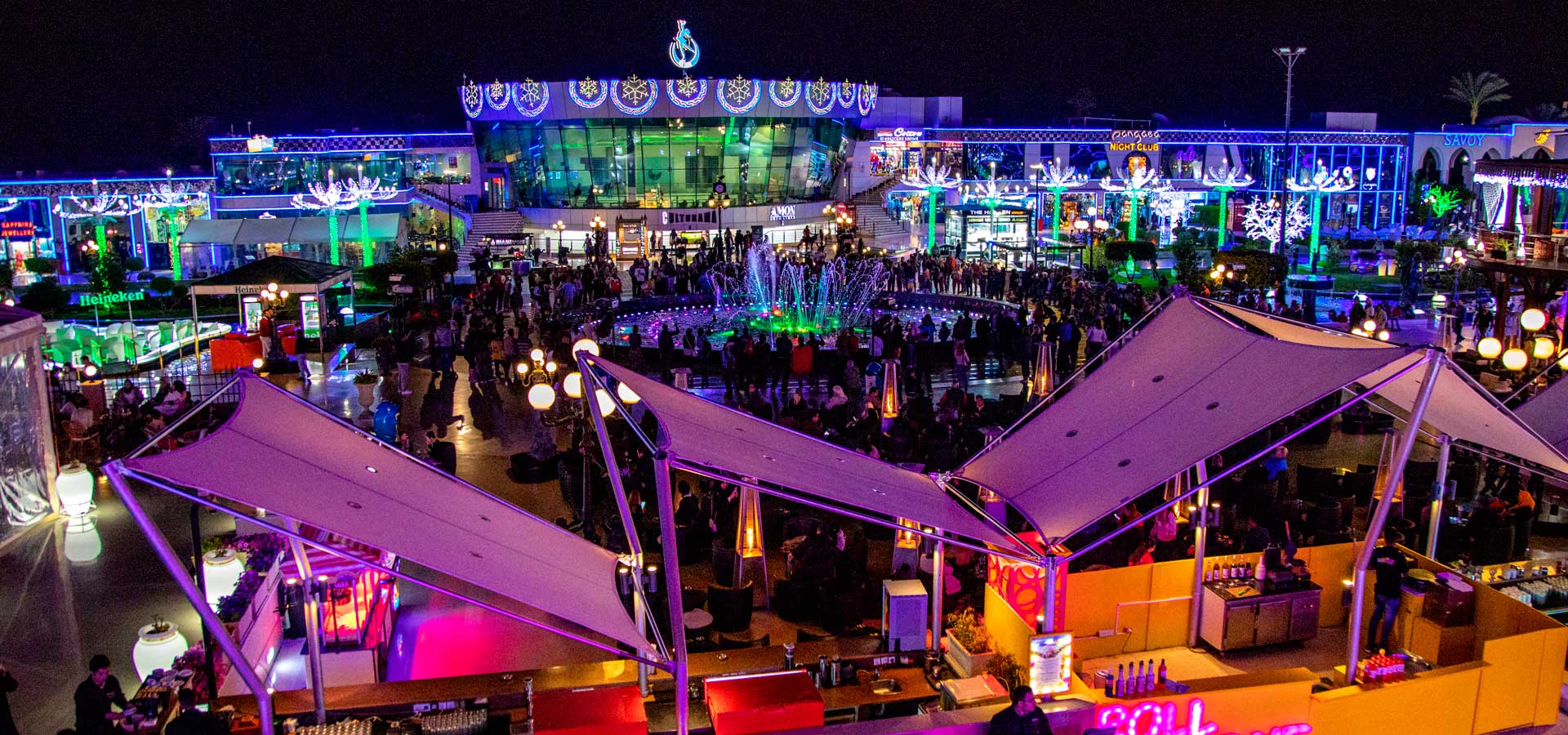 Sharm El Sheikh, renowned for its distinctive resort culture, invites travelers to traverse its bustling streets, delve into local markets, and relish authentic dishes. By doing so, visitors can truly resonate with the intricate rhythms and nuances of local life. A simple stroll through the town can be an enchanting journey. While the town may make attentive travelers feel as if they've stepped into various countries, it's because Sharm El Sheikh is a mosaic of original neighborhoods, each exuding its own unique ambiance.
Take the scenic Soho area, for instance. Often dubbed 'Little Britain,' it's reminiscent of a quintessential British town. Beyond the plethora of European restaurants, one can find iconic British-style telephone booths. This enclave of the city is arguably the most evocative of European locales. Immaculately maintained, it's a perfect setting for evening promenades. However, with its upscale charm comes a premium price tag. The Soho district boasts only high-end boutiques and eateries, with prices mirroring European standards.
Video: A tour of Soho Square, Sharm El Sheikh
---
There is also the nickname "Little Italy", which is given to Mercato Street 2 in Sharm El-Sheikh. It is also a very attractive place, where you can visit a lot of shops and entertainment venues. As for the traditional Egyptian areas, the ancient city is still the undisputed leader in this part. And it enjoys constant popularity among shoppers and visitors.
Tourists wishing to explore this picturesque region should be prepared to pay close attention to local shopkeepers; Many vendors everywhere in the Old City will try to attract foreign visitors to buy from their stores in every possible way. Therefore, you should handle such behavior with care and understanding. If you do not need any services from these merchants, you can politely decline. We do not recommend that women go alone for a walk around the Old City, because as before, they may be annoyed or harassed by vendors. And those attracted by the attractive local goods should not forget to bargain at the local stores.
---
Photos of Sharm El Sheikh and Dahab, Egypt
References:
Facebook Comments