Travel Destinations
Lake Como in Italy: Travel Tips and Best Places to Visit
Comprehensive travel guide and best things to do

Nestled in the foothills of the Italian Alps, Lake Como has long captivated visitors with its unparalleled fusion of natural beauty, historic allure, and luxurious elegance. With its deep blue waters set against a stunning backdrop of mountainous terrain, the lake has become synonymous with a serene escape. Elegant villas, with history etched into their facades, are peppered along the shoreline, each telling tales of a bygone era of aristocracy and opulence. Quaint towns like Bellagio, Menaggio, and Varenna beckon travelers with their cobblestone streets, lakeside promenades, and gastronomic delights. Beyond its aesthetic grandeur, Lake Como's charm lies in its ability to transport visitors to a world where the past and present meld seamlessly amidst panoramic splendor.
Spanning 146 square kilometres (56 square miles), Lake Como is Italy's third-largest lake, following Lake Garda and Lake Maggiore. Situated in the Lombardy region, this glacial lake stands as one of Europe's deepest, plunging to depths exceeding 400 metres (1,300 feet). Locally known as Lago di Como, the region predominantly communicates in Italian.
---
Three days of sightseeing at Lake Como in northern Italy
During my Italian mini-roadtrip, I stopped at Lake Maggiore for a day before moving on to Lake Como for three days. After my trip to the Borromean Islands, I thought I'd had enough to eat, but what I learned over the next three days would blow my mind. Just being in Italy made me happy; I enjoy being here. My last visit was three years ago, and I was beginning to long for it. The fact that I could indulge in all of their regional specialties again made me very happy because I am a huge fan of pasta, salami, and ice cream in particular.
The following is a description of my three-day trip around Lake Como's attractions, which was made possible primarily by taking the ferry and doing a lot of walking (and many steps up and down).
First day at Lake Como:
Before driving across the lake to my lodging in Lenno, I stopped in the town that gives Lake Como its name. On the way, I did the "fake" groupie thing (I say "fake," because I've never been a fan) and stopped to gaze upon our good friend George Clooney's beautiful home.
Como a charming town
My trip around Lake Como began with a stop in Como, a city I'd wanted to visit for a long time. The city is surrounded by fortifications, as is typical of Italian small towns, making the centre inaccessible to cars. As two skyscrapers meet us, we disappear into the charming maze of streets.
Fronting the massive cathedral, the main square is a sight to behold. Although I chose not to enter, the view from the outside was breathtaking. However, despite its size, Como is still manageable on foot. It's worth getting up early if you want to take a ride up the cable car and see the lake below. When I went in the middle of the day, the line was so long that I had to go the other way. Those with the most guts will almost certainly be able to make it to the top on foot. Just as pleasurable is a stroll around Lake Como.
Food ideas:
For a good ice cream:
☞ Gelateria Guidi : I am addicted to good ice creams and I was not disappointed by these, which were free from coloring. Be careful though, they don't take the card.
Good fresh homemade pasta:
☞ L'ora della pasta : it is both a local grocery store selling these fresh products and a small restaurant where you can sit and taste good fresh foods with the sauce of your choice. Count around 5/6 euros per plate.
Small point of view stop in Laglio
George Clooney and his wife Amal bought Lake Como's Villa Oleandra a few years ago, and it's in a charming little village called Laglio. It piqued my interest to drive through the small town of Laglio after learning it was home to a well-known villa; curiosity got the better of me, and I went to see it for myself. The view of Laglio from right in front of it was absolutely stunning, and it was worth the long descent of stairs and walk along the side of the road to get there. Without stopping there, you will not miss anything, I assure you… Despite the fact that the setting is still appealing.
Second day on the ferry
First, we bought a day ticket for the ferry, so we could visit all of the cities listed below on that ticket. If you're going long distances, it's much faster and more convenient than driving yourself. There isn't much to do between 12 p.m. and 2 a.m., so watch your schedule carefully.
Mennaggio
Out of all the small towns I've visited, this one was the least appealing to me. Apart from the small port upon arrival and the town's central square, there was nothing particularly appealing about this sleepy town. I only stayed for about an hour and a half while walking the route.
Bellagio
I'd heard that it was a must-see destination because it was one of the most picturesque villages in the area. To say that I disliked it would be an utter lie, but it wasn't my top choice. Many souvenir shops dotted the area, and it was clearly a popular tourist destination. The tower square and the narrow streets leading to the port were charming, but the hamlet as a whole lacked authenticity. While it has been converted to a hotel, the house still retains its charm, including a garden filled with rare roses.
After a ten-minute walk up and down stone steps, I arrived at a small fishing pier that was still close to town. I ended up in a quaint seaside town by accident, complete with a small beach and waterfront restaurants for visitors to enjoy.
Varenna
Varenna is a well-known resort town on Lake Como, and it was my personal favourite during my visit there. Once we arrive at the small port, we'll have to walk along the cliffs and along the coast for quite some time before we reach our destination. Visitors to the Cinque Terre villages will recognise this colourful village as being similar to the Cinque Terre villages they visited previously. There are numerous small waterfront restaurants, but if you walk towards the monastery, you will avoid the crowds. If you walk along the water's edge for ten minutes, you'll find it. The beautiful gardens and the house's interior are both available for viewing by the general public. If you don't want to go inside, you can still see a small portion of the garden and the monastery from above.
You should go on a tour of the village and Lake Como when you return. There are so many interesting little streets to explore.
Villa Carlotta
One of the most anticipated stops was at Villa Carlotta, and I was not disappointed. An art museum and botanical garden are now housed in this palace, which was constructed in 1690. From the outside, it looks lovely, but once you're in the garden, you'll see what I mean. There's a lovely pool as you enter the garden, and then you'll take the marble stairwells up to the terraces for stunning views of Lake Como. Furthermore, the romantic ambiance is only enhanced by the presence of all the lovely roses outside. The art museum's stunning statues adorn the interior's grand halls. The botanical garden at Villa Carlotta, on the other hand, is a sight to behold, especially if you go alone. There are literally tens of thousands of different varieties of bamboo, some of which can be found in tropical regions. It's easy to get carried away with all of this thinking. The best way to see Lake Como is from the garden's highest point.
Third day by Lake Como
After a filling breakfast at Auberge Lenno, we strolled to Villa Balbianello, which was much quieter. From there, we returned to France via the same route. We stopped numerous times to take in the scenery and snap some photos for mementos.
Lenno and the villa Balbianello
After a half-hour walk along the shores of Lake Como from Lenno, we arrived at Villa Balbaniello, a wonderful find for us. Its unique setting at the lake's very tip allows us to see things from an entirely new perspective. The gardens can be explored on their own or as part of a larger tour of the house. Even so, I urge you to take advantage of this guided tour, as the mansion itself is quite remarkable. Even though it's a lot smaller than Carlotta's, the exterior is just as lovely. The terrace and gardens are well-known locations thanks to Star Wars Episode II and the James Bond films, respectively. The following is an expanded version of what I wrote about this visit in my article about the palace: Check out Lake Como's Villa Balbianello for some stunning views.
Evening food idea:
☞ We went to the small local grocery store to buy fresh and 100% local products. We cooked a good Italian meal.
Accommodation idea
The hotels were all booked up, and there wasn't much to choose from on airbnb either. We chose to stay in Lenno's Residence Lenno, which is located in the village's name. The cost was a little out of reach for most people. Even though a double room costs about 160 Euros, it's in a great location. You can walk to all of Lake Como's charming small villages from here, and it's only a 30-minute drive from Villa Balbianello. In reality, our lodging was a studio apartment with a small kitchen and a large balcony with a stunning view of the entire Lake Como area. After a long day of trekking, you can cool off in the small pool that's available to you. Breakfast was included in our stay at the Lenno Inn. My interest was piqued by the fact that it offered a wide range of home-made products such as jam, bread, cereal, and orange juice, as well as a gluten-free option for those who are gluten-intolerant.
---
Tourist information about Lake Como
Lake Como has long been a popular vacation spot for royalty and the wealthy from around the world, making it one of Italy's most popular tourist destinations. Lake Como has long been a popular vacation spot for Hollywood celebrities, football players, and other sports stars, who still flock to the area for their annual vacations.
It's estimated that in 2017, more than 3 million people visited Lake Como because of the lake's enchanted beauty, breath-taking natural views, and distinctively quiet environment, as well as the alluring view of houses built on the mountainside facing the lake.
---
Celebrity homes in Como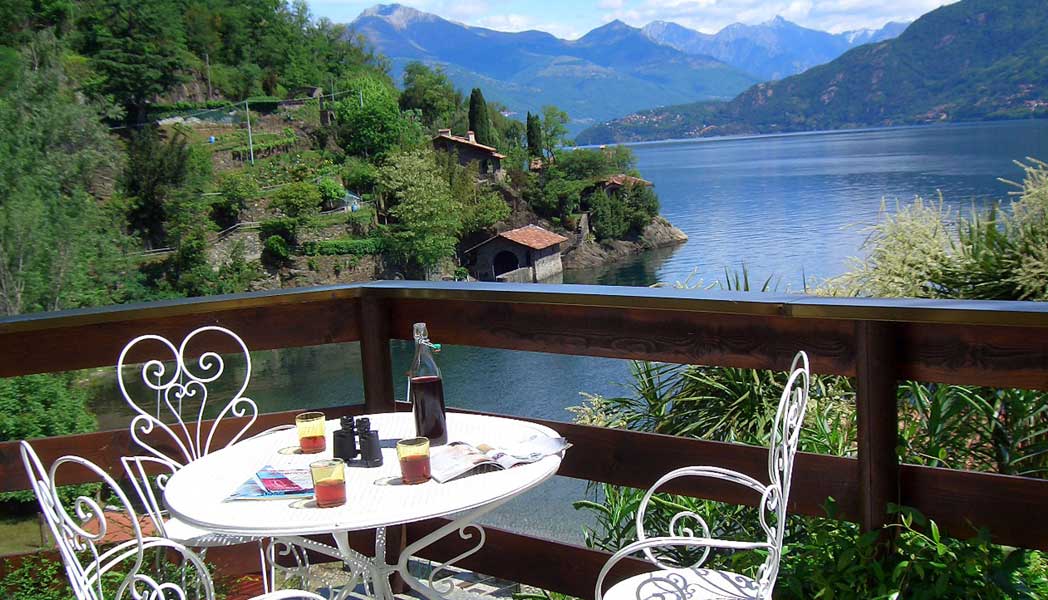 ---
Lake history and geography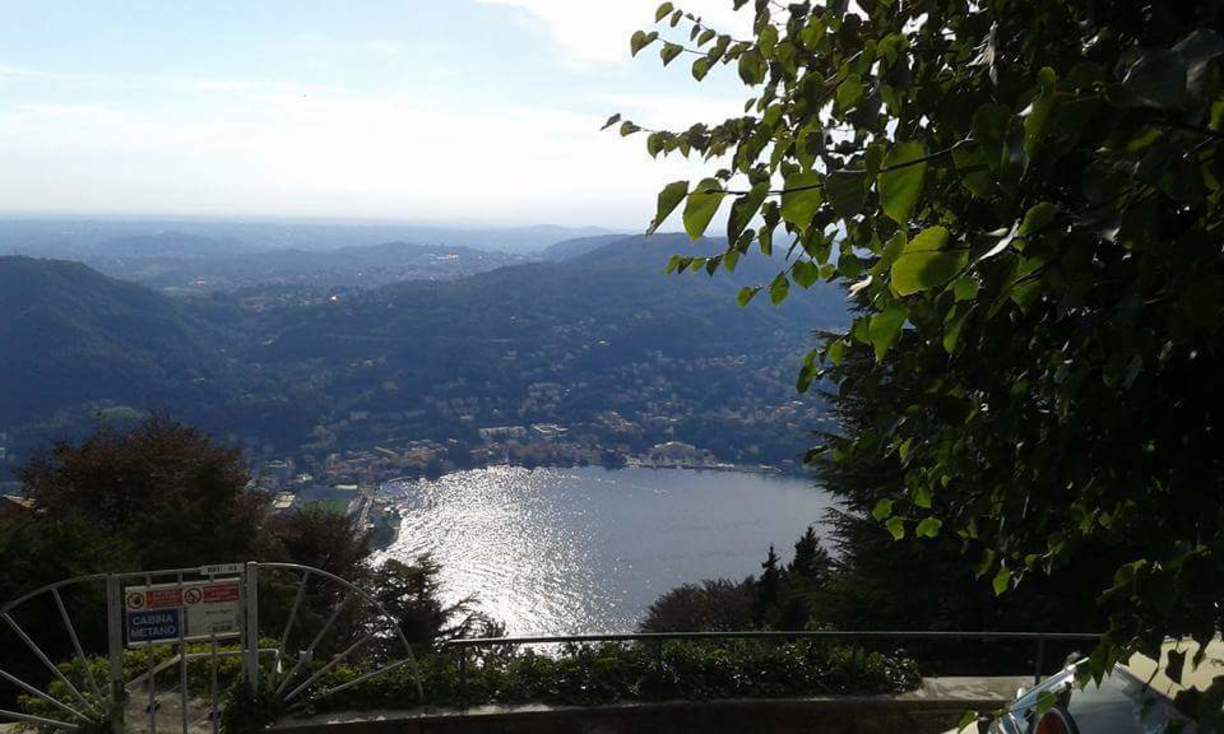 The lake collects from the Ada River, and it reaches the lake through the Colco regions and passes over the Lecco region as well, it is known that the southwestern tip of the lake at the Como area is closed, and there are mountainous areas between the Bellagio area and the Como area, so the shape became like a triangle and was known and named after the Lariano Triangle, which is located It has the town of Kanzo
---
Tourist places in Lake Como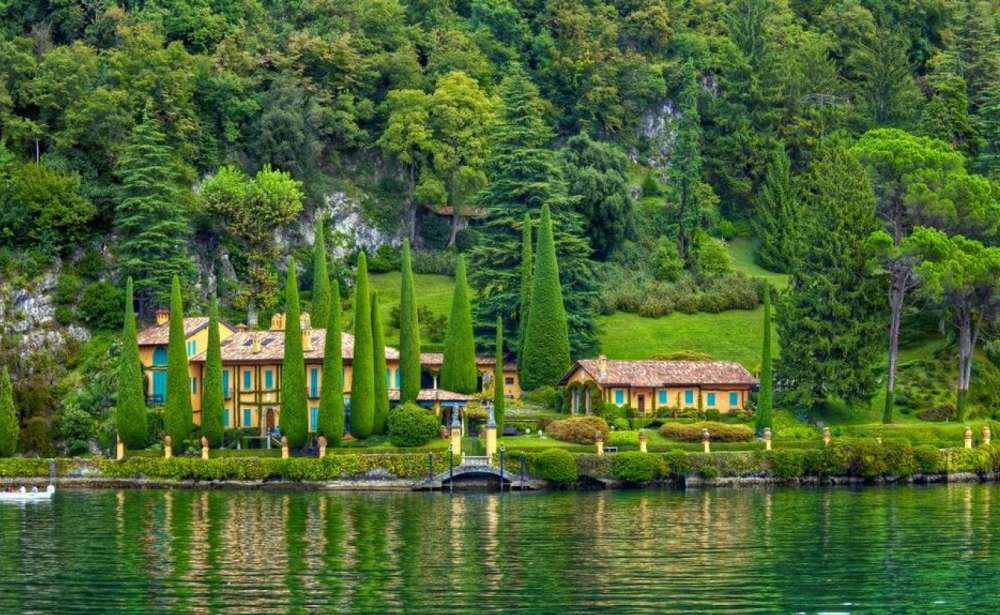 In the area around Lake Como there are many farms that produce quality goods such as honey, olive oil, cheese, milk, eggs and salami. Visitors can find listings of these farms and usually visit the farm itself in person to make purchases.
The most important feature of Lake Como is the magnificent villas and houses where the lake is famous for the attractive villas that have been built there since the Roman era, and there are many other villas on the shores of the lake as well as the wonderful gardens that benefit from the mild climate caused by the presence of a stability of 22.5 cubic kilometers of The lake water is suitable for growing tropical plants.
---
1- Villa Carlotta
Built for the Marquis in 1690, Villa Carlotta occupies a site of over 7 hectares (17 acres) in Vitermezzo, facing the Bellagio Peninsula. The Italian garden (with sculptures and fountains) was laid out at the same time, and the villa was later sold to the powerful banker and Napoleon politician Giovanni Battista Somari in 1818, and in 1843 it was bought by Princess Marian as a wedding gift for her daughter Carlotta, and today the villa houses a museum of agricultural tools in addition to Important sculptures by some Italian artists.
---
2- Villa d'Este
Villa d'Este Vicarnopé was built in 1568 by Cardinal Tolomeo Gallio, a resident of the city. In 1817 the villa was the home of Caroline of Brunswick, the estranged wife of the Prince of Wales who owned the villa, landscaped gardens in the English style and later in the century transformed into a luxury hotel, today the Villa d'Este is famous for attracting many famous guests.
---
3- Villa Serbelloni
Villa Serbelloni, in Bellagio, is one of the most beautiful tourist places in Como, an international conference center with an area of ​​50 acres (200 thousand square meters). This park and well-known palace was established at the end of the 18th century.
---
The best tourist activities in Como
There are many tourist activities that you can do in Lake Como, as it is a first-class tourist area.
1- Walk around Lake Como
Obviously, the first activity you will do will be spending time on the shores of Lake Como to explore the lake and its surroundings in the midst of beautiful weather and amazing nature, and you will take the best photos that will make your trip an amazing and unforgettable experience.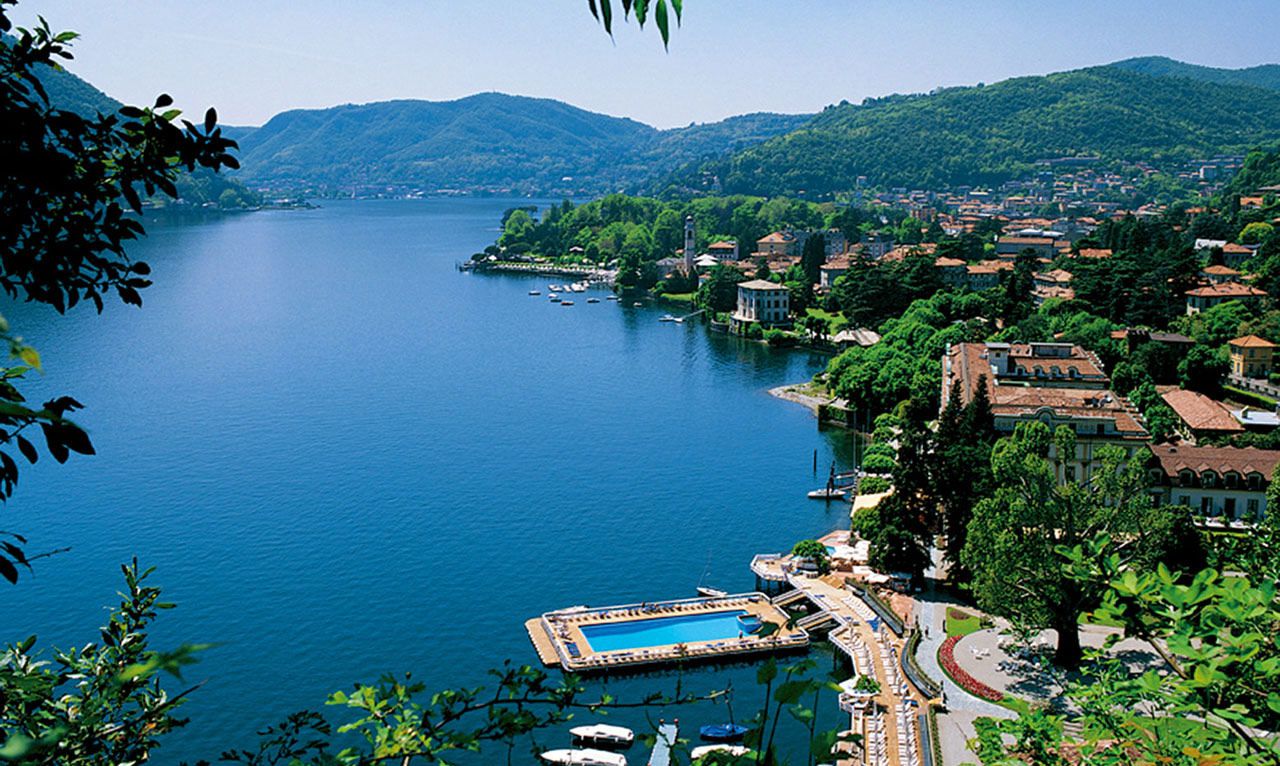 Lake Como
2- Mountains of Como
Lake Como is known to be not far from the Alps, so if you like mountain climbing, you will have a lot of fun climbing the Alps and you will get a great feeling when you reach the summit.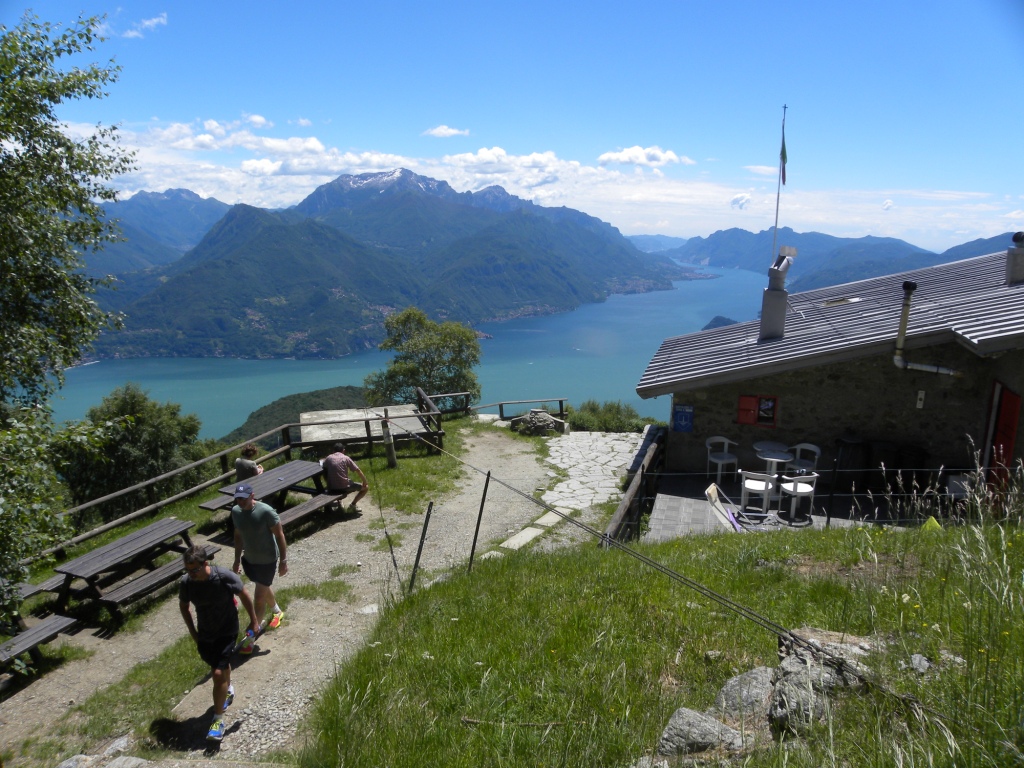 3- Como markets
The markets are one of the most important features of the Lake Como region, as silk fabrics and leather products are the most popular things you can shop for in Como.
4- A tour on private boats or government ships in Como
Boat tour in Lake Como: Doing boat tours in the lake is one of the most enjoyable activities, where you can rent a boat that roams you to enjoy the spectacular view of the waterfalls that will dazzle you with its beauty and also the geese swimming all over the lake will be a sight that you will not forget, and the boat tour will give you an opportunity to see the cities scattered As long as the lake is Menaggio and Lino, as well as Varna and Tremezzo
5 – Como cable car
The funicular or cable car of Como is one of the most enjoyable activities in Como, where you will find yourself visiting the Volta Lighthouse, which is located on a mountain with a height of 29 meters. You will see the entire lake from the top. This wonderful scene will enable you to take amazing pictures of Lake Como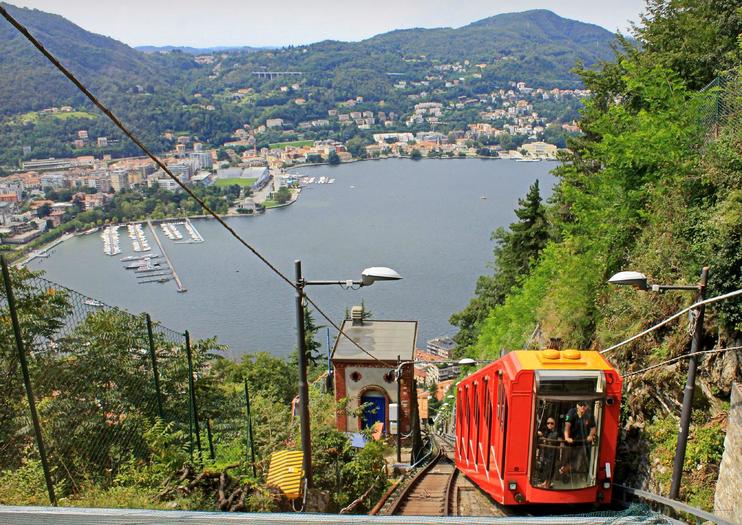 ---
The distance between Lake Como and the nearest city (Milan)
The largest number of visitors to Lake Como come through Milan because it is closer and its way easier than to come via Lugano, Switzerland. The road between Como and Milan is no more than an hour by car.
Pictures from one of your ambassador's trips to Lake Como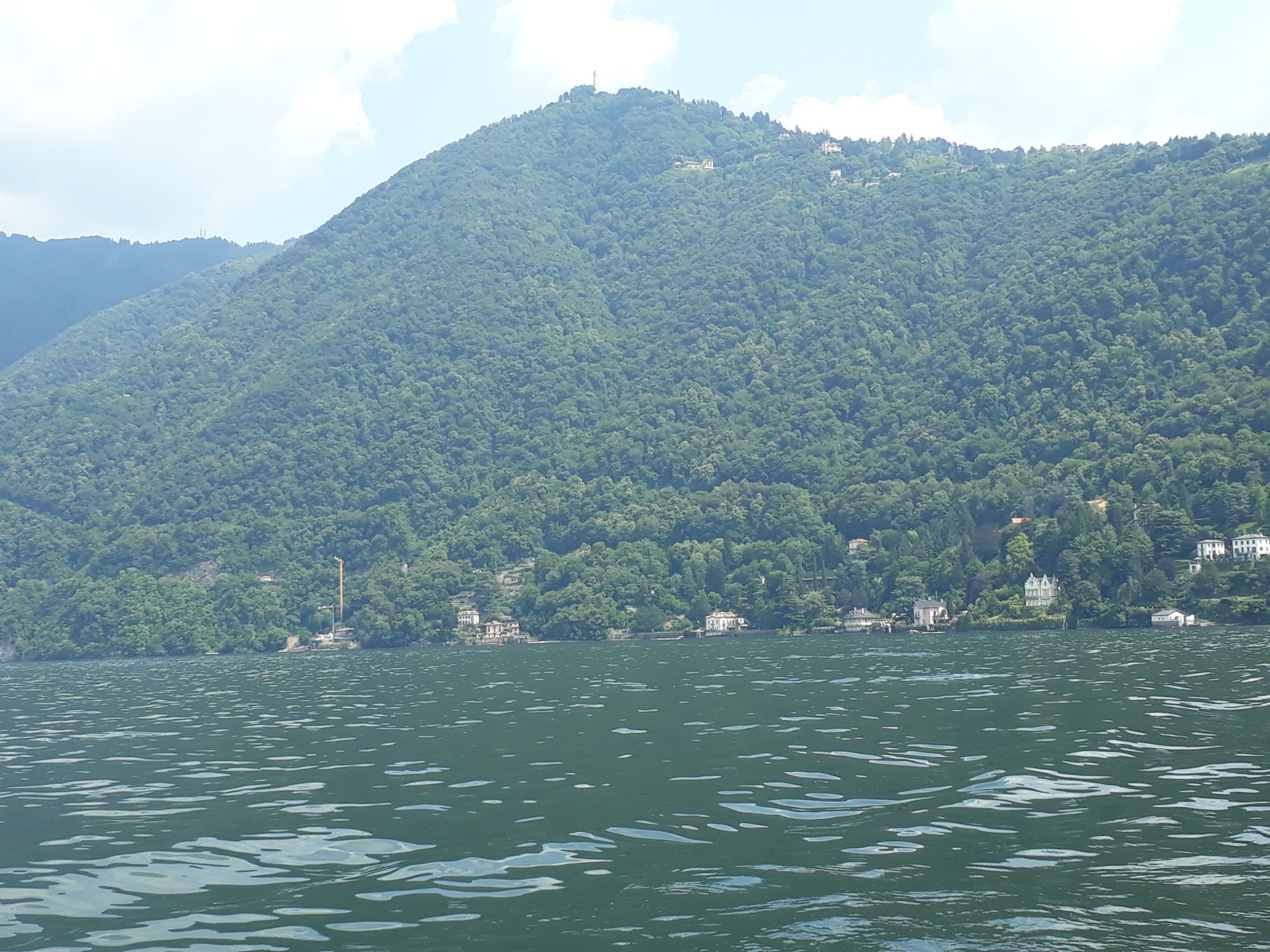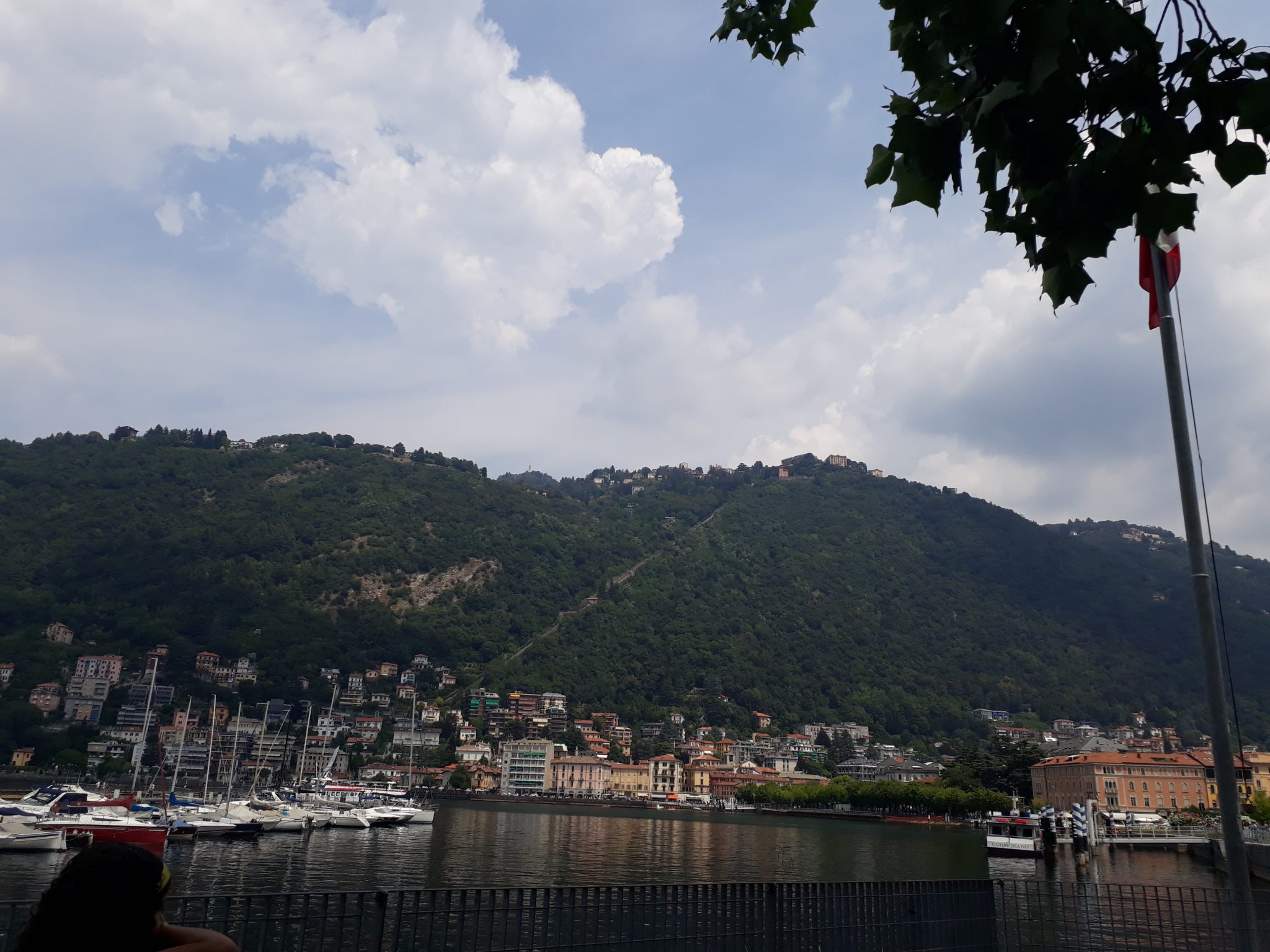 ---
More Photos from the City and Lake of Como, Italy
---
Video Tour of Lake Como, Italy
---
Facebook Comments